Romantic Reads for Quarantine
Bored of quarantine? Here are four romantic books to bury yourself in while stuck inside.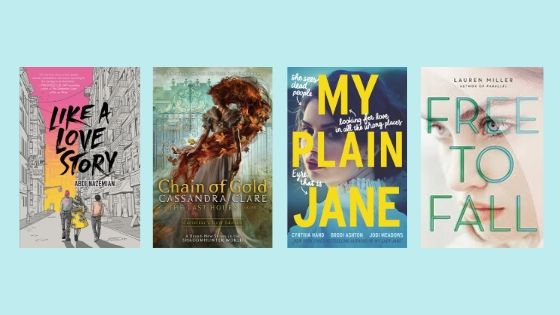 Bored of quarantine? Here are four romantic books to bury yourself in while stuck inside.
Like a Love Story 

"Like a Love Story" is a heartbreaking and hopeful historical fiction romance novel by Abdi Nazemian. Set in 1989 New York at the height of the AIDS epidemic, three teenagers navigate an increasingly changing world and their own identities. This story discusses gender, sexuality, identity and love in a way that is both touching, poignant, and timeless. 
Reza is an Iranian boy who moves to New York after his mother remarries and is thrust into a strange new world. Images of the AIDS epidemic fill him with terror as he tries to hide his love for his activist and photographer friend Art,who is tired of hearing homophobic taunts wherever he goes. Unable to admit his growing feelings, Reza starts dating Art's best friend Judy, an aspiring fashion designer. But as their feelings deepen, Reza and Art struggle to figure out how to protect Judy from the truth while also following their hearts. With help from Judy's uncle, Stephan—a victim of the epidemic—the teens have to come to terms with their own identities in a society that shuns and mocks them for who they are. 
This story is incredibly inspiring, and is a must-read for all teenagers.Young adults will empathize with characters struggling to find themselves and their identities while dealing with pressure from society to conform, as most have dealt with similar feelings throughout their teenage years. Nazimian's rich and emotional prose is inspiring and his messages of hope and self-acceptance transcend the story and are relevant for all young adults everywhere. This is an irresistible read for any romance fan and the complex themes that it addresses are more relevant than ever. Fans of love, friendship thicker than blood and living life to the fullest will adore "Like a Love Story."  

Chain of Gold
From the author of the "Mortal Instruments" series, Cassandra Clare, comes a new series in the world of the Shadowhunters called "The Last Hours," set after the events of "The Infernal Devices" series. The first book in the trilogy, "Chain of Gold," came out on March 3 of this year and is a foray into Edwardian London. This book features a diverse and complex character cast and an intriguing plot that has the reader begging for more. Unique in its character diversity and with Clare's trademark wit, this story is a thrilling exploration of heroism in all its forms. 
This action-packed novel follows three teenage Shadowhunters, each hailing from a long line of demon-hunting warriors. One of them, Cordelia Carstairs arrives in London after her father was arrested and is determined to prove his innocence to restore her family name, instead of getting married as her mother wants her to. She must also deal with her feelings for James Herondale, her childhood friend whose good-looks and kindness have attracted the attention of more than one Shadowhunter girl. Meanwhile, Herondale's free spirited and artistic sister, Lucie, discovers a new and mysterious power that has her questioning what she's always known about her past and the society they live in. Despite the glamorous lifestyle that the three of them lead, danger lurks as the unprepared Shadowhunters encounter a new kind of demon that can walk in the sun and kill with a deadly poison. No one is safe as the city is placed under quarantine and the Shadowhunters must fend for themselves to eliminate the threat before it is too late. 
Though this is a companion series to the "Infernal Devices," "Chain of Gold" is an excellent introduction to the Shadowhunter world. This book is as well written, funny and spell-binding as Clare's other books. Despite the fact that it starts off slower than expected in fantasy, this book's rich language and complex plot makes it worth reading. Clare weaves a masterful world that you can't help but fall in love with and is filled with sympathetic and relatable characters.Though featuring a much larger cast of characters than usually seen in fantasy, Clare gives each a complex background and personality that leaves readers clamoring for the next book. Fans of the YA-fantasy genre must put "Chain of Gold" on their "to-read" list. 
My Plain Jane

Critically acclaimed authors Cynthia Hand, Brodi Ashton and Jodi Meadows unite their talents in "My Plain Jane," a lighthearted and romantic reimagining of "Jane Eyre" by Charlotte Brontë with a paranormal twist. Though lacking complex themes and depth, this story is a hilarious departure from reality and brilliant in its creative approach to classic literature.  
Jane Eyre, a penniless and plain orphan, is able to see ghosts. Deciding to take a job as a governess at a mansion called Thornfield Hall, she is soon drawn into a life of mystery, intrigue and love at first sight. Aspiring novelist and best friend Charlotte will do anything to write Jane's story, even if it means submerging herself in a world of espionage and deceit. 
Alexander, a ghost hunter employed by the massively underfunded Society for the Relocation of Wayward Spirits, has just two things on his mind: getting revenge for his father's murder and persuading Jane Eyre to join him in rebuilding the Society's ranks. But when they arrive at Thornfield Hall, they discover that the brooding owner, Mr. Rochester is hiding more than he reveals and has convinced Jane of his undying love for her. The three unlikely friends are soon caught up in a truly hilarious mystery where everything they believed about themselves and the people around them is an elaborate illusion. 
Readers will find themselves sympathizing with the relatable and funny characters as they navigate the mysteries of Thornfield Hall and the characters' own pasts. Hand, Ashton and Meadows craft a tantalizing tale packed with adventure, mystery and no shortage of romance.  For anyone seeking a lighthearted and humorous distraction from the world, look no further than "My Plain Jane." 
Free to Fall
"Free to Fall" by Lauren Miller is a stand-alone science fiction and dystopian novel set in the not-so-distant future. This ingenious and fascinating story explores what society would look like if we never had to make a single decision ourselves and relied on technology to make sure we "never fall." 
Rory Vaughn is a high achieving student from Seattle whose entire life is in her smartphone. She, like most of human-kind, lets her decision-making app, Lux, plan out every decision she ever has to make. She is ecstatic when she is accepted into Theden Academy, an exclusive college prep boarding school that her mother had attended before she died. When Vaughn arrives at Theden, however, she realizes that the school's prestige and glamour hide deadly secrets that could put her in danger if she digs too deep. Determined to figure out what the faculty and fellow students are hiding, Vaughn and her friend North—a boy her opposite in every way—dig deeper into the school's history and learn shocking secrets about Vaughn herself and the very fabric of their society.
"Free to Fall" offers an intriguing mystery plot in a world that is both frightening and relatable. It is a look into what our own society has the potential to look like in a matter of decades. The allure of this story lies in how eerily close Miller's fictional world is to becoming our own. The exploration of society's over-reliance on technology will have readers on the edge of their seats and clamouring for more by the book's end. The mystery-filled plot is chock-full of exciting twists and turns and the realistic and memorable characters result in an entertaining read for science fiction and dystopian fans alike.