How the murder of George Floyd rallied our community and our nation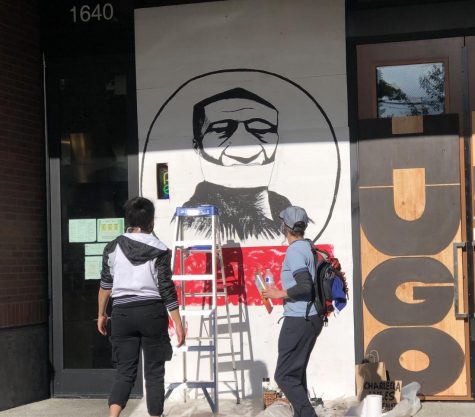 The Murder of George Floyd
On May 25, 2020, the Minneapolis Police Department responded to a call that reported a 46-year-old black man, George Floyd, allegedly using a counterfeit bill to buy items at a local shop. About 10 minutes after the police came onto the scene, Floyd was face down on the pavement, with Officer Derek Chauvin's knee buried in his neck. Chauvin kept his knee in place for almost nine minutes, even after Floyd laid unresponsive. Three other officers, Thomas Lane, J. Alexander Kueng and Tou Thao, participated as well as stood witness to this homicide. Yet, they appeared to be unmoved by Floyd's pleas for mercy and his life. No man in blue did anything to stop Chauvin.
Floyd's death was hardly the only recent act of police brutality. Rows upon rows of names can be compiled, each one representing another time the police have murdered or severely attacked a person from the black community for no justifiable reason. Breonna Taylor, Tamir Rice, Botham Jean, Ahmaud Arbery and countless others are still awaiting their justice.
"This has been happening for a long time… Now, we have live proof that police are killing innocent black women and men," Inglemoor's Black Student Union President and sophomore Osayi Stewart said. "We are able to see the real side of what happens between policemen and African Americans."
The sickening death of Floyd seemed to be the tipping point for the country. People were outraged and distrubed. It was an eye-opener for many and caused additional frustration within the black community. The American dream, the land of the free, was quickly vanquished, BSU Co-Vice President and freshman Ruth Michael said.
"Nobody right now wants to be a black man and nobody wants to be a black woman because they're afraid of just getting shot on sight," she said. 
Stewart said seeing black people get killed or attacked takes a large toll on the mental health of the black community. Floyd's video—and other violent accounts like it—show up on their feeds everyday. They show that black people will always be a target, regardless of what they are doing.
"Hope is gone because it can be me next, it could be my father, it could be my sister," Stewart said. "And this is basic human rights we're asking for. We're asking not to be killed."
Since Floyd's was recorded and well documented, any person with an internet connection could watch the injustice. Within no time, it seemed the entire country had witnessed the way Floyd was brutality silenced. The nation realized that now, more than ever, they needed to speak up. 
"Everybody saw the video. Everybody saw the officer's knee on Floyd's neck, and everybody saw that [Chauvin] didn't care that [Floyd] was screaming 'I can't breathe.' Everyone saw that he [Chauvin] didn't care that he was killing [Floyd]… And it pissed everyone off," Michael said.
"There are no excuses for this. Call it what you want. An accident, a misunderstanding, a bad cop in a sea of good ones picked as a talking point by leftist media, etc. At the end of the day, it's murder," sophomore Sam Pozen, a white-passing ally, said. 
Social Media Movement: Expecting Change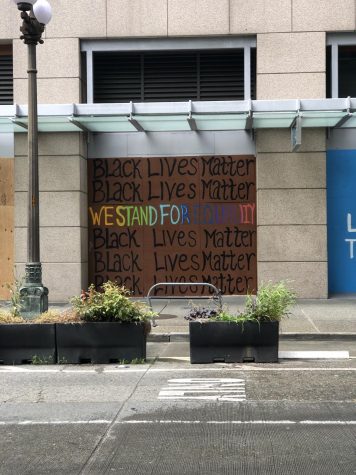 The nation erupted. Instagram stories filled up with people displaying their support for the Black Lives Matter (BLM) movement. Online petitions were signed. Police departments were flooded with emails demanding justice. 
Before the use of social media, crimes against black people would largely go unnoticed, BSU Co-Vice President Beamlak Tesfaye said. Brutality towards the black community still existed, but the public simply didn't have the means by which to watch.
"People don't really truly believe in racism until they see it with their own eyes…  In 2020, we thought we're gonna have a new decade, new us. But another decade, and racism is still here," she said. 
Over two weeks later, and the social media movement is ongoing. Stewart said that it is amazing to see the younger generation share numerous resources, repost ways to help, spread awareness and link petitions on their platforms. However, while many are refraining from posting any personal content in order to promote the BLM movement, people need display their support in more ways than just Instagram.
"Everybody's posting something like 'I'm with my black brothers and sisters,' but, later on, they're going to stop doing that. They're going to stop being with us. Not all of them, but some of them… When this is all over, it's going to die down and nobody's gonna think of Black Lives Matter anymore," Tesfaye said.
Nevertheless, Inglemoor's BSU said they hope that even after this tension settles, people will continue to support the BLM movement until its goals are recognized and justice rises. 
"I hope that people think that [the] Black Lives Matter movement is not just a trend. It's an actual thing. You need to keep having these conversations. You need to keep telling people that black lives matter, speaking up for the people who don't have a voice at school, at your work or anywhere you go," Stewart said.
Nationwide Protests Break Out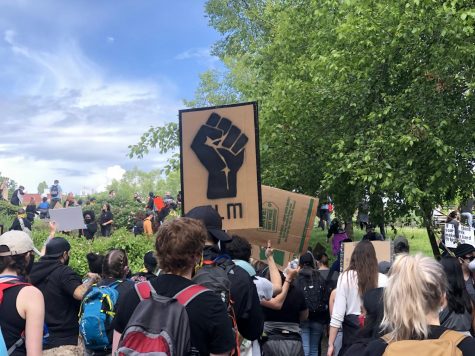 Along with social media, many have taken to the streets to voice the anger that they are feeling regarding the recent accounts of police brutality towards the black community. Across the nation, citizens are protesting against the police and for justice to be served.
"Protesting itself is a beautiful thing. I think it's time that we can all come together. There are no white people only, there are no black people only. Everyone is together protesting for basic human rights," Stewart said. 
However, as protests broke out in America's major cities, there became a clear divide in the type of people that participated: anarchists and protestors. Not all people were protesting for the right reasons.
"There are two different types of protestors. There are people who just want to make us look bad and break windows. And then there are people who are doing it for the attention that they deserve," Michael said.
Though the protests are heavily covered by the media, they are portrayed in such a way that documents violence and destruction above all else, the members of BSU said.
"With protesting, you see a lot more negative imagery than positive ones. For example, in New Jersey, there were a lot of peaceful protests, but they didn't really show that… The media just likes to show the negative side of the Black Lives Matter movement," Stewart said.
The looting and violence shown by news outlets muddles the true meaning of the protests and the BLM movement. Seeing violent rioting and destruction of cities has removed some of the public attention from the real issues that the demonstrations set out to challenge.
"When we don't show the good stuff, it makes this whole thing kind of hopeless. Because if we don't see that it's actually working then what's the point? When they show the positive side, officers taking a knee or hugging black protesters, it shows a kind of hope for humanity—that we can actually one day become equal," Tesfaye said. 
The media's portrayal has led to much controversy over whether or not the protests should be occurring. Some believe that the protestors are causing too much damage for their actions to be justified. However, Pozen said this must be looked at in another way.
"Do you think innocent African Americans are still being murdered because they didn't protest peacefully enough? No," Pozen said. "It is because white Americans are aware of the dynamics between them, the police and black Americans. They know that the instant they call the cops on a black person, it is a potential death sentence."
Additionally, the BSU said they believe that the protesting, violence and all, is helping to bring much-needed awareness to the BLM movement. 
"While I don't condone violence, it's just something that America listens to. We tried peaceful protesting with Colin Kaepernick. And that did not work," Stewart said.
How to Change Unjust Systems:
Even though Americans may disagree about the best way to achieve change, it is apparent that the minds of American people as well as the systemic racism in America needs to be transformed.
"We have systems and institutions set in place that put minorities at a disadvantage. Our criminal justice system was built and established during the Jim Crow era, which should speak for itself. We need to hold everyone accountable for acts of racism, especially police officers and other people in powerful government positions," Pozen said.
Aside from protesting, challenging those in power in order to reform oppressive institutions is increasingly important when it comes to supporting the BLM movement. Stewart said voting was just as effective as protesting, as it can fundamentally change racist systems in America.
"If we just change the sheriffs or the President, for example, maybe things would be better," Tesfaye said.
Unfortunately, voter suppression is becoming more prevalent in the U.S., especially in Republican states. This makes it harder for citizens to vote via mail-in ballots, and polling places and times are becoming severely limited. Nevertheless, there are many items that all people, including Inglemoor students under the age 18, can do to help improve the inequities that plague America. 
"Everyone should donate to charities, sign petitions, protest and be loud," Pozen said. "Speak out on issues that are keeping people of color from thriving and don't be quiet when you see injustice in this world and do what you need to do to get us closer to equality."
Supporting BLM as an Inglemoor Student: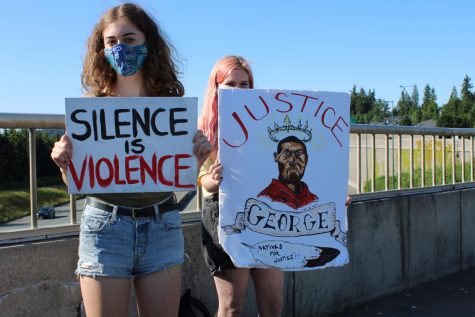 The Inglemoor community not only has a responsibility toward this movement but also toward making their school a better place for their black peers. Students should always speak up when witnessing any sort of racist or discriminatory remark at school. Joining or supporting the BSU is another important way to stand in alliance with those students most affected. 
"A lot of people think that it's a black only club, but it's really not. It's for all races," Michael said. 
The BSU aims to support black students and help them feel comfortable in Inglemoor's environment. When non-black students join, it shows black members that they are supported and valued by their peers.
"We're just here to talk about the problems we face in our community and the problems that are happening in the world right now. And we would like people that are not black to just listen. You may add on to it, but mostly listen, because this is a club for predominantly black students to get their feelings out," Stewart said. 
"It really helps when other people of color can be there, so that we can understand that we are one," Tesfaye said. 
That being said, white-passing people and other people of color must make this movement their fight. Though many minorities have suffered their own share of maltreatment, the black community is especially at risk given the current situation in the U.S.. All lives can't matter until black lives matter, thus everyone should be advocating for an end to this oppression. 
"In times like these, silence does truly equal violence. If you are white, it is time for you to help create change and prove yourself as an ally and not a bystander," Pozen said. "I believe that awareness is knowledge, and knowledge is power. However, it is up to us what we do with that knowledge. We can either post about it and complain, or we can share resources and listen to African Americans when they clearly state what steps can be taken to help."
More than anything, your voice is important. Use it. 
"It doesn't only have to be when one black person gets murdered. It shouldn't just be one black person that makes people start to speak up," Tesfaye said. "All people can do is support us. That's all we really need right now… But we can't change people's minds. We can't change people's hearts. They have to want it themselves. They have to want to support."
Additional Resources: 
Thorough list of resources and ways to help:
https://blacklivesmatters.carrd.co/
List of petitions to sign:
NAACP Official Website:
Black Lives Matter Official Website: