Boys tennis racks up wins on the court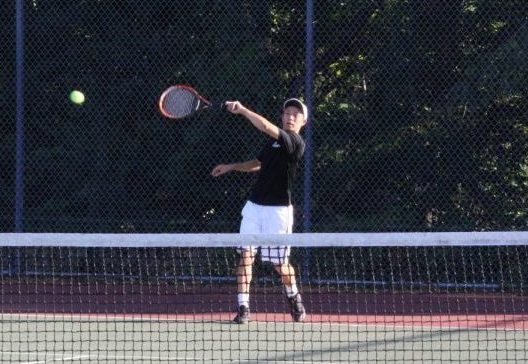 Boasting a 7-4 win-loss record, the boys tennis team finished its season strong after its last game on Oct. 5.
Senior captain James Peng said that throughout the season, team members continually impressed him with their focus and composure.
"I was really surprised by our younger players this year," Peng said. "They really stepped up and made our varsity team much stronger. We lost a lot of seniors and we needed everyone performing at their maximum."
In addition to losing seniors, the team struggled when members got sick over the course of the season. Peng said that adjustments were made on the team in order to counter this.
"A lot of people just got sick during the season, and that's just tough because you really can't be in that maximum performance state when you aren't at your best," Peng said. "We just took [the sick players] out of singles and put them into doubles so they didn't have to expend as much energy."
Peng said that in doubles, a strong bond is required to play well. Junior Edward Xin said that these strong bonds improved player performance.
"When we bonded together, we got more comfortable with each other and got more in sync," Xin said.
Strong bonds between doubles players allow them to work well together, Peng said.
"If I were to revisit next year I would love to see the doubles pairs decided earlier," Peng said. "It's really important that they get to know each other and develop a bond before they are put in that high intensity environment."
Overall, Xin said the team had a successful season.
"Our doubles team was really strong," Xin said. "We had good partnerships and we all played together quite well."