The tricks and trade of the senior assassin game
Jun 16, 2023
Senior assassin is a long-standing tradition among Inglemoor's graduating class. It is organized by the junior class office. With 93 participants, the Class of '23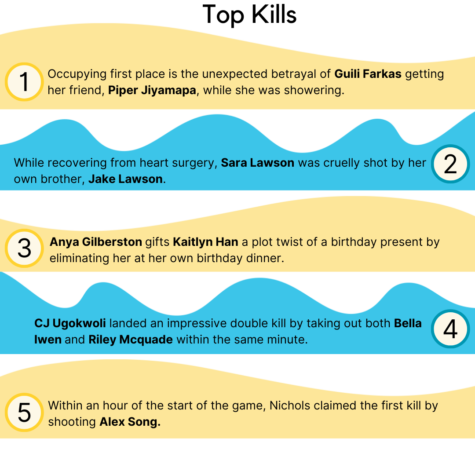 recently concluded their round of senior assassin for the chance to win a $465 cash prize.
The objective of the game is to be the last one standing in a weeks-long battle-royale style nerf gun fight. Person A targets person B, and when person A completes their "kill" while capturing it on video, person B's target becomes person A's new target. 
Each week, new targets are assigned and videos of all kills are posted on Instagram. If a player fails to execute their target before the end of the week, they will be put on "the hit list," which means they are fair game for all participants. Once on the hit list, the player must survive for at least 24 hours and eliminate someone else on the list to remain in the game.
Protection options such as goggles or water floaties are posted weekly and can be worn only three times a week. If the limit is exceeded, the player is put on the hit list. The exploitations of loopholes and unexpected plot twists ensures that each game provides a fresh wave of entertainment for spectators and players alike.
In the '23 season, senior Bryce Almond (he/him) snagged first place by not only being the last man standing, but by also successfully taking the most kills. However, he was not alone on his road to ultimate victory. Almond forged alliances with fellow seniors, Ross Nichols and Merari Sanchez-Cabrera, and the three split the winnings evenly. Follow in the footsteps of these impressive winners by adhering to some simple senior assassin advice.
Do's
Be patient:
Haste makes waste. Don't sacrifice your safety for what seems like a quick kill.
"I didn't really rush anything that I didn't have to. There were actually a couple of weeks where I just didn't get a kill. I just went on the hit list, accepted that and then just figured it out from there," said Almond.
Park in the garage:
Many victims were eliminated when they sat defenseless parked in their driveway, assuming they were safe. The easiest way to avoid getting ambushed on your own turf is to simply park in your garage. You never know who's lurking in the bushes.
Debrief your parents:
Keep the fam updated. If they spot a suspicious teenager lurking in the driveway, ensure there's a procedure in place for them to shoo the potential threat away. Siblings can also be a valuable tool in helping successfully evade and trick your assassin.
Make alliances:
Allies can be an indispensable tool to earn at least a fraction of the reward, and the size of that fraction depends on how many you choose to extend your trust to. After Almond enlisted the help of Sanchez-Cabrera and Nichols, who's own target was Almond, he had free rein to go on a killing spree on the final day, with no worries of being hunted himself. "Know who you can trust and then try and win with them," said Almond.
Leave a Comment
Dont's
Trust easily:
While having pacts and alliances can be helpful, trusting too easily can lead even the most      skilled assassins to their doom. Be particular and don't be fooled by false promises and ulterior motives.
Leave your home:
Remember, you have a target on your back. Each trip to the outside world is a risk that may cost you the game. Besides the safe zones, (school, school-related events, work, religious places, and running cars) each step beyond your home increases your likelihood of becoming the next kill.
Sit in your car:
When you're being pursued at every hour of the day, relaxing in your car may not be the   brightest idea. Wait until you're clearly inside a designated safe zone to lower your guard.    Assassins will do whatever it takes to get a kill and if that means camping outside of your house for hours, running on only adrenaline and the sheer hope that you'll show up, so be it.
Expose info:
If it can track you, turn it off. Everything from Life 360 to Snapchat Maps can and will be  used to hunt you, and not just by your assassin. Be mindful of who you share your whereabouts with; friends, siblings and even parents could potentially expose you.
Leave a Comment