Senior athletes continue their athletic career at a college level
Last November, senior Brooke Demerath signed with Utah State University to play NCAA division 1 women's tennis.
According to Demerath, Utah State is the ideal school to continue her tennis career as well as her academics. 
"The school is beautiful, and they have a great department for my major," she said. "I loved the girls on the team, and I really liked the tennis coach."
Demarath said that she started playing tennis when she was 13 years old after watching her older sister compete at the collegiate level. She was inspired to pursue the sport herself and said she fell in love with the sport.
"My favorite thing about tennis is that it's more of an individual sport," Demarath said. "I think it ties into life in general—teaching you how to do it on your own, but at the same time having a team that is in the same position as you, and supporting one another."
As Demarath looks forward to traveling and competing with the Utah State team next year, she said her time at Inglemoor equipped her with lessons that she'll take to college and beyond. 
"One thing I learned at IHS that I'll take with me to college is how important your relationship with the school and the teachers is," Demarath said. "It's really all about the choices you make in school that will help you succeed and be happy where you're at."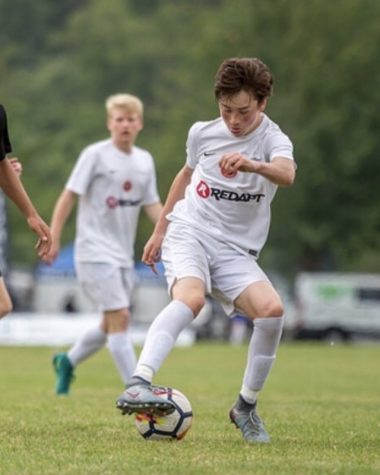 Senior Lucas Hakamada has announced his commitment to play men's soccer at Western Washington University 
Hakamada said the location and environment of the campus was important for him, and he was drawn in by how the players worked as a team.
"I took a visit down there and saw the team train. They all looked like they worked hard," he said. "I also really liked the campus, and it's pretty close to home, which is good."

Hakamada said that his experience at Inglemoor has pushed him to be a good student and have a strong work ethic.
"Inglemoor has given me the tools to become successful—hopefully in college. That's my biggest takeaway from high school," he said.
Growing up, Hakamada said that soccer was a big part of his life, and he always had goals of playing at a college level. 
"I used to watch a lot of UW men's soccer games, and that inspired me to want to be like those professional players," he said. "I love soccer because it's like a stress reliever to me, especially if I have a lot of school work. I'll usually take a break, go play some soccer, and when I come back, I feel more focused."
During Hakamada's time at Inglemoor, he experienced many memorable moments and accomplishments. 
"In 2019, we were in the playoffs, and we won with penalty kicks," he said. "After the game, our team went and celebrated. That was one of the best moments, for sure."
Hakamada said he has set high goals for himself for his college career, and that he is looking forward to getting started and continuing his passion for soccer.
"I'm excited to just compete in the games and hopefully be successful over there and win some trophies," he said.