Paraeducators connect classrooms with specialized support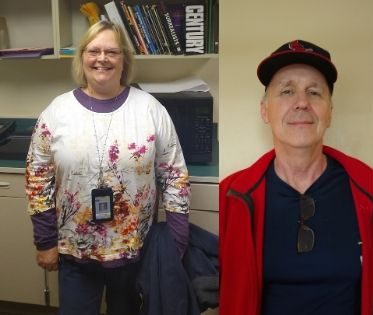 The role of a paraeducator is to address the shortcomings of classroom-based learning, establish an environment that meets a broad range of needs and account for diverse learning styles. While they have a responsibility to students who have individual education plans, paraeducators also act as a support link for many students on their paths towards academic success due to their work in larger classrooms. 
Paraeducators Richard Kobylka and Lola Presley, for instance, spend most of their time aiding any students who need support within the classroom. 
"I can help with note taking," Kobylka said. "I can take them to a different classroom or academic lab to take a test or quiz and then, be there to answer questions."
Kobylka started teaching at Inglemoor three years ago after taking a break from his career in business.  
"My wife died 10 years ago, and so I took seven years off from work," Kobylka said. "When [my kids] got older, I decided to go back into the workplace."
Similarly, Presley hadn't always pursued a career in the classroom. Presley worked at Washington Mutual Bank for 12 years, and she said it wasn't until her company downsized that she decided to consider other career options.
"I needed to choose whether to stay in banking or not. My husband is a teacher, and he thought I would be good at it. And so I just thought, 'Well, why not? I'm kind of at a crossroads in my life anyway,'" Presley said.
Both Presley and Kobylka were uncertain of their positions in the beginning. However, Kobylka ended up accepting a full-time job, and Presley is in her 13th year at Inglemoor.
"I learned my initial fears were ridiculous shortly after I got here. You guys are just kids. I love working at the high school level," Presley said.
As a paraeducator, Presley said she most enjoys engaging with students. As she assists students with their assignments, she said she has been able to witness exceptional growth inside the classroom.
"One of my favorite moments was when I worked with a student who was kind of struggling on his five-paragraph essay. We worked on it… and he didn't really understand," Presley said. "But the third time we did an essay, he got it, and he knew how to do it on his own."
Presley works with students of all grade levels. She has held positions in many different subjects, depending on what her students' needs are.
"I've been in history, the sciences and sometimes art… This year I'm really heavy on English, but that doesn't mean next year I will be as well," Presley said.
When Kobylka began working full-time at Inglemoor, he said he found an uplifting community of staff and students. He said that fellow staff members create a welcoming and lighthearted environment. 
"The staff and the teachers are terrific," Kobylka said. "They're exceptional teachers."
He said that he sees his role as a paraeducator not only as a duty to teach students but also as a way to support busy teachers. 
"I'll help pass out papers and stuff like that," Kobylka said. "Technically, that's not my job role, but I like to help out the teachers."
While Kobylka and Presely hold roles different from traditional teachers, they both actively work to bridge the gap between learners and the challenges presented by a traditional classroom. 
Through a balance of assisting students and working with teachers, they said they have found a community they can both contribute to and personally benefit from. 
 "By the end of my first year, I loved my work," Presley said. "It's so cool that every day I get to help students get to their goal."