Boys basketball roster shows early promise
Despite carrying only two seniors, boys basketball starts 4-0 and looks to make their second state playoff run in three years (their last State appearance being in 2016).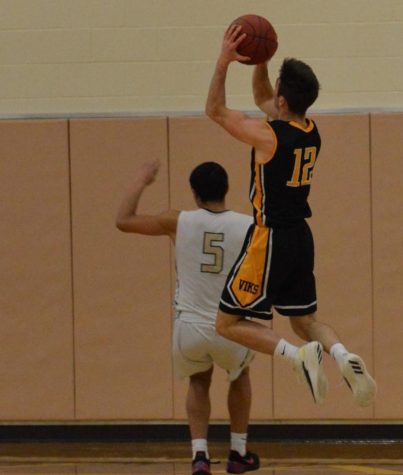 As the 2018 season continues to unfold, boys basketball will be seeking improvement after last season's 3-17 debacle.  
The roster is young, carrying only two seniors this season, and senior Calvin McDaniel said he feels responsible to step into a big role on the team. McDaniel said he feels like it is his role to be a leader on and off the court, especially considering he is one of the seniors on the team.
Despite the shortage of seniors, the Vikings will have some key returners ready to play this season. Junior Zach Shimek is back for his third Varsity season. In 2017, Shimek was atop the Vikings in all scoring and passing stats.
Junior Zach Hedge will also be looking to make his presence known, in his second season on varsity. Hedge came onto the team last season and proved himself to be a dynamic, all-around athlete leading the boys in rebounds, steals and blocks.
Although a young team can pose many challenges, they often provide a new excitement in a basketball program senior Blaine McGoorty elaborated on.
"We look forward to every game; no matter who we're playing, we go out and compete. We're motivated by winning and the only way to win is to go out and compete every game," McGoorty said.
The boys were set to open up the new season at home against Snohomish High School on Tuesday, November 27th.
For McGoorty, it was his first game back since suffering a torn ACL back in 2017, and his first chance to get out and really put his knee to the test after an offseason packed with physical therapy and personal training.
"My offseason was a lot different than normal, it was just about focusing on strengthening my knee," McGoorty said. "It was a slower process but it was definitely worth it… I feel like my knee is stronger than it ever has been."
In the season opener, the team didn't seem to have an issue getting back into the groove of things despite the number of new players this roster carried. This was no surprise for McDaniel however, who said team chemistry and the ability to play together was one of the major strengths of this year's team.
Junior Peter Hansen led the charge in his first varsity game with 17 points, 10 total rebounds and 3 steals. Shimek complimented that performance nicely tallying 17 points as well, along with 4 assists. As for the team as a whole, the Vikings walked out with a decisive 74-57 giving them a 1-0 start.
In the boys KingCo opener a week later, they went on the road and edged out Eastlake 70-64, and then blew past Lynwood (52-37) and Interlake (63-46) giving the Vikings a perfect 4-0 start, their first since 2016 when the Vikings made their run to the Tacoma Dome. 
Despite the doubts other teams might have about this year's Vikings, McDaniel feels this team is full of potential.
"In the end, I expect us to be on top of KingCo… We aren't the biggest team or anything, but we've got great chemistry," McDaniel said.
"Making it to state is a realistic goal right now, we're the only undefeated team left in KingCo as of now but we need to take it one game at a time, and keep getting better," junior Dawson Tucker said.
A KingCo championship this year would be the first for the Vikings since 2006. The last time this team started 4-0, they ended up in the Tacoma Dome. As the season unfolds, we will see if history will repeat itself.
Leave a Comment
About the Contributors
Caden Frank, Sports Editor
Senior Caden Frank is the Sports Editor of Nordic News for the 2018-2019 school year. He is returning for his second year in Nordic and after being a reporter...
Ryan Brownell, Reporter
Senior Ryan Brownell is a reporter for Nordic News for the 2018-2019 school year. His goal is to create a more informed and connected student body through...