Girls swim and dive returns to state championships
After finishing strong at districts on Nov. 2 and 3, the girls swim and dive team sent eight of their top swimmers to the state championships at the King County Aquatics Center for the first time in two years. Preliminaries were held on Nov. 9 and finals were held the following day on Nov. 10.
Coach Anthony Schulz, who has been coaching for the past three years, said the team's hard work paid off and "peaking at the right time" during districts was what allowed them to qualify for states. However, junior captain Maddy Chow said this came as a pleasant surprise for the rest of the team.
"At the beginning of the year, we didn't think we'd make it to state so we were really [ecstatic] that we got to go this year," Maddy Chow said.
To prepare for state, the number of practices were lowered to three times a week. The team tapered by swimming 1500 yards per practice instead of the standard 2500 yards during the regular season. Although there was a heavier emphasis on technique and mental focus, sophomore Ella Marzec said they promoted comradery as well.
"We got a lot of team spirit going by getting matching jackets, t-shirts and shorts and that helped us feel really united," Marzec said.
Senior captain Julia Pakkala said this sense of unity was prominent at states, where the Lady Viks continued to be supportive of each other. Although she went as an alternate due to a previous injury, she said it was still important for her to be there.
"For meets like state, it's a set roster of alternates to choose from so for both relays we swam, there were four swimmers and four alternates," Pakkala said. "I haven't been able to train as much as I would like to so I didn't really [swim] but it was fun to be there and support the other swimmers."
At state, the team's 200 medley relay finished 13th while their 200 free relay finished 16th. Freshman Megan Chow qualified for finals at the preliminaries for the 100 back and ended up receiving 16th place.
"I was under a lot of pressure in my individual event but I performed a lot better than I expected," Megan Chow said.
Although making it to state was a huge accomplishment this year, Pakkala said she hopes that the underclassmen will keep up the good work in the future.
"They were all really driven throughout the season and once they found out we were going to state, they were so excited," Pakkala said. "I'm really hoping they'll continue that drive next year."
Leave a Comment
About the Contributor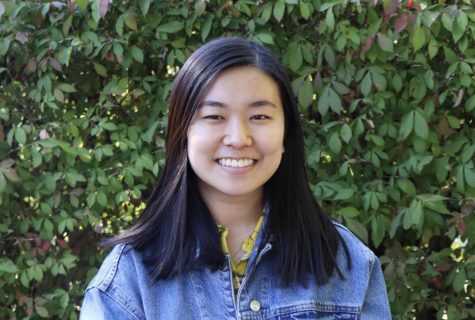 Shannon Hong, Web Editor-in-Chief
Senior Shannon Hong is the Web Editor-in-Chief of Nordic News for the 2018-2019 school year. Her goal is to expand Nordic's online presence through social...