Instagram advocacy needs a more direct approach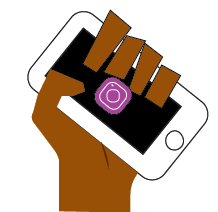 With the civil unrest that our country has been facing, social media activism, primarily on Instagram, has emerged as an accessible tool to help inform people of important issues in our world. 
Instagram posts can break down complex issues to make them easier to understand with the help of visuals, such as charts or infographics. This is particularly impactful for teenagers and young adults, the primary users of social media, as it might push them to become more civically engaged. It is important to help educate younger generations on important political issues because they are the future leaders and educators of our country.
Social media activism is ideal for quickly spreading information, as topics trend or go viral when repeatedly shared. This helps spread important links to petitions or websites, pushing people to donate and sign. Instagram activism leads not only to increased focus on pressing problems, but also to tangible support of organizations working to solve them, such as established nonprofits that need funding to continue impactful campaigns. 
Instagram is easily accessible — it's free and easy for people to use; media users don't even have to leave their bed to take part in activism. This has become increasingly important, considering that we are currently in a global pandemic.
To create real change within unjust social systems, though, activism must extend beyond Instagram content, either through in-person action or more directed online activism that goes beyond words. While personal health and safety is a key priority, for those who have the option, Instagram shouldn't be a substitute for in-person civic engagement. 
Digital activism has its limits. In July 2020, a survey conducted by the Pew Research Center found that only 63% of surveyed U.S. adults thought that social media movements make elected officials pay attention to issues, despite 80% believing that social media content raised public awareness of issues in society. 
Thus, although it informs a wide range of people about many issues, social media struggles to hold individuals accountable in the real world and make definite steps towards a goal. While a post may get hundreds of thousands of likes, indirectly having an impact, protests with thousands of people often draw more attention and have a better chance of reaching the intended audience directly. 
This contrast between indirect and direct activism becomes even more stark because many people settle for and stop at indirect, online activism. In this sense, the simplicity of social media activism is counterintuitive — it takes little effort for someone to share a post, and once that's done, posters get the impression that they have done their part as an activist. Social media can easily dissuade these people from doing more; they settle for half-hearted activism instead of more directly engaging with an issue through actions such as protesting, organizing donation drives or volunteering to support a cause. 
Nevertheless, for those who do not have the option of in-person advocacy, online activism too can be conducted in a more effective, direct way. Many posts or stories provide information, but to have a real beneficial impact, online activism must also offer a course of action. Petitions, for instance, rally masses against an issue in a distinguishable way, compared to Instagram likes or comments. Petitions are measurable and specific and are held to a degree of authority by people in power. 
Direct online activism can be a part of Instagram; though Instagram itself may not incite action, it can lead to concrete change by promoting more effective forms of activism. Spreading petitions, resources, phone banking opportunities, donation sites or webinars are all areas where Instagram excels — provided that Instagram users respond to these opportunities for additional engagement. Users should not settle for simply seeing a post that others are posting and putting it up on their story, barely skimming the contents. 
This becomes the duty of social media users. Social media activism is useful, so long as users challenge themselves to engage in more active ways that make an impact. To create real change, social media users must look for deeper forms of engagement, whether it be in-person, doing direct work, or online, following posts further by clicking on resources and petitions. Social media wields influence in our world. However, to ensure that posts translate to real improvement in society, social media users must view platforms not as a destination for advocacy, but as a path to widespread and direct engagement.