Kealey Stanich steps up as new athletic director
Kealey Stanich (she/her) has filled Lance Gatter's shoes as Inglemoor's new athletic director. Before she was promoted as athletic director, Stanich taught health and fitness and coached girls volleyball. As athletic director, her job is to manage athletic facilities, organize sports schedules, approve athlete eligibility and be responsible for anything else involving athletics at Inglemoor.
Stanich said the primary reason she accepted this position was for the student athletes. She admires their hard work and wishes to support and represent them as they train and compete.
"No matter if we're winning or losing, I love seeing the excitement of the kids in their passion for representing Inglemoor. That's really why I'm doing this," said Stanich.
Another reason that motivated Stanich to take on this role was that she felt that the athletic department needed more passion, which she believes she can bring.
"I just think we need some young vibes, and I was able to bring that," said Stanich. "I know the culture of Inglemoor, and I know that we needed that spirit to come back. Not that we didn't have it, but just that little support of the spirit."
As athletic director, one of Stanich's goals is to increase student-body involvement and attendance at sports games. One way she plans on doing this is by sending out more emails and newsletters to encourage more people to show up and support athletes.
"I want kids to come and enjoy the games — great if we're winning and not so great if we're losing — but I promise you if there's fans there and we're struggling, they help us more than they hurt us," said Stanich. "Go to the games and go enjoy them, because I know our student athletes really appreciate it, and they will play harder for a crowd that is bigger than just their parents in the stands."
Additionally, Stanich hopes to raise student voices in the athletic department. She wants to make sure athletes know their voices are heard and their opinions matter.
"I think that's something that has been missing, and so my biggest [hope] is making sure that not only are our coaches being heard — because they need to be heard — but our student athletes get to put their voice in there, too, and talk any concerns or any positives that they are seeing," said Stanich. "I want to make sure that I grow that relationship with our student athletes."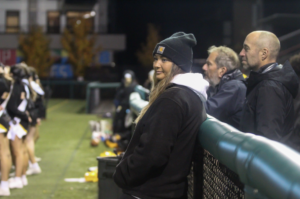 Senior football captain CJ Ugokwoli (he/him) supports Stanich in taking up this opportunity. During Ugokwoli's freshman year, Stanich taught his health and fitness class. He recalled that she was very reliable and supportive of her students.
"I know a lot of students felt really comfortable with Ms. Stanich as a teacher, so I feel that it was a very positive change to have her as the new athletic director," said Ugokwoli.
In previous years, Stanich said that students didn't know how to approach the athletic department. Stanich wants to ensure that athletes are confident that her "ears are always open and no is not [her] first answer." 
"I want to be able to help as much as I can and know that I exhausted my toolbox before I have to say no or yes, " said Stanich.
Ugokwoli said he appreciates that there's someone who's always willing to hear his concerns. He said Stanich is someone the team can rely on if they need something or want change.
"Even if we don't agree with Ms. Stanich on it, we can just talk to her about it and she'll see our point of view," said Ugokwoli. "We can try to make something happen. She's always willing to make a change if we feel that change is necessary."
In addition to her other goals as athletic director, Stanich said she hopes to consolidate the school's athletic community. 
Senior cheer captain Mikayla Thurman (she/her) said she's glad that Stanich is trying to connect with all sports teams, especially ones that typically go overlooked.
Thurman hopes that every team is treated equally and has the same opportunities. She said Stanich is already doing great at working towards this by communicating with and supporting each sports team.
"We're getting our coaches involved in everything to make sure that we are all one unit. We're not separate," said Stanich. "It's not athletic director, coaches, or student athletes. We're just the athletic department, we are Inglemoor athletics, we're all one," said Stanich.