Nordic News joins White House Press Corps for a day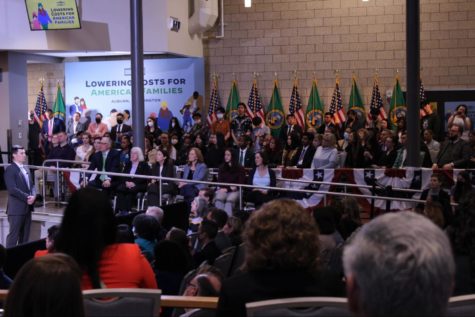 On April 21, President Joe Biden arrived in Washington State for the first time in his presidency. That evening, he spoke at a Democratic National Committee fundraiser hosted by Microsoft President Brad Smith and Smith's wife Kathy Surace-Smith.
The next day, April 22, Biden spoke at Seward Park in Seattle about climate change and signed an executive order to protect forests. He spoke surrounded by Governor Jay Inslee, Senator Patty Murray, Senator Maria Cantwell, Seattle Mayor Bruce Harrell, Congresswoman Suzan DelBene, Congresswoman Kim Schrier, Congresswoman Rick Larsen, Congressman Derek Kilmer and Congressman Adam Smith.
Biden's next event was a sold-out speech at Green River Community College in Auburn on health care affordability. Nordic News contacted the White House Press Office and secured a pass to join the traveling White House Press Corps for the event.
Biden's speech, which was attended by all of the aforementioned officials—as well as other elected officeholders such as State Treasurer Mike Pelliciotti, King County Executive Dow Constantine, Speaker of the Washington State House Laurie Jinkins and several state senators and representatives—took place on a campus heavily locked down by state troopers, local police and the Secret Service.
Murray, Cantwell and Schrier spoke together before Biden's speech about how their work has intersected with the President's. Inslee spoke next on the same subject.
Biden then walked on stage alongside Sammamish mother and daughter Elisa Graceffo and Juliana Graceffo, who have been prominent fundraisers for diabetes research following Juliana's diagnosis more than a decade prior. Following the pair's introduction of Biden, the President spoke for about 35 minutes.
Biden focused his speech on the need for Medicare to be able to negotiate the cost of prescription drugs; for example, he noted that one anti-cancer drug costs $14,000 per month in the United States versus $6000 in France, which leads many Americans to ration their medicine.
He also shared his support for a federal $35 monthly cap on the price of insulin. Earlier this year, Washington State passed a statewide law to establish such a cap in order to mitigate the costs for families of life-saving health care. The average national insulin cost is $683 per month. Biden also reiterated his support for the protection of the Affordable Care Act—"Obamacare"—and other steps he said were needed to reduce drug and health care costs for Americans.
Immediately after the event, Biden departed for Sea-Tac airport and left in Air Force One for his home state of Delaware.