A cheeky guide to surviving college dorms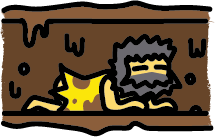 A Cheeky Guide to Surviving College Dorms
To all the seniors packing up and leaving for college soon: these tips will help you survive the dorms! 
A frequent concern for many new dorm dwellers is the possibility that their roommate may, in fact, be a serial killer. It's really not possible to identify psychopathic tendencies via a Class of 2025 Instagram post about favorite hobbies, so in order to safeguard against being your roommate's next victim, it's necessary to build a 360 degree, floor-to-ceiling brick wall around your side of the room. By leaving no ways into your brick-enclosed enclave, you will be totally protected from attacks day and night. However, since there will also be no exits, it is important to stock up on food and water that can last you until it's time to come home for winter break. A brick wall of this magnitude will also require a decent amount of mortar, but quick browsing of the Home Depot website reveals that mortar mix only costs the equivalent of 6 packs of ramen — perfect for a broke college student!    
You may need a way to keep those pesky roommates in check, so make a roommate contract that controls everything they do! Do you hate parties? Make it so they can never see anybody, ever. What about conflicting aesthetics? Force them to fit into yours, something like a neo-gothic cottagecore pop punk apocalypse aesthetic — a style everyone can relate to! Do you hate hair and dust everywhere you look? Then give them a lenient schedule such as cleaning the whole dorm on each day that ends with the letter Y.
With these roommate provisions, everybody will be flocking to live with you in your dorm!
Social anxiety is very common nowadays, especially since everyone stayed home for the entirety of last year. So why not take it to the extreme with your college life? When getting a dorm, slide some money under the table to the resident advisor to let you tunnel into the wall and hide in there. Nobody will even know that you're there! It may be a tight fit, and the walls will be thin, but that makes up for getting rid of the stress of seeing other people. After that one-time payment to the residence advisor, you might not even have to pay for housing since, from the outside, it looks like nobody's living there. Anything to save money in this economy. And, before you settle into your uncomfortable abode for the long-term, stock up on Vitamin D pills: there won't be any sunlight coming in.
Disclaimer: We here at Cheeky do not support under-the-table dealings to live inside the walls of college dorms nor do we think a brick wall to be the optimal way to stop a serial killer.