Nordic's summer 2021 local eats
As the weather gets warmer in Seattle, an opportunity surfaces for our community to come together and support local food businesses. From Hawaiian food to boba, here are a couple of local favorites to safely try during the pandemic!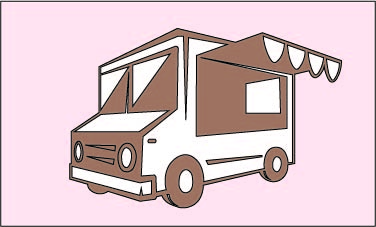 La Sabrosa Taqueria 
Established in 2005, La Sabrosa Taqueria is a fun and family-friendly food truck located right off of Bothell-Everett Highway. It's affordable and authentic! It's hard to find food trucks that live up to their Yelp reviews, but we promise you, La Sabrosa Taqueria exceeds all expectations. Their tacos are juicy and full of flavor, and portions are incredibly generous at such a reasonable price. They offer a variety of different meats and spices to choose from on their menu, and the ingredients and vegetables are freshly grilled and taste incredibly authentic.
A Nordic favorite is the chicken street tacos, which come with fresh onion and cilantro on top. The flavors of the seasoned chicken and fresh produce blend beautifully together. They also offer beef and pork as alternate meat options. A variety of flavors of Mexican sodas are displayed — a perfectly sweet contrast to pair with their savory foods. If you're looking for a place with outdoor seating, La Sabrosa Taqueria has provided a couple of covered picnic tables in front of their food truck. It tends to be quite busy, so if you can, order ahead for pick up. Just remember that they only accept cash! Or, if you don't want to leave your house, you can find La Sabrosa Taqueria on Doordash and Ubereats! 
Hapa Food Co. 
From poke to kalbi beef ribs, Hapa Food Co, located in Woodinville, has all kinds of fresh Hawaiian dishes. If you are looking for a quick grab and go, this is the perfect place for you! Whether you are in need of something sweet or savory, they have it. Our personal favorite sweet treat from Hapa Food Co. is their stuffed malasadas — these custard-filled fried donuts will positively melt in your mouth. The filling isn't too sweet, which perfectly complements the crunchy sugar-coated dough! Another notable dish is their garlic shrimp. The shrimp is buttery, seasoned well and are garnished with the perfect amount of garlic. Even their side dishes—macaroni salad and kimchi are complementary to everything on the menu. The staff at Hapa Food Co. is friendly and helpful, and their service was reasonable. Though it is hard to find parking, it is so worth it! Their food is authentic and their establishment is the perfect place for a mid-day meal. 
Bobae
Bobae Coffee and Tea, located in Woodinville, is known as the home of the viral boba donuts, as well as being the first to innovate nitro bubble tea! This unique type of tea is infused with nitrogen, which gives the drink a creamy and smooth consistency, and can be served with your choice of a variety of bobas and jellies. The owners of Bobae are dedicated to providing freshly brewed tea and house-made ingredients in their beverages. They believe in giving their customers a farm-to-drink experience and avoid artificial and powder ingredients. They partner with local Washington businesses to provide the best milk products as well as coffee. A must-try item on their menu is the Red, White and Matcha. This delicious drink is made with real, ceremonial grade matcha shipped from Japan. The drink includes strawberry puree at the bottom, which is a perfect pair to the creamy matcha flavor, creating a strawberry shortcake taste. They have earned recognition for their creative and delicious menu from local Seattle news sources such as King 5 and the Seattle Times. All of Seattle is raving about this spot and Nordic is too! 
Shake It
Head over to Shake It in Kirkland to customize your choice of teas and blended drinks with a variety of toppings. They have options to adjust sweetness and offer many non-dairy substitutes. Shake It features puddings and tapioca as well as flavors of popping boba balls that will burst and release delicious fruit juice in your mouth. Mix it up — or shake it up — with an added drop of ice cream in your beverage, or top it off with a layer of creama. Shake It is the perfect spot to mix and match flavors. A Nordic favorite would be their Raspberry Rose black tea, a perfectly refreshing and sweet drink to enjoy on a warm day. They are also known for their blended slushies and smoothies that range from fresh fruit flavors to coffee and tea. Shake It brews their tea with organic and natural tea leaves, and incorporates fresh ingredients in their products. Their customer service and cozy cafe atmosphere really stands out. If you want to experience quality service and beverages, be sure to make a stop here at Shake It.