The Asian-American reality: Facets of discrimination and violence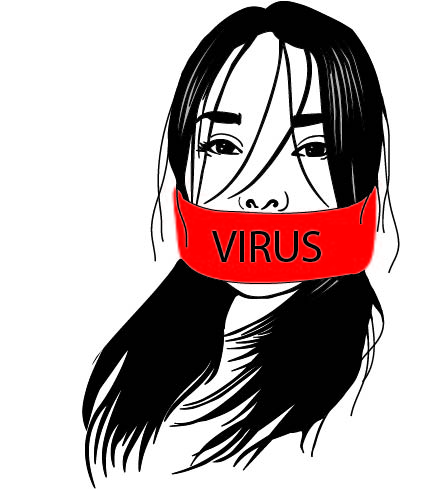 COVID + Racism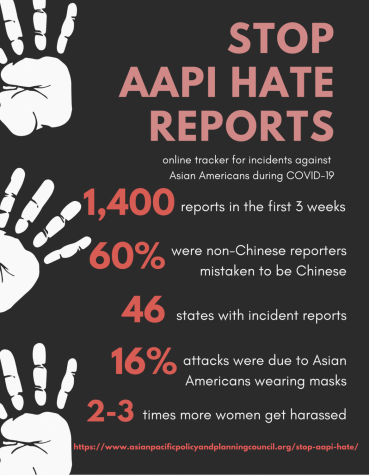 "The recent anti-Asian attacks in both Seattle and across the country have shown that there is still underlying anti-Asian sentiment that must be addressed accordingly," said sophomore Bowen Chen, who is a first-generation Chinese immigrant. Chen believes that COVID-19 provoked the recent spike of hate crimes against Asian Americans because of the virus's suspected origin—China.
Racism against Asians has had a long history in our country, but the recent assault of Inglemoor's Japanese language teacher, Noriko Nasu, has proved this matter is too close to home and needs to be addressed. 
As the COVID-19 pandemic became increasingly difficult for our country to manage, many ignorant Americans have turned to play the blame game, exposing their inner prejudice and bigotry. Because of the suspected origin of the virus—Wuhan, China—some Americans have turned to hatred, condemning an entire race. According to NBC News, as of 2020, Asian hate crimes increased by nearly 150 percent.
Sophomore Alissa Lau, a second-generation Filipino and Taiwanese American, said that the coronavirus has had such a significant impact because of its politicization by former President Donald Trump and his administration. 
"Instead of accepting and being honest with the American public that they didn't take the necessary precautions, and actively worked against these precautions, they decided to use their regular scapegoat, China, to explain their problems," Lau said.
Chen said that the origin of the coronavirus was taken advantage of by politicians and movements in order to rally supporters and to support a nationalist political agenda.
"Creating a constant association between China— and Asia as a whole to the average racist— and COVID-19, preys on the fears of American racists and nationalists, creating and normalizing Anti-Chinese sentiment, which leads to anti-Asian racism as a whole," he said. "These consequences, of course, are of no concern to politicians and political movements, as long as linking China with COVID-19 continues to generate supporters and their unquestioning loyalty."
Lau agrees with Chen on the fact that politicians, such as former president Donald Trump, are handling the pandemic at the expense of Asian Americans, indifferent to the fact that Asian Americans are a diverse group of people and are not all Chinese.
"In Trump's use of very publicly calling COVID-19 racist names such as "kung-flu" and "Chinese virus," he was able to successfully weaponize his supporters against Asian Americans, many of whom aren't even Chinese, and/or haven't traveled outside of the country recently or ever," she said.
Asian Culture + Racism
Within the scope of modern society, Asian culture is often taken out of context or fanaticized to create false narratives that promote racist stereotypes. According to Chen, this decontextualization comes from the idea of orientalism, in which Asian cultures are misunderstood, fetishized, and exoticized from a white perspective. 
Chen said he has experienced this kind of treatment firsthand, recalling an encounter when an elder assumed he ate dogs. 
"An old woman passed by me with her dog, and I was hesitant to pet it, simply because I wasn't used to animals," Chen said. "The woman encouraged me to pet her dog, saying 'Oh don't worry, you're in America now. Here, we *pet* dogs.'"
Speaking on stereotypes about Asian culture, both Chen and Lau mentioned that some see Asian-Americans as passive, which leads to violence or racism because it's assumed that Asians will defer to others. 
"Asian-Americans are often seen as docile and complicit; it allows other people to think they can treat them however they like without any reaction," Lau said. 
According to Lau, many issues that Asian-Americans face, such as normalized racism and orientalism, remain frequently unheard of because Asian-Americans have not yet shed the label of 'other' in America, making it difficult for problems to surface and reach a majority of the population.  
"Asians were often politicized as 'intruders' in America in the past and still are today. It's often hard to get people to listen to Asian American struggles, or even start the conversation about Asian American struggles," Lau said. 
The Model Minority Myth
Racism is not necessarily limited to direct acts of physical violence. To understand the prejudice against Asian Americans, it is important to consider aspects such as xenophobia, casual racism and harmful stereotypes.
In particular, the Model Minority Myth is a false stereotypical narrative that uses the economical and social success of Asian Americans in an attempt to create separation between Asian Americans and other minority groups. This in turn negates the racial disparities that they have experienced. 
"The Model Minority Myth sidelines Asians from being considered marginalized or in need of help and sets unrealistic standards for Asian achievements. This not only breeds tension between minority groups but also between the privileged, too, who will view Asians as a threat," Chen said.
The Model Minority Myth also generalizes the experiences and lives of Asian Americans by masking and disregarding the poverty and hardships that some Asian communities face. 
Lau said the Model Minority Myth has been used to perpetuate harmful stereotypes and categorize Asian Americans in a manner that diminishes their culture and identity. 
"People often forget how big Asia is, and how there are so many different cultures and ethnic groups in Asia," she said. "Through harmful and degrading stereotypes, people are able to decrease the value of Asian American problems and spread the narrative that every person with Eastern Asian features is Chinese." 
The common stereotypes that Asians are meek, studious straight-A students may not seem harmful on the surface, but these stereotypes perpetuated by the Model Minority Myth play a role in upholding a hierarchy in our society that is racially-based. 
Lau said the notion that Asians are compliant and unassertive, along with the justification that their racist words are only a joke, allows for casual racism to go overlooked. 
"Throughout my life, I have experienced my fair share of racism in the form of racist 'jokes' about facial features, being good at math and school, eating cats and dogs, and other stereotypes and racial slurs," she said.
History of Asian Americans in Seattle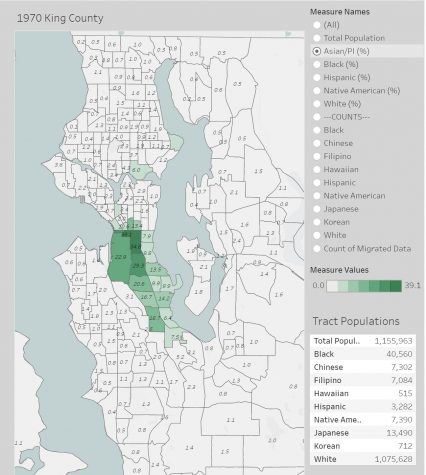 It is also notable to examine the history of Asian-Americans in Washington State; though Seattle is often heralded as a progressive city, its treatment of racial minorities such as Asian-Americans has repeatedly been anything but. As Seattle journalist Knute Berger writes, "Seattleites — white Seattleites — have long fancied themselves as being above and beyond racial prejudice." 
Lau said that Asian-American immigrants have historically been cast out of Seattle in acts of racially targeted violence.
"In the past, white people who lived here often tried to keep Asian Americans and Asian immigrants out with violence and laws that generally aren't very talked-about or remembered today," Lau said. 
In the 1880s, Chinese workers who were welcomed into Washington became targets of hatred and anger during an economic downturn. White workers rioted until about 350 Chinese workers were forcefully expelled from Washington. After Japanese immigrants were sent to internment camps, the established Japan Town (nihonmachi) in International District disappeared as other groups engulfed the area. Many Asian minorities were prohibited from residing in certain neighborhoods: a map showing residential patterns demonstrates how nearly all Asian residents resided in the International District. 
In a broader sense, Chen said that animosity towards Asians is overwhelmingly prompted by Asians supposedly competing with white settlers for jobs or money. 
"Direct hatred towards Asians was often caused by Asians being perceived as a 'threat," Chen said. "Significant historical examples include migrant Chinese railroad workers during the mid-19th century, which led to the Chinese Exclusion Act and the 1871 Chinese Massacre. Others include Japan's role in WW2, the Korean War, the Vietnam War, and China's role in the Cold War."
Although it wasn't until the 1960-70s that different groups began to unite as 'Asian-Americans' in Seattle, different coalitions of racial groups have had a long history of fighting for their place in Washington. In the 1930s, Filipino immigrants led Japanese and Chinese activists to successfully campaign against several bills that prohibited interracial marriage, while Asian and African community leaders in Seattle frequently fought for civil rights advocacy together after World War II. 
Today, Asian culture is readily available in Seattle. While appreciating the vital contributions Asian-Americans have made to Seattle, Lau said that it is equally important to remember that every development was achieved through fighting and activism against racist policies.
"Historically, there have been movements for Asian American rights, but I think that this, along with so many other parts of ethnic history in America and around the world has been erased and forgotten," Lau said. 
Moving Forward
So, what can people do to show allyship and help fight Asian-American racism? Within the Inglemoor community, Chen said that increasing the Asian voice on campus would help to raise advocacy for the Asian-American community. 
"Clubs dedicated to appreciating Asian culture, despite some already existing, could help, along with maybe inviting Asian speakers to speak about their experiences, if possible," he said. 
Lau mentioned that internal biases play a big role in normalizing and subconsciously perpetuating racism. 
"I think it's really important for everyone to check their biases and call out any forms of racism, no matter who it comes from, where it's directed towards, or whether or not it's a joke," Lau said. 
Finally, as the digital world becomes more prevalent and many youths begin relying on social media to spread messages and call people to action, Lau emphasized that the overwhelming narratives can cause people to become desensitized to racism. They said that it is each person's responsibility to admit the constant presence racism has in our society and actively take action against it. 
"It is really easy to slip into performative activism, and become desensitized and apathetic. It's really important for people to remember that racism always has been all around us in basically every part of our society," Lau said. "It's everyone's job to identify it and fight back through voting, calling out racism when we see it, accepting when you make a mistake or are wrong, and listening to and supporting oppressed groups."
The Seattle Japanese American Citizens League has compiled a list of resources for students to refer to: 
Seattle Office for Civil Rights

This office upholds laws that protect you against discriminatory harassment in housing, employment, or public places within Seattle city limits.

King County Office of Civil Rights

This office has authority to handle discrimination complaints only for King County government and for employers, housing providers, and businesses in the unincorporated parts of King County (outside the cities).

Washington State Human Rights Commission

Under the law, everyone has the right to be free from discrimination at work, in housing, in a public accommodation, or when seeking credit and insurance. Any individual who believes that he or she has been discriminated against based on protected class status may file a charge of discrimination for employers, housing providers, and businesses.
Non-government/non-police reporting tools and resources are also available. Community members can report the incident to one of the following entities to help educate the public on what's happening and shape policy:
Finally, being a victim of hate and discrimination can affect mental health as much as physical health. Please encourage victims of anti-Asian hate crimes and harassment to reach out to friends and family for emotional support. The following organizations can assist with emotional/mental health resources: