Band and orchestra perform at annual Snapdoodle Fundraiser
Band and orchestra have performed together throughout the year at competitions, concerts and the holiday assembly. However, the only time the two groups play music together outside of the Inglemoor community is the Snapdoodle fundraiser. On Dec. 1, band and orchestra provided customers and passersby at the Kenmore Snapdoodle Toys with live music from 10 a.m. to 3 p.m. A total of $2,000, which is 10 percent of the day's sales, will be donated to the Inglemoor Music Boosters to support both music groups.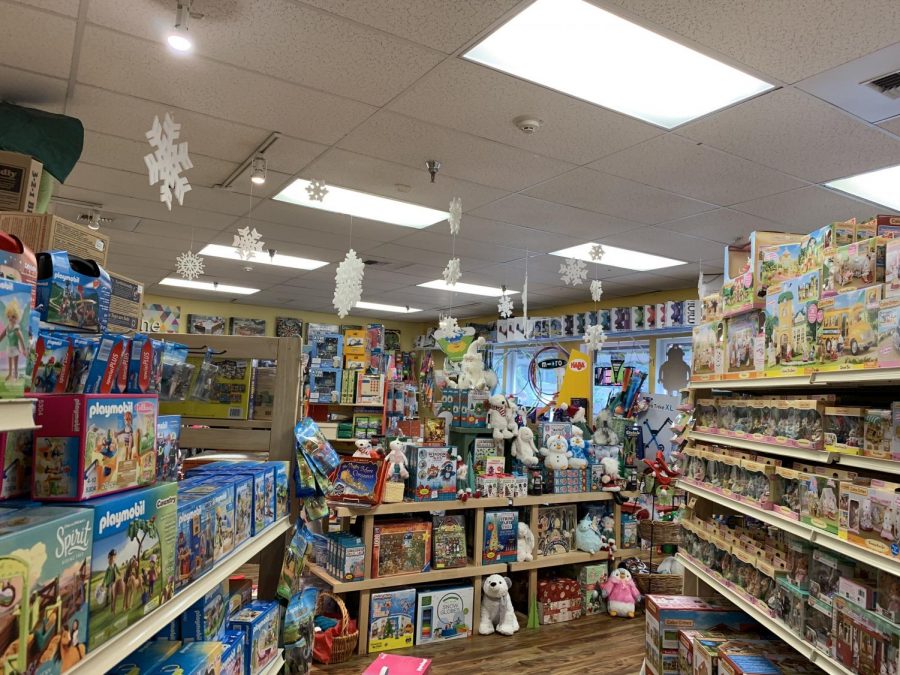 Store owner Rob Pickering said the fundraiser started about 10 years ago because his family knew many students in band, and they wanted to support the school.
"We love supporting the community, especially local schools," Pickering said. "We're hoping this fundraiser continues to spread awareness about the Inglemoor music program and Snapdoodle Toys."
For the fundraiser, students signed up weeks prior for shifts to perform. The band played songs from the marching band season outside of the store and the orchestra played a variety of Christmas arrangements inside.
"It's easy for band to prepare for the fundraiser, because we've already practiced those songs a lot for the football games," senior violin and trumpet player Max Chastain said.
As for orchestra, senior violin player Selena Lu said most of their songs are practiced through sight reading.
"About two weeks before the event, we got these giant packets of Christmas music that we were going to play and it was pretty easy because it's elementary level music," Lu said.
Although the band had to play in the cold weather, junior flute player Hannah Yoon said performing was her favorite part about this fundraiser.
"It's really fun. I love playing the music with my friends, and it's nice to see the band connect to a local business outside of the school," Yoon said.
Junior alto sax player Dennis Ni said it's also amazing to see the support from the community.
"Even if people are just passing by in their cars, they'll honk their horns, or they'll [wave at us], and it's heartwarming to see that," Ni said. "It's also cool to see how many people go inside and are willing to donate to the band and orchestra."
Although some of the donated money is used to help with uniforms and equipment, most of it goes towards trips. Senior alto sax player Gisele Charpentier, who has been working at Snapdoodle Toys since June, said she's thankful that the store is teaming up with the music program because the fundraiser will help offset costs for their trip to the San Francisco Festival of Gold in April.
"The trip will cost $1,400 per person so any fundraising we can do to try and lower that cost is very appreciated for everyone in band, especially seniors who are planning on going to college next fall and don't have any extra money available because of that," Charpentier said.
Senior violin and viola player Caitlyn Ngadisastra said a portion of the donated money will also be reserved for the annual retreat at Western Washington University in February.
"It's really meaningful to the orchestra and band, because we both get a lot of mentoring from good professionals at the retreat and that also helps prepare us for our Solo and Ensemble contest," Ngadisastra said.
Although this year's total donated money is comparable to years past, Ni said this year's fundraiser felt unique in that it attracted more customers.
"Last year, I was only here in the morning so it looked like it wasn't as busy. This year, now that I've played both in the morning and in the afternoon, I can see that a lot of people come to the store," Ni said. "I believe, from what it looks like, this year has been our best year so far.
Leave a Comment
About the Contributor
Shannon Hong, Web Editor-in-Chief
Senior Shannon Hong is the Web Editor-in-Chief of Nordic News for the 2018-2019 school year. Her goal is to expand Nordic's online presence through social...