"Star Wars: The Last Jedi" review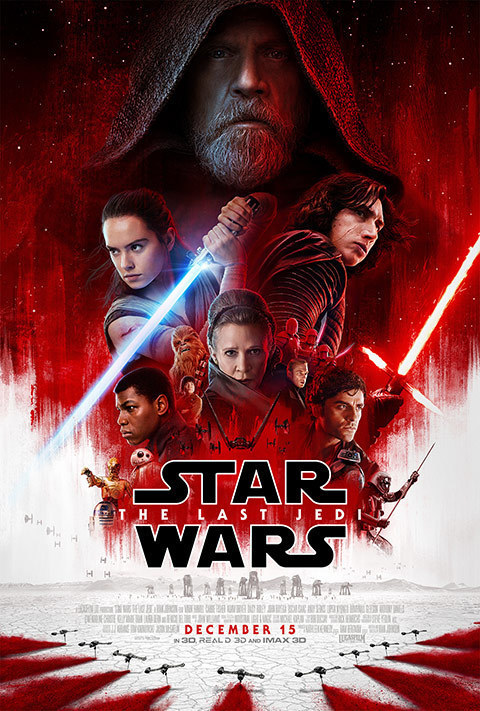 From the first notes of the age-old theme song, "Star Wars: The Last Jedi" sent long-time fans' hearts fluttering. With every release, the Star Wars franchise is held to a high standard by generations of viewers. "The Last Jedi" lived up to this standard; its combination of old and new characters made for a progressive, yet nostalgic, film.
After the first film in the reboot, "The Force Awakens," introduced several new characters to the main stage, audiences anticipated their involvement in "The Last Jedi." The film focuses on the cast's additions and effectively developed characters—namely, Rey (Daisy Ridley), Finn (John Boyega) and Poe (Oscar Isaac)—by separating them from one another and giving each space (ha!) to emerge as individual, unique people. While Poe and Finn work with the dregs of the Rebel Alliance, Rey is elsewhere as she continues her discovery of the Force. Throughout the film, the three question authority, go on wild goose chases and see the shortest attempted redemption arc of all time. That said, original characters are still plenty relevant in the film. Even the oldest Star Wars characters, such as Luke (Mark Hamill) and Leia (Carrie Fisher), are further developed throughout, keeping longtime fans invested as their old favorites continue to grow.
The Star Wars franchise has one undeniable asset: the nostalgia factor. With "Star Wars: A New Hope" airing in 1977, the franchise has had over 40 years to collect a multigenerational fanbase. Since the reboot, Star Wars producers have had to balance the development of new content with the appeasement of longtime fans. "The Last Jedi" handles this well. By including Star Wars' original characters as mentors for the newer leads, the transition to a more youthful cast feels seamless. As original characters accept the new cast into their worlds, so do longtime fans. That said, the inclusion of some allusions to past episodes sometimes felt forced in "The Last Jedi." Some scenes felt unrealistic (comparatively speaking, considering it's a space western) or stretched in order to include old characters.
However appealing it was to long-time fans, "The Last Jedi" was far from exclusive. Although convoluted backstories and allusions to past episodes may have gone over the heads of younger or less-invested viewers, the film is captivating enough that even those who know little about Star Wars can enjoy it (or, at the very least, laugh as BB-8 rolls himself through the galaxy). The newest addition to the Star Wars franchise offers one massively important attribute: the opportunity for yet another generation to fall in love with the rebel underdogs as they try to make a home for themselves in the cosmos.
4.5/5
View Comments (1)
About the Contributor
Megan Munson, Co-Editor-in-Chief
Megan Munson is a co-editor-in-chief for the 2017-2018 school year. She was a reporter for the 2016-2017 year and absolutely fell in love with journalism....