Cheeky: winter holiday word search
Stuck inside your home? Not able to see any holiday decorations? No worries, Cheeky's printable word search comes equipped with festive lights and mind-numbing fun, all in the name of the holiday spirit!
Disclaimer: We were only able to put a certain number of words into the word search, so not all winter holidays are represented. 
P.S. For an extra challenge, complete the puzzle right on your computer! It's up to you to figure that one out. If you want a simpler way to have some festive fun, print the page out before attempting.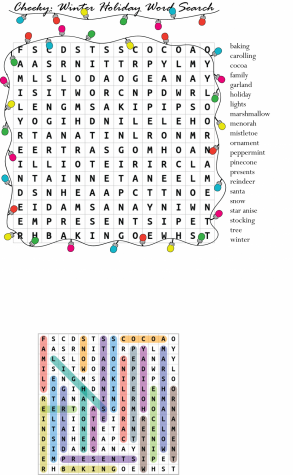 About the Writers
Kath Shelden, Photo Editor
Sophomore Kath Shelden is the Photo Editor for Nordic News for the 2020-2021 school year. Her goals for Nordic are to create dynamic and unique formats...
Cathy Zhao, Photo Editor
Senior Cathy Zhao is the Photo Editor of Nordic News for the 2020-2021 school year. This year, she hopes to continue writing feature articles on the vibrant...