New teachers, new faces
Marita White
Former Inglemoor student Marita White has returned this year as a teacher. White, who graduated from Inglemoor in 2011, now teaches Pre-IB English and IB Language and Literature. White's main goal for her first year teaching is focusing on mental health.
"A big change that I am excited about is the focus on mental health. The administration and all the teachers here are really pushing to think critically about how stressed students are," White said.
White went through the IB Program while she was at Inglemoor and said she really appreciates the skills that it taught her. However, she also said that IB is a factor in student stress levels.
"When I was an IB student, most of the conversations we had with each other were about numbers, like grades, hours of sleep you got, hours that you spent on homework," White said. "We were constantly competing with each other about grades and performance."
White said that students should stop glorifying getting little sleep and instead celebrate when they do. She also believes that IB and AP should be talked about more inclusively.
"We really need to make a cultural shift at Inglemoor," she said. "We need to work really hard at breaking down those walls [between IB, AP and regular classes] annot making these programs seem elitist." She also said that students need to learn how to have fun outside of school.
"We need to be really aware that you guys are teenagers and your brains are growing and you need sleep. You also need to have fun… Just because you can't put it on your resume doesn't mean it's not valuable," she said.
White said that she plans to help by having students make monthly mental health and academic goals.
"I try to model work-life balance. We try to reinforce that you can do things other than homework," she said.
White said that her students are her favorite part of teaching English. "Everyone is so enthusiastic." White said.
"Every day students are so excited to be here. They push me into different ways of thinking." White said that her advice to students about mental health is communication.
"Be upfront with your teachers. If you are really stressed out, instead of completing half the assignment or turning it in late and never communicating with the teacher," she said. White said that if she knew her students were doing homework while she was already asleep, she would be upset. "You need to sleep, too," she said.
Lijun Huang
Staff and students may have seen her on GMI talking about Culture Fun Time or helping students in the Chinese classroom. A graduate of Normal University, Chinese exchange teacher Lijun Huang is one of the new teachers this year. Huang said that she really enjoys English and teaching and has been teaching for a long time.
"I hope that I can make class more interesting and lively," said Huang.
Huang is here for the 2019-2020 school year. She was sent here by the Teachers of Critical Languages Program (TCLP), which is sponsored by the Bureau of Educational and Cultural Affairs and implemented by the American Councils for International Education.
TCLP is a competitive program: 400 teachers applied for the chance to become an exchange teacher and 52 made it to the interview process. Huang is one of only 19 teachers that made it through all of the criteria and was sent to the United States. Naturally, Huang said that she has experienced some culture shock.
"People here buy groceries once a week and store them in the refrigerator, whereas in China, people buy fresh groceries every single day. Transportation is also an issue. Everyone here has a car, but I'm only here for one year, so I walk every day instead," said Huang.
The biggest change for Huang, however, is adjusting to the language.
"Sometimes I can't understand some terminologies, especially when all the teachers have a meeting in the library. People next to me… will explain," Huang said.
Huang said she sees this year as a chance to observe American students and teachers in action. "I think it is an opportunity for me to learn the American culture, the American education system… to improve my teaching methodology, to learn more," she said.
Through her 11 years of experience teaching English in Chinese high schools, Huang said she has observed a big focus on reading and writing.
"Because the high school students [in China] have to pass the college entrance examination—which is really, really difficult—we pay little attention to the listening and speaking. So that's why I'm here," Huang said. "I want to find out how native English teachers teach English listening and speaking."
Huang said she wants to observe the other teachers' classes and learn some teaching methodologies and then bring them back to China to share with her fellow teachers.
"My colleagues and I think it can improve our English teaching. It's [also] good for my home school," said Huang.
Besides learning more about American culture, Huang said she also hopes to share Chinese culture with the students here and spark student interest in Chinese language and culture. Huang said she plans to implement Cultural Fun Time, about once every month, once Chinese Club is set up and running. Cultural Fun Time is an opportunity for students and teachers to take part in fun Chinese cultural activities. So far, she has set up Chinese calligraphy and painting.
"I've been teaching for a long time; teaching gives me a sense of accomplishment," Huang said. "Seeing students' energy—it makes me want to better myself."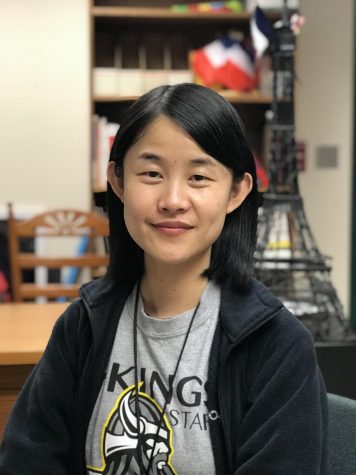 Omar Omar
English teacher Omar Omar's pursuance of and interpretation of the field of education diverges from every student's expectation of a pedantic learning experience. Omar said his interpretation of passionate teaching is centered on creating a community among his students—escaping the conformity of an expected student-teacher relationship. He said he understands that students need to understand a teacher's intentions to effectively learn.
"It's difficult to follow instructions when you don't know the person—from the student perspective. As a student, to follow instructions and to think someone has your best interest is difficult if you don't know them or have an understanding of who they are and where they came from," Omar said.
Omar said he makes an effort to understand his students, both academic and non-academic interests to understand their motivations and learning strengths.
"I want to know about [my students'] favorite foods, the sports they're involved in, their thoughts; I want to make them feel heard—because building relationships and being open is key," Omar said.
Omar said he makes sure to be attentive of the brevity and fractured nature of modern curiosity—he knows that his students don't listen unless they care. He said he attempts to captivate his students' attention spans by bridging the gap between literary education and real-world experience.
"I like to connect the content to the real world. What I would like students to do is to leave my classroom as better writers, better readers, and better citizens. Writing skills and reading skills are essential for any occupational growth," Omar said.
Omar said his understanding of his students' needs stems from the meandering nature of his own academic background. Omar said as a high school student without the confidence to yet define his future, he explored a variety of prospective career paths.
"In high school, I had no idea what career I wanted to pursue. After college, I graduated with a bachelor's in science, technology, and society and still didn't know what to do. So I said, 'You know what, I've been in education for a long time and teachers have made a big impact on my life, so I decided to pursue education," Omar said.
While Omar said he hopes his passionate demeanor will set him apart among the faculty, he credits the school's culture and his teaching fellowship mentor, Joanna Walker, for inspiring his teaching.
"When I first arrived at Inglemoor as a student teacher, the welcoming environment was genuine and authentic. I learned to accept it as normal and to model it in my own teaching. This school does that to you, and it's a good environment to be a part of… And thanks to Ms. Walker, I was assured that teaching is the career path that I was meant to pursue," Omar said.
Omar said his left-brain connection to logic and rigor prompted from his background in STEM found solace in the structured exploration of literature. He said he believes literature and English are essential to creating connections and sparking curiosity within the education environment.
"Reading and writing and being an English teacher provides you with the opportunity to talk about things, to start an open-ended conversation," Omar said. "I feel like math and science are very stringent with a large emphasis on right and wrong while in English and language arts, interpretation and analysis is encouraged."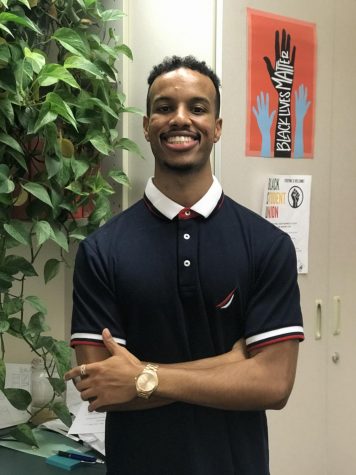 Andrea Egan
Deca advisor and CTE buisness teacher Andrea Egan is beginning her first year of teaching in Washington. She was the previous DECA advisor and business teacher in Arizona. She also taught computer applications at a junior high.
Egan said that she became a teacher because of her own experiences with DECA as a high schooler.
"I had a marketing teacher who just made it so fun. He's the one who got me involved in DECA," she said.
Egan said that she placed third during her first time competing in Vehicles in Petroleum Marketing.
"He got me really excited about it, so I ended up actually majoring in business. Then I decided because of him I wanted to be a marketing teacher," she said.
For Egan, motivating her students is her favorite part of teaching.
"My favorite part of being a teacher is helping kids grow and figuring out what it is that their interested in and help them build on it," Egan said.
She said she keeps in touch with a lot of her former students, some who are pursuing business in university.
"I love when the kids are interested in the subject matter or even just getting them more interested in the subject matter," Egan said. "It's so exciting when they chose to major in business."
She said that one of the biggest differences between her school in Arizona and Inglemoor is size. She also said that her DECA students in Inglemoor are more dedicated than her students in Arizona.
"These [Inglemoor] kids are super organized and they are really passionate about DECA. They have built a great program with little outside help," she said.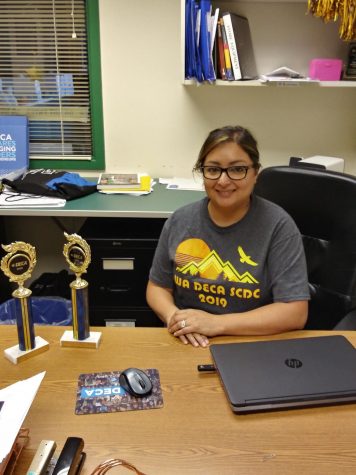 Cheryl Calhoun
One of many new staff members here at Inglemoor is Cheryl Calhoun, a special needs teacher. Previously, Calhoun worked with adults with disabilities and now specializes in behavioral management. She is currently attending college online, while teaching full-time at Inglemoor, working in the Aspire program.
"I started [attending college] three years ago, online, so I can [take care of] the kids and have a full time job," Calhoun said. 
She'll be student teaching here starting in January. 
"[Student teaching is] going to be pretty exciting. I'll be able to work with the same group of kids. Then, I will be doing a month in elementary school, and then I'll be back," Calhoun said. 
"We work with students that need extra support, whether that be social, emotional, behavioral, or academic. It is really student-specific, so [our role] just really depends on who we're working with at the moment," Calhoun said.
Calhoun said a meaningful aspect of the job is being able to be a part of the student's success. 
"Helping them reach their fullest potential, learn new coping skills, and allowing them to see their self worth and start respecting themselves, is just as rewarding," Calhoun said.
She said her goal is to work students out of the Aspire program, so they can be independent without these supports. Still, it can be challenging because of how student-specific it is. 
"It can be challenging to [figure] out where their barriers are in each one of their classes and how to navigate that. It's also kind of fun," she said.
Calhoun said it was extremely fun to see everybody participating during the week of school spirit.
"Everyone is very kind and supportive," Calhoun said. "It's nice to have that warm welcome; [people have been] understanding and the collaboration has been amazing."