Out-of-the-box sports
From track and field to badminton, basketball to swim and dive, most students known about the sports offered at school. These athletes, however, have found their place in activities that are a little less common.
Senior kayaks competitively
by Madeline Nguyen
Once the buzzer sounds, the kayakers take off. Olympic gold medalist Greg Barton passes senior Jupiter Grant on the first stroke and, within 10 seconds, was a boat length ahead.
At the 2017 Ted Houk Regatta, which is a large kayak and canoe race in Seattle, Grant raced against Barton in a masterclass kayaking race.
"I come up next to him, and we take off. In the end, I am probably two minutes behind him when he crossed the finish line. Greg Barton didn't even win that race," he said.
Grant has been kayaking since he was 14 years old. He's now a competitive sprint kayaker who loves kayaking and hates kayaking drills and warm-ups. Over his years of kayaking, he's collected many other unique experiences in the cycle of practicing and racing.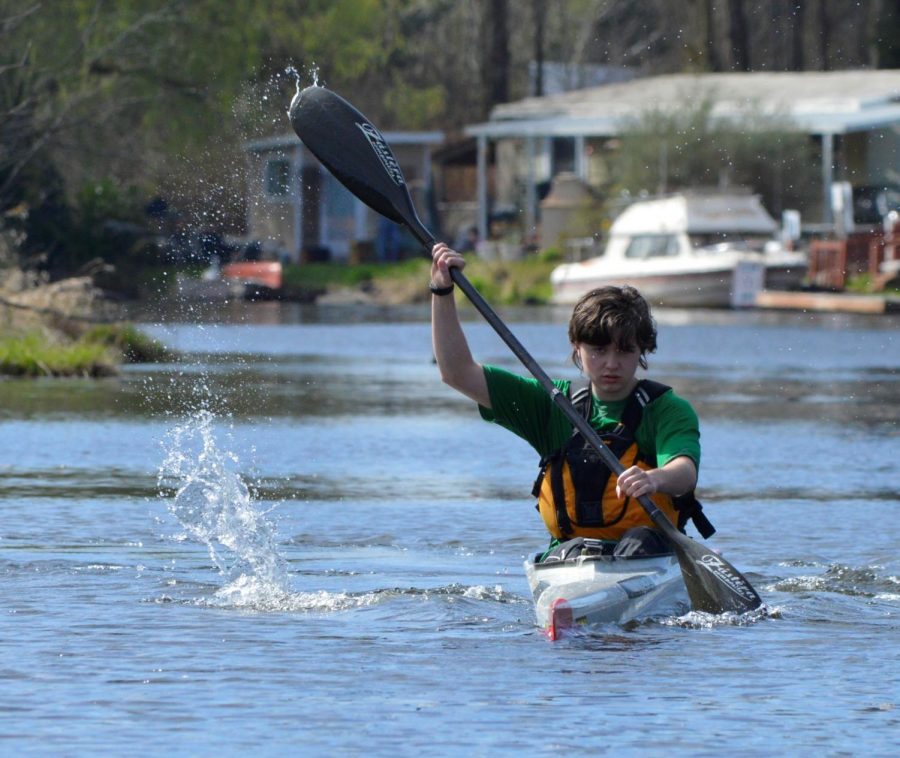 He said that he started kayaking a few years ago when his parents got an email listing things to do in the Bothell area. This email led Grant's family to the Kenmore Waterfront Activity Center and its kayaking club.
"I went there one afternoon with my brother. It was cold and rainy, and an absolutely miserable day to do anything outside. My brother hated it, and I absolutely loved it," he said. This was the beginning of Grant's kayaking career.
Now, Grant says he has a big commitment to kayaking. To prepare for his races, he practices quite frequently.  During the school year, he kayaks three times a week, and in the summer, he kayaks every weekday. However, he practices less in the winter since it's colder out. Grant said that he really enjoys kayaking practices, and finds racing to be very rewarding.
"I did a 20km race in which I won $40," Grant said. "20km is the longest race that I've ever done and it was on the slough. You start in Redmond and then go to Kenmore. Thankfully, it's downstream."
In addition to material awards, Grant said kayak racing is rewarding in other ways.
"If I'm racing, I'm probably thinking about how fast I'm going," he said. "It's kind of like running. It's a nice, repetitive exercise, and it helps me to relax."
Outside of individual kayaking races, Grant has also competed in group races. In kayaking, group races are done with boats that carry two or four kayakers.
"I just couldn't figure out how to get my stroke rate right," he said. "I could go faster than his stroke rate and I could go slower than his stroke rate, but I couldn't go exactly his stroke rate. It was kind of a bad race."
Nevertheless, Grant still enjoys kayaking on a regular basis. Since Grant has kayaked throughout his high school career, he has considered continuing this activity in the future.
"I do want to continue kayaking in the future, but more as a recreational thing than a real competition," he said. "I feel like I have the necessary skills to really get into kayaking, but I don't want to spend hours and hours on the water when I really don't have the time."
Despite this, Grant said he still wants to improve his kayaking skills for years to come.
"Kayaking is like a competition between myself and my surroundings," Grant said. "And in another way, kayaking is like competing against myself to get better."
Taekwondo teaches more than just self-defense
by Stephanie Dossett
Looking back on her time participating in Taekwondo, junior Eva Taylor said one of her favorite memories is of a trip that was both a cultural and an athletic learning experience.
When she was in ninth grade, Taylor had the opportunity to go to South Korea to do training with the young Olympic team in Seoul. She said that her group went to the Olympic Training Center and worked with the "mini-Olympian students" for a 45-minute practice.
"We were exhausted and dead at the end. We all looked at each other like 'Is that really what just happened?'" Taylor said.
She said the trip expanded her perspective of Taekwondo's presence worldwide and showed her just how intense the sport can be at a professional level.
Before this experience, Taylor's connection to Korean culture was closer to home — she's been attending Shin's Taekwondo in Kenmore since third grade. Taylor said that she was introduced to the sport through her family, and the subsequent eight years of hard work have given her much more than just her second-degree black belt.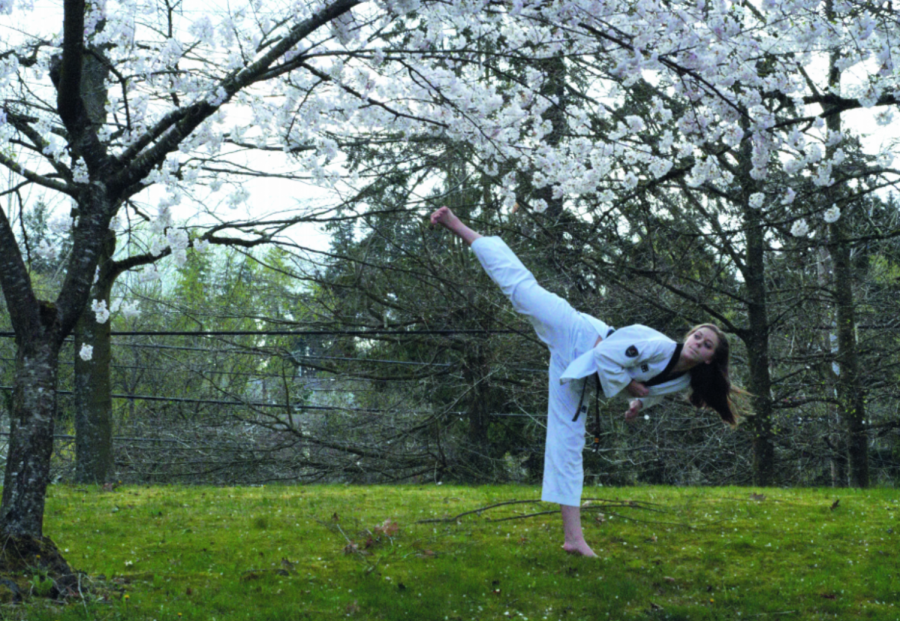 "[Taekwondo is] kind of an interesting way to be active while also learning good life skills," Taylor said. "[It combines] learning about Korean culture and just learning how to do unique things like breaking boards and stuff like that, which… kind of appeals to everyone."
Each week, Taylor has two practices that focus on different aspects of the sport. In her black belt class on Mondays, Taylor said they work on combinations of blocks, kicks and other moves; on Wednesdays, they focus on aerials and a variety of leg workouts.
Describing this class, Taylor said, "you push yourself to the limits and then break yourself even more as you're trying to hyper-focus on the minute details of your kicks and skills."
Along with the physical activity, Taylor said that Taekwondo has helped her stay mentally healthy.
"It's a really good way to relax and just take my mind off school because it's with all these people who I've been doing Taekwondo with now for about eight years," she said. "I know these people very well, so just going, doing something I love — I'm exercising, I'm just focusing my mind on something other than school… not focusing on anything else in life — it's kind of a nice way to de-stress while still keep[ing] your mind  active."
Taylor said Taekwondo is anything but easy and that for her, the most challenging part is the "mind over body struggle."
"That sounds kind of philosophical and big, but there are times where you've been pushed and you're working really hard, it's a hot day, you're exhausted," Taylor said. "You just want to be done, but you know, we still have 15 more minutes of class and… it's that struggle of not giving up… just to keep going."
While she has no definite plans, Taylor hopes to stay involved in the athletic scene after high school. Depending on what school she attends, Taylor said she's considering joining a Taekwondo club or studying a facet of sports medicine, such as kinesiology or physical therapy.
"That would just be a useful thing," Taylor said. "I mean, obviously Taekwondo is good for defending yourself in a [dangerous] situation, but it'd be more applying my knowledge about stretching and movement and stuff that I've learned in Taekwondo to a future career as well."
Leave a Comment