Athlete features
Jenna Troy and Quentin Moore are two of Inglemoor's best athletes. Now, they're looking ahead to exciting futures in college sports.
Jenna Troy takes her talents to Central
by Minita Layal
As one of the top contributors to the success of the basketball program in recent years, senior captain Jenna Troy has an average of 15.8 points per game in the 29 games she has played this year and has been playing on the school team ever since she was a freshman. As her time in high school comes to a close, she will take her talents to the next level.
Troy said she has recently committed to playing basketball for Central Washington University (CWU), a Division 2 school.
According to Troy, CWU coaches first saw her play in a tournament in California. They continued to watch her and eventually invited her to visit last summer. She was formally invited to play for the team after the summer season.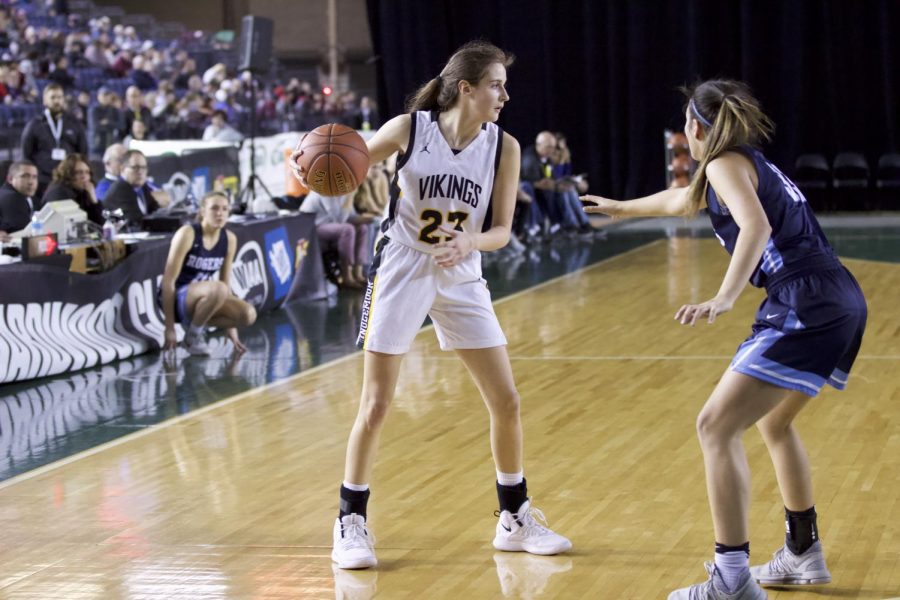 "I decided to play for CWU because of how the coach and the players interacted and the overall environment the school had," Troy said.
She said that the experience of committing to CWU taught her a lot about goal setting and decision making.
"I also learned that sometimes it's hard to make decisions, as I was deciding between multiple colleges for both academic and athletic reasons," Troy said. "But I learned if you follow your gut, you will be able to make the right choice."
She said that the hardest part was deciding between sports and academics, and ultimately CWU offered the best balance of each.
"I think it was on my second visit to CWU that I started to get really excited because of how welcoming the coaching staff and girls were," Troy said. "I was nervous when I first accepted the offer, but soon after I became overwhelmed with joy because everything that I had been working towards finally became a reality."
Troy said that along with playing on the CWU team, she is thinking of majoring in a field that will keep her involved in basketball after college. Some of her options include sports science and physical therapy.
For her last season playing high school basketball, Troy said her goal was to make it to State and play at the Tacoma Dome with the team. Her goal was achieved; the team played at the Tacoma Dome on Feb. 27. They won with a score of 65-54.
Troy said that she is looking forward to going to CWU in the fall and to continue playing basketball.
"This last year at Inglemoor, we've been so successful and had so much fun that I know I'm not ready to give up playing quite yet," Troy said. "Having the opportunity to continue playing in college is more than I could ask for."
Quentin Moore receives USA Today award
by Caden Frank and Minita Layal
Quentin Moore has played the varsity team for two years. This year, he is a senior captain and tight end player. Moore has 38 receptions, 547 yards and a total of five touchdowns in the 2018 season, putting him in the top five in Kingco in terms of receiving. He also won the USA Today Honor which is a selection on to the All-American second-team award for Washington State in January of this year. He was ranked second out of tight end players in Washington State.
Moore expressed mixed feelings about winning the award.
"I was really excited and honored. I just felt like I could have done better and gotten on first team instead of second," Moore said.
Nevertheless, he still said that it was one of his biggest accomplishments.
"This [award] is the best [accomplishments] to me because of the scale of the award," Moore said.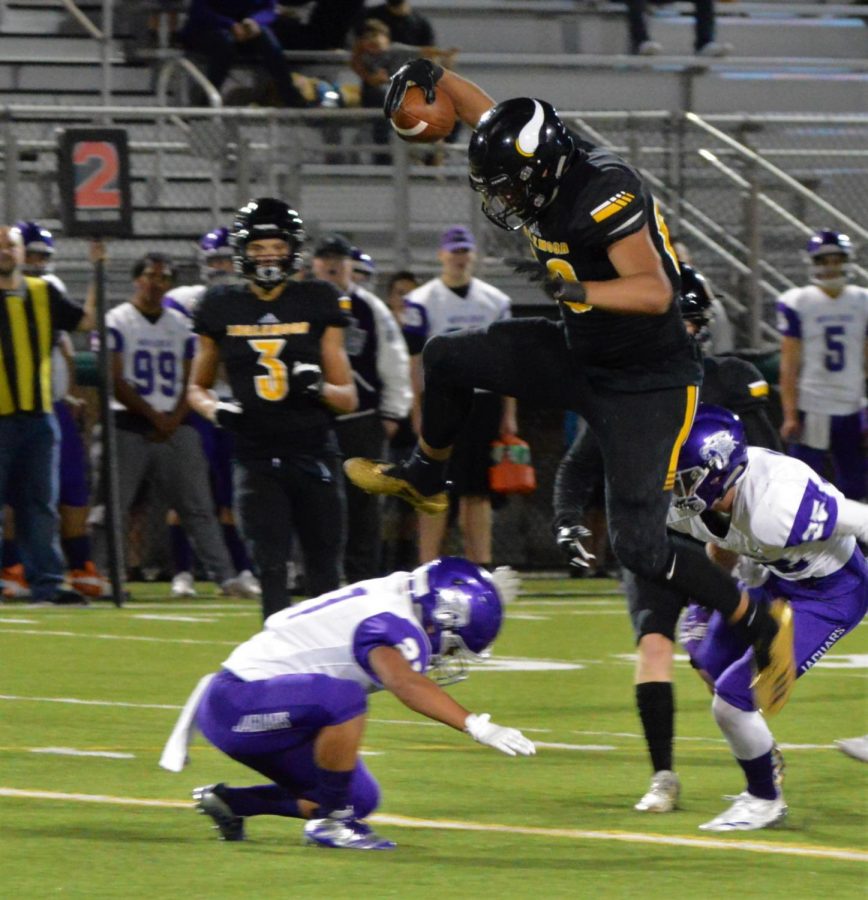 Moore has been a player on the football team for four years and was captain this year when the team had its 5-4 season and a playoff appearance – the first in over a decade. He went on to say that one of the best parts of his time on the team didn't have to do with football.
"The biggest highlight of my career is not really a personal [individual] highlight, but it was just bonding with the team. We are like family, and that's the best part for me personally," Moore said.
Moore had several offers from colleges to play football after he graduates high school. He said that his top three choices for college football in the fall were University of Louisville, Fort Scott Community College and College of San Mateo. However, he eventually committed to Independence University, an online university based in Salt Lake City, Utah. I
n terms of the USA Today award, Moore said that he had his coaches and his English teacher Joanna Little to thank for helping him achieve it.
"You don't find a lot of people that really care for you like that outside of family. Because of that, I'm extremely thankful for every single one of them," Moore said.
Leave a Comment