Original music with local origins
Jenny Xiong: Composer
by Evelynn Li
alking into the band room, you can hear the playful notes of a silver flute or the soft yet passionate musical tones of a piano. When junior Jenny Xiong played around on her family's piano at only three years old, she developed an acutely strong desire to learn piano and to follow her musical passions. After demonstrating her musical talent, her mother convinced Xiong sister's piano teacher to let her enroll in lessons a year early.
Xiong is an artist in many ways; she said that her art encompasses her life in fields such as visual arts and music. As of now, she is a flute player in the Wind Ensemble, and outside of school, Xiong is in the All-Northwest Band and the Seattle Symphony Orchestra Program this year, both of which require hours of hard work and dedication.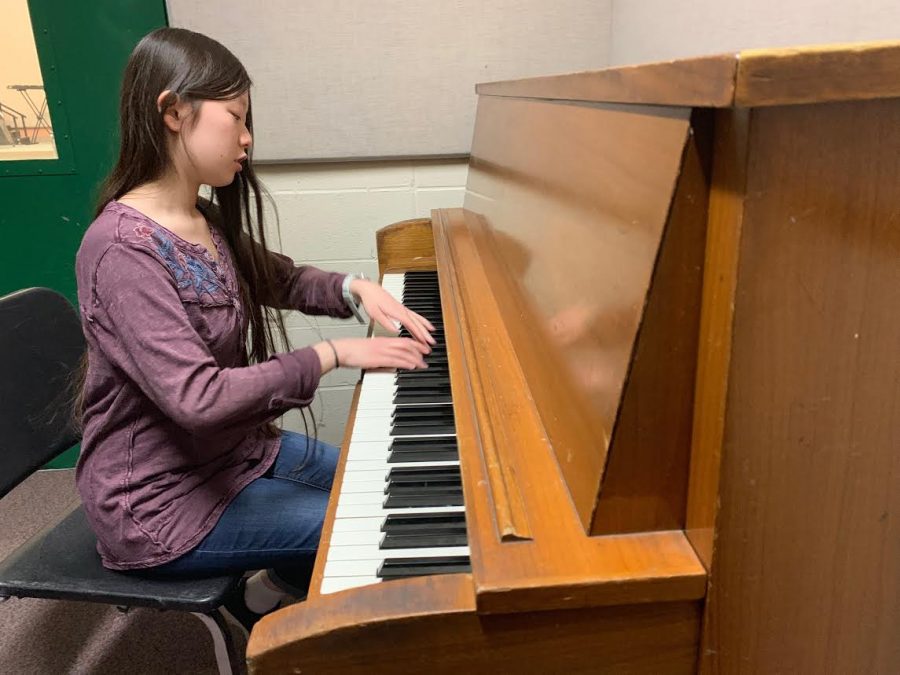 Xiong doesn't only play traditional pieces — she also composes her own music. Xiong said she finds creating music to be very rewarding, and it has become one of her favorite hobbies.
"The best part about composing a piece of music is hearing it played — it feels as if everything you've worked on has come to life."
Although she enjoys creating and playing music, Xiong said that she does experience hardships throughout the musical process.
"The hardest part about composing a piece of music is notating everything that I hear in my head," Xiong said. "I compose a lot of pieces in my head and on the piano, but 99 percent of them are lost because I don't know how to write them down on paper."
Xiong said that art is one of the most valuable things to her because it helps her express herself.
"Art is important to me because it is my creative and emotional outlet," Xiong said. "I always feel very fulfilled when I am creating art, whether it be writing, drawing, painting or composing."
Brenden Whiteley: Rapper
by Shannon Hong
At a young age, senior Brenden Whiteley was already writing lyrics and talking to musicians who inspired him. As someone who had always been a very involved listener, it wasn't long before he became interested in making his own music. In 2011, Whiteley got everything he needed to record music including an old MacBook, monitor and microphone.
"I posted on SoundCloud every once in a while, making maybe one or two songs a year," Whiteley said. "But I met [my friend] Ryan Kenz a few years later and [that's when I] started taking everything more seriously."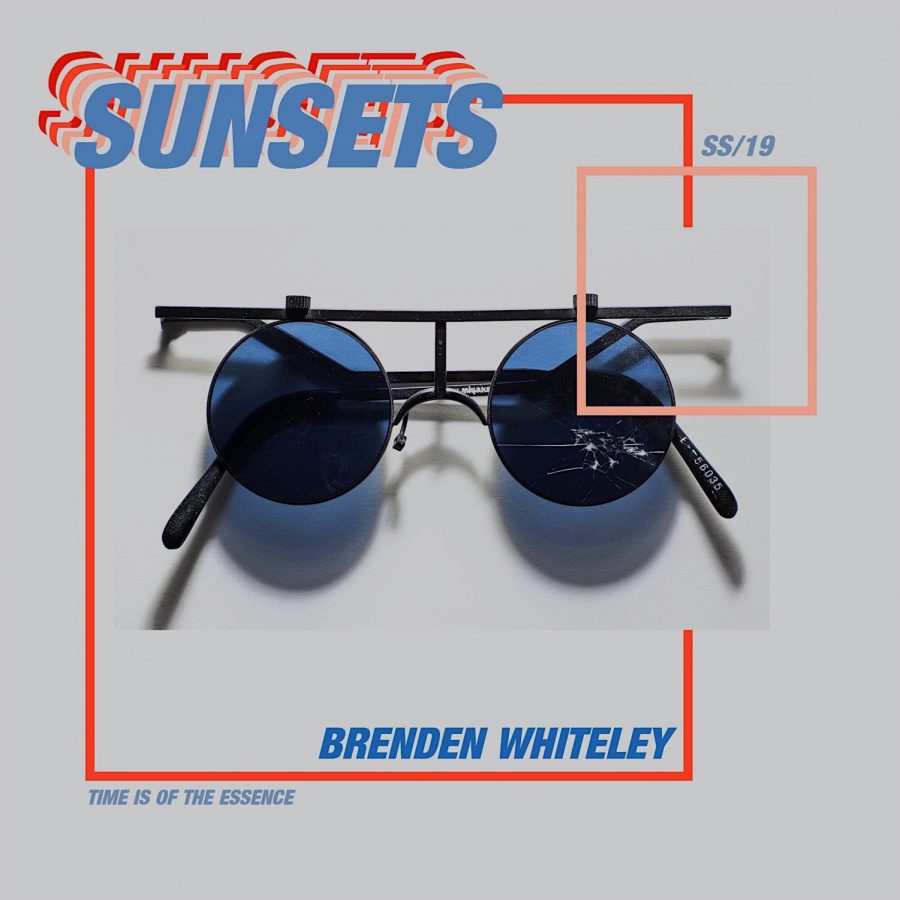 Whiteley posted music more regularly with Kenz, an aspiring musician who graduated from Bothell High School in 2018, under the group name Sunday Arsenal. In this time, Whiteley drew inspiration from 1980s visual media like "Miami Vice" and "Scarface."
"Those shows have a certain gravity to them that is really impactful and unique, and I want to make music that feels like that," Whiteley said.
However, it wasn't until last year that he released his own album titled #0032FF, named after the hex code for his favorite shade of blue. The album was a compilation of tracks he recorded over the span of 2018. Although Whiteley said the process of making his album was less methodical than he expected, he still received good responses upon its release. CraneCity even nominated #0032FF for one of the best locally produced albums of 2018. He also released a new song at the end of February this year, titled "Sunsets V5." Whiteley said making music and sharing it with other people makes him feel satisfied and proud, but it can also be hard.
"Culture moves very fast, and you need to hold that pace while somehow building your own identity. It's something I [need to improve on because] making music is easy, but making your music matter is difficult," Whiteley said.
Moving forward as an artist, Whiteley said he hopes to continue pursuing this passion through SoundCloud.
"I can't really a picture a time when I won't make music, and I'm not going to plan on it being a career, because there is no way to plan for that," Whiteley said, "but I'm optimistic."
Max Dixon: Drummer
by Jocelyn Ayenew
Since the age of 10, senior Max Dixon has dedicated his time outside of school practicing his drums and working towards his music goals.
Dixon first started his journey in the music field when his parents bought him a drumset for his birthday. He played on them only occasionally until freshman year when he had a revelation, making him want to take this hobby more seriously.
"I realized I could actually do something with this rather than just play in my basement. That moment is when things seemed to open up for me," Dixon said.
His parents enrolled him in the School of Rock music program based in Seattle to get together with other young musicians to learn to play songs and perform shows together.
"That was the point when I realized that's what I wanted to do, because it's just fun to be able to go out on your own without being under the supervision and work on something you enjoy," Dixon said.
Despite moving on from the drum program at the School of Rock, Dixon still works with other young artists on various music projects, his most recent being a collaborative project called "Castoff" His band Castoff consists of guitar, bass, vocals and Dixon on the drums.
Dixon mainly finds inspiration from rock music and its subgenres, although, when songwriting with his bandmates, the concepts behind his songs can be more abstract, even emotional.
"I think there's a lot of hidden emotion in the music that me and my guitarist write," Dixon said. "[A lot of our original music] comes from anxieties, especially lyrically. I think [the songwriting] is very emotional for both of the lead songwriters."
Dixon said he began sharing his music out of a sense of pride.
"This project that [Castoff] just finished is sounding really good and there's just something — whether it be an album or an [Extended Play (EP)] or only one new song — that [makes] you just want to release it. I think that's the reason that we want to share our music is that we're proud of the work we put into it," said Dixon.
In the future, Dixon said he wants to focus on honing his skills and passion, taking some recording engineering classes and making a career out of it.
Nevertheless, Dixon said that he wants to focus on still having fun making his music and continuing to compose.
"The biggest thing for me is still being involved in [music]. Beyond that, if the goal or dream isn't achieved, [my passion] will always be there for me in some way," Dixon said, "and I'm going to keep playing because it is my favorite thing to do."
For young aspiring artists, Dixon said that getting involved and talking to everyone you can is a big aspect of getting into the music industry.
"Go to music venues and make as many connections as you can," Dixon said. "Whether you're a rapper or in a rock band, making sure you're playing well is one thing but also meeting people that can help you do what you love."
The group Castoff recently finished an EP and debuted a single entitled "Anything." Their full project will be out soon on streaming services, and they're in the works of setting up a release show. To listen to Castoff's latest tracks you can find them on Bandcamp under Castoffband.
Corkboard: New Band
by Rachel Lawson
On free Friday evenings, you can catch the student band "Corkboard" playing together or composing songs in the basement of senior and drummer Alex Rutter. The band was formed only months ago and already the group is looking forward to the possibility of performance.
Junior and bassist Sam Trott and Rutter had known each other for years due to involvement in theatre, said Rutter. Through work, Rutter began to bond over music with senior and guitarist Trevin Whiteley, where the two hatched a plan to form a group together. Whiteley later introduced the duo to junior Pedro Cerda, the newest guitarist of the band.
Rutter said the most appealing element of the group is the wide range of musical tastes and styles. While Trott is into "stadium rock," Whiteley is into grunge classic rock and Rutter enjoys progressive rock, Cerda said. Cerda himself enjoys the "local scene," where he often goes to up-and-coming Seattle bands.
It's this hodgepodge of sound that allows the group to create unique songs and tunes.
"I think you can get a lot of different opinions and ideas from other people that you can't get from yourself," Rutter said.
The band's creative process is a shared one, Trott said. "Sometimes bands will have one person that writes the majority of the songs and the others will play it, but I didn't necessarily like that; I liked that as a group we could come together."
While the group jams together every moment they get, they have yet to produce an album. "We're building our repertoire when it comes to songs," Trott said.
Cerda said he tries to take everything in relation to music as seriously as possible. Despite this, he said, the group dynamic is really relaxed and friendly.
"Corkboard" hopes to make it onto the stage, but for now, finding comradery through music is enough, Trott said.
"Anyone can get a group together and play music," he said. "But if you want to make a group or a band, it's important to put in the time, put in the effort to work with everyone."
Leave a Comment