Artists at Inglemoor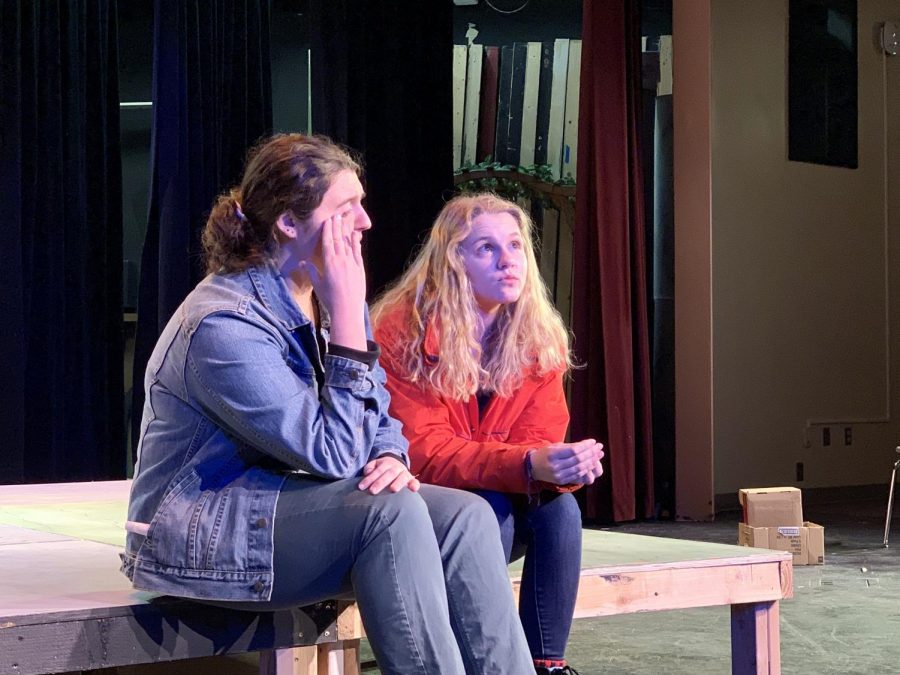 Daisy Held
by Shannon Hong
Every year until the age of six, sophomore Daisy Held saw "Twas the Night" at Studio East in Kirkland with her family. When she was seven, Held and her sister, Inglemoor graduate Lillybeth Held, decided to audition despite neither of them having any acting experience.
"With no idea of what to expect, I walked in and sang 'Do a Deer' as my song and performed a Shel Silverstein poem as my monologue," Held said. "Surprisingly, both my sister and I ended up being cast and the rest is history."
Since then, Held has been in several plays and musicals at Studio East as well as a TV series in the Seattle area. She has also been involved in the improv team and various school productions, the latest of which was playing Elizabeth Bennett in "Pride and Prejudice." In every role she's played, Held said her parents have fully supported her.
"When I told them that this is something I wanted to continue doing for the rest of my life, [they've devoted their lives] to supporting me in my craft ever since," Held said.
Acting has impacted her individually in a positive way, but Held also said she has grown to love the inclusive and supportive community within theatre and that she is happiest when she gets to be a part of it. Although Held is passionate about acting, she faces the same struggle that many of her peers involved in theatre do: finding the balance between being an actor and being a student.
"The line memorization, character work, rehearsals, choreography and vocal work is obviously time-consuming, so I have to balance that with keeping my grades up," Held said.
With all of the work that comes with acting, Held said that every moment has been worth it because it has ultimately taught her how to be vulnerable.
"The best part about being an actress is being able to share a character you worked so hard on with the audience," Held said. "So when you put yourself out there and people actually appreciate it, it's extremely rewarding."
See her in the upcoming production of "Working" in May.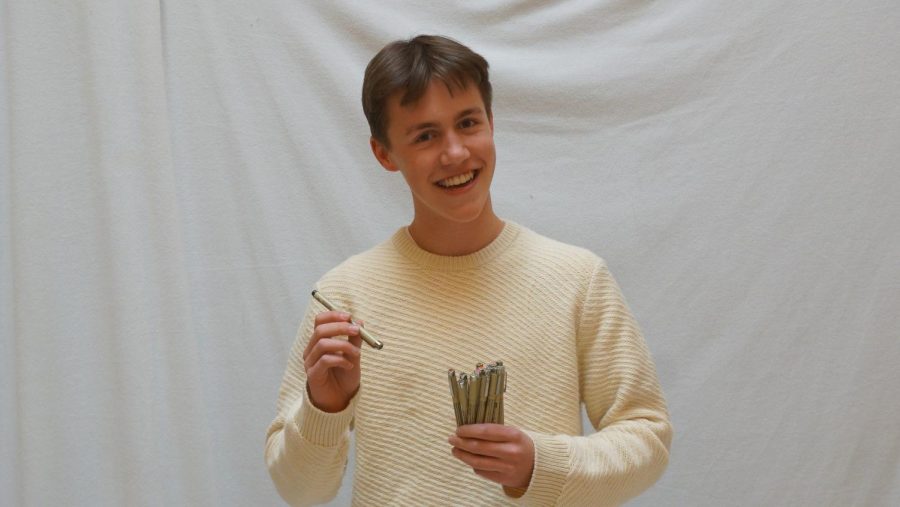 Burke Smithers
by Evelynn Li
As his pen flows across the page, junior Burke Smithers adds details to bring his characters to life. After finishing the piece with a few extra features, his piece is done. In regards to art, Smithers has done it all, whether it be a collection of colored pop art or detailed black and white sketches.
Smithers, who expresses himself through various forms of visual arts, focuses primarily on drawing and sketching. He said that his favorite part about creating art is watching the pieces come together.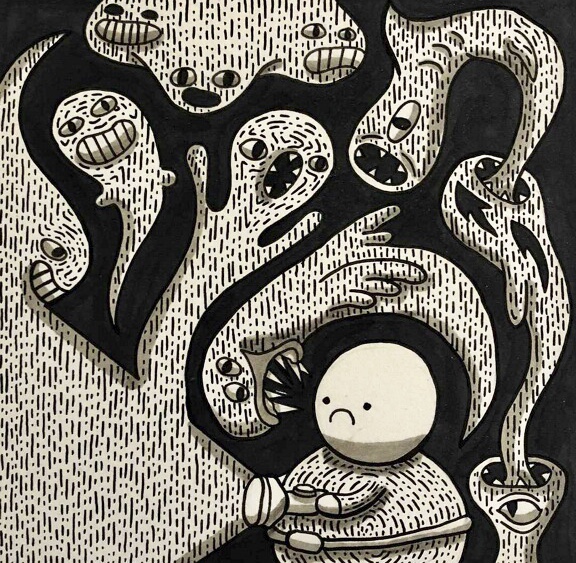 "It's really rewarding because I get to see the storyline that I'm creating unfold in front of me, like sometimes I don't always have the story planned out, so it's just really interesting where my mind takes it," Smithers said.
Smithers, who has been doing art from a young age, said that not only is creating art enjoyable for him, but it also helps him de-stress.
"It's kind of an escape for me from like stress and school because when I'm drawing, I'm really in my own world, and I get lost in the story and the characters I create," Smithers said. "I think it's really important mentally for me."
Because of his passions and his encouraging environment, Smithers has been actively involved in art since a young age. Despite these factors, he says art isn't strongly encouraged throughout schooling.
"I think that every individual has the chance to really express themselves and become an artist," Smithers said. "I really don't think that a lot of pre-schools and schools for [young students encourage art], like they do encourage it at a young age but then it's not continued throughout elementary [school]. It's definitely important to underline it in education and schooling just because every child can be an artist."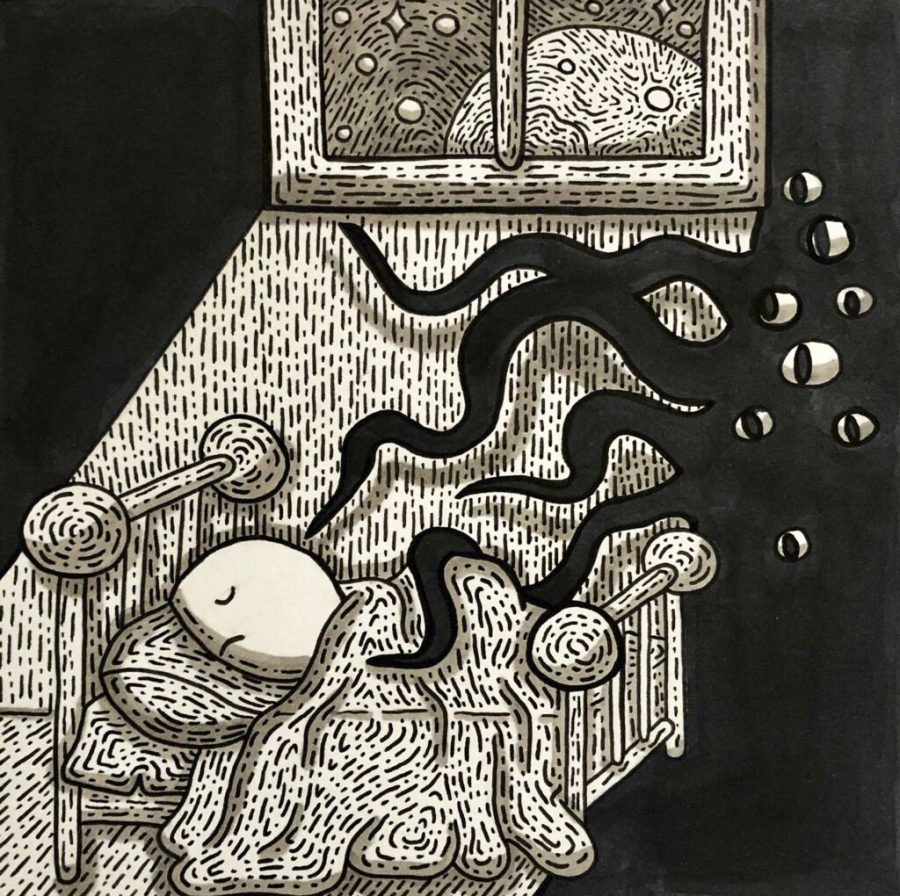 Smithers said that his main source of sharing his art is through Instagram, where not only his friends can see his art, but people all over the Internet can. He also entered two local art shows in the last year. As of January 2019, two of Smithers' art pieces were recognized by the 2019 Scholastic Art and Writing Awards: his piece "7,666 Days" was selected for the Gold Key award, and his piece "Evolution" was nominated for an Honorable Mention.
You can find his art on his Instagram @ art_by_burke.
Leave a Comment
About the Contributors
Shannon Hong, Web Editor-in-Chief
Senior Shannon Hong is the Web Editor-in-Chief of Nordic News for the 2018-2019 school year. Her goal is to expand Nordic's online presence through social...
Evelynn Li, Business Manager
Senior Evelynn Li is the Business Manager and a reporter of Nordic News for the 2018-2019 school year. For this year, she hopes that she can help create...