Vikings share their most valuable relationships
Junior high sweethearts
by Rachel Lawson
Seniors Aaron Greisen and Anne Poole have been dating for longer than the average high school couple. The two lovebirds met in sixth grade when Poole transferred into Greisen's elementary school, Arrowhead.
Rather than love at first sight, Greisen said their relationship had a rocky start.
"She might have hated me a little because I had a crush on her," Greisen said. "I remember I told two of my friends, and they went and told Anne right away. She definitely didn't like me back at the time."
However, Poole said she actually did like Greisen but chose not to be open about it.
"I was so intimidated by this guy liking me–it was my fourth day in school– so I was like no I don't like him, and I told his friend to tell him that I didn't like him," Poole said.
When their teacher placed them as the lead roles of Shakespeare's Romeo and Juliet, Poole said neither of them was thrilled with the idea. Things didn't begin to turn around until seventh grade when Poole asked Greisen out. Greisen said Poole had done all of the planning and they had decided on seeing "Frozen" in the AMC Alderwood Theatre for their first date. It wasn't until they got there that they found out the movie wasn't playing at the Alderwood theatre, but rather the one in Woodinville.
"Anne was super embarrassed and it was super funny," Griesen said. "We ended up just sitting at a table in the mall food court for a while, it was still fun."
Despite the countless hours the two have spent together since then, one of Poole's habits sticks out to Greisen as the most romantic. He said she had given him many notes and in her art class last year, she painted several small pictures for him. However, what Greisen did with everything came as a surprise to Poole. 
"It was around 3 years after we had been dating I found that he had every single picture and every single note I had ever given him in his drawer," Poole said. "Everything I've ever given him, he's kept."
Poole said the tradition of writing to each other has continued throughout the years and at the end of every school year, the two write letters to each other so they have a collection of memories together for the past years and years to come.
"He's my best friend," Poole said. "I love him so much."
Teacher spouses
by Carina Bixby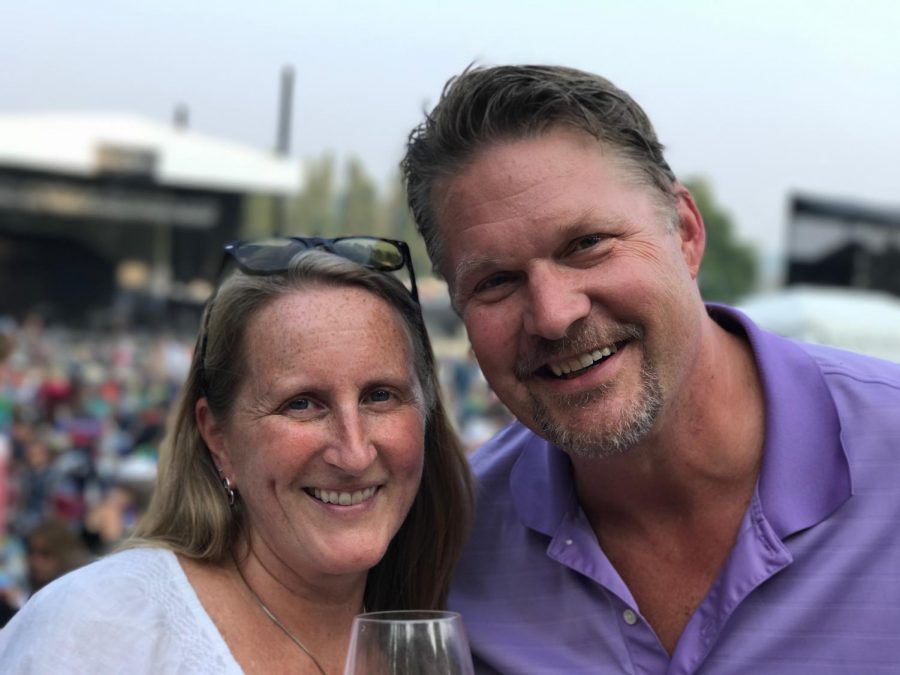 From getting to know each other as young staff members to now eating lunch together every day in their own classrooms, Katrina and David Allemeier have the longest relationship of any two current Vikings. While they met nearly thirty years ago, the couple only started dating after Katrina finished her student teaching and David "finally got the guts to ask her out."
Although the beginning of their relationship was slow-going, Katrina said that their "first kiss was memorable in that I thought okay, this is it, I'm off the market, I'm done with anyone else." From that point on, the couple saw each other exclusively, getting married in 1991 after having started dating in 1990.
Their first date consisted of dinner and a movie, and both teachers remember it fondly. "The second date was even better," Katrina said, "because he cooked me dinner."
The two of them now spend their time together by hosting dinner parties and enjoying nights at the movie theatre, just like they did when they were getting to know each other, David said. While they've gone on cruises and traveled to places such as California during their marriage, each of the Allemeier's seemed to focus on the little things rather than grand romantic gestures. "I'm not a big show-off kind of guy," said David.
"Valentine's Day, we don't do the whole thing," said Katrina. "He's just romantic all the time. If I'm feeling down he grabs me flowers, and he's kind and sweet about stuff all the time so that it's not just one day a year—it's always, with him. We don't make a big deal about the day."
Instead, they spend the night in together, David preferring a homemade meal together rather than a night out. One Valentine's Day, Katrina said she "hand sewed a bathrobe for him because he's so tall they didn't make one that would fit him."
These sort of thoughtful gifts and the sweet cards that David gets for his wife are all a part of the Allemeier's ability to maintain a long-lasting, happy relationship.
"It's important to understand what the other person's going through and to anticipate what they might need," David said.
"You need to look for the good," Katrina said. "There's gonna be bad—there are downsides to everyone and everything—but if you're looking for the good and appreciating the good, then it'll always override any situation."
Best friends
by Jocelyn Ayenew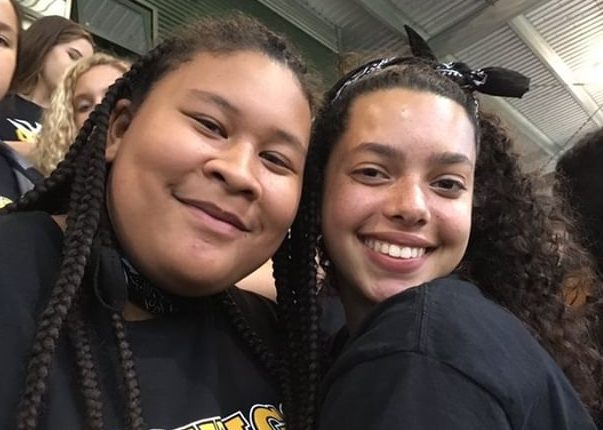 Juniors Simone Anderson and Aaliyah Rashid met on the playground at Kenmore Elementary School when they were in fifth grade. What started as two kids looking for someone to play with led to a friendship that has lasted for seven years.
Rashid said she and Anderson had a strong connection when they first met and they seemed to latch on to each other instantly.
"We met during recess and for some reason, I just [had] to go and talk to her," Rashid said.
Since then, Anderson said their relationship has grown a lot and they have shared many experiences together, one of which was going to concerts.
"When we went to our first concert together two years ago, I think we really bonded over the music and learned a lot more about each other," Anderson said.
Now, the two friends go to concerts across the city and connect over thrifting, reading and vinyl collecting. Rashid said one of her favorite memories with Anderson was meeting the band Brockhampton.
"We were at a Capitol Hill block party over the summer and Simone got a call from our friend that we were about to meet the members of Brockhampton, and the whole time [we were] trying not to scream," Rashid said.
Although they feel lucky enough to share so many of the same interests, Anderson said their friendship is more than that.
"I show [Aaliyah] appreciation by respecting her and always being there for her," Anderson said.
Rashid also said maintaining healthy platonic relationships is an important part of the formative years of high school, and growing with Anderson has made her realize how impactful their relationship has been for her.
"Simone means so much to me," Rashid said. "We're always there for each other."
Leave a Comment