School buses should get replaced by ORCA cards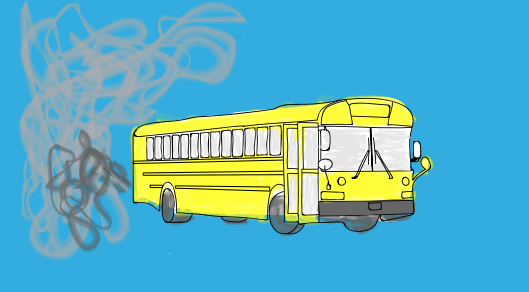 Note from the reporter: I'm a junior this year and my love for the environment only grows; I enjoy learning about the complexity of nature and how it all fits. Through this environmental column, I am hoping to look at sustainable factors and challenges, ranging from our school to the world, with an inquiring mind. This will only happen, however, after gaining a more well-rounded understanding of the complexity of the problem. If nothing else, I would like to spark a conversation or a question, and inspire optimism about the environment in contrary to the depressing news we see every day. I hope these column articles will hold a sense of urgency yet empower readers to act.
Transportation is a very large part of the carbon footprint. Students are transporting themselves to school by bus, car and a little bit of biking and walking. These are all popular methods to get to school, but what about public transportation? The ORCA card is a public transit system used by many Washingtonians in the Puget Sound region, so what if our district gave every student at school an ORCA card and reduced the number of school buses and cars on the road?
Every school bus travels an average of 12,000 miles per year, at four to six miles per gallon. With 165 buses in the Northshore School District, that is 396,000 gallons of diesel consumed, assuming that buses run on five miles per gallon. According to the U.S Energy Information Administration, this means that the district emits around 8,862,480 pounds of carbon dioxide (CO2) every year in transportation alone.
If the goal is to replace school buses with ORCA cards, the expense is, among others, an important consideration. The average cost of one student in the transportation portion of the Northshore School district budget in 2017-2018 is $2.63 daily. For a minor to ride with public transportation, bus fare is $3.00 round trip. The remaining difference in cost could be covered by reduced bulk costs if needed.
While the ORCA card is a little more expensive, there will be no need to replace, maintain or operate school buses, making it a cheaper option in the long run.
The Bellevue School District and the Seattle School District are paving the way for the future of school transportation. Bellevue provides students with an ORCA card during the school year, giving students free access to public transportation, and takes it back for the summer. In Seattle, Mayor Jenny Durkan signed legislation over the summer (the ORCA Opportunity Program) giving all high school students — and some middle school students — in their district access to free public transportation year-round.
"The success of our ORCA Youth summer program confirmed that the next generation has fully embraced reliable transit," King County Executive Dow Constantine said in a press release.
Transportation funded by the school could then reach a greater section of the student body that currently needs to drive to school every morning and pay for a parking spot. Waiver students who need rides to and from school, athletes and after-school club members could also use public transportation to get home, instead of getting picked up by parents.
Aside from convenience, this system also allows students to experience sustainable methods of transportation outside of school, which shows how safe and simple it is and develops 'green' habits.
This change will also be more environmentally sustainable in the long run, as 95 percent of school buses run on diesel. While only 30 out of the 263 community transit buses in King County are hybrids, it's still significantly better than the school buses at Northshore. This switch would take approximately 165 school buses off the road since metro buses are already running. Additionally, if the demand for metro buses in the Kenmore area increases, direct routes may develop that make it even more convenient for student riders. While the city might need to add more buses depending on necessity, it will be fewer than the number that the district has to utilize with current and growing populations of students.
Northshore bus drivers might not share the same opinion on this though. If the district switched to ORCA cards and public transit, all of the current bus drivers would lose their jobs.
Likewise, some newer communities don't have easy access to bus stops, requiring students to walk a mile or more to get on the metro, compared to a school bus stop that usually picks students up very close to the entrance to their neighborhood. This can become a hassle for students who currently have a much easier method of transport.
To have ridership, public transport needs to be the most convenient option. With the current routes, the bus takes way too long; high school students trying to balance homework with sports and extracurriculars just don't have time to waste every day on a long metro route. Even if doing their part for the environment is a top priority for students, it isn't always feasible.
These problems need to be addressed in order to implement a program like this. However, once implemented, it will save money and getting our school and our students ready for a sustainable future.
One of the main focuses of our district is to guarantee that every program meets every student's needs. This includes ensuring that students who aren't ready to commute on their own and students with special needs are considered in all decisions. To accommodate different types of students, there could be different combinations of ORCA card and school bus users. Regardless of the final decision, this switch would take many buses off the roads.
Leave a Comment
About the Contributor
Aditi Jain, Co-Editor-in-Chief
Senior Aditi Jain is the Co-Editor-in-Chief of Nordic News for the 2019-2020 school year. She is interested in learning about different outlooks in life...