Volleyball envisions progress with new coach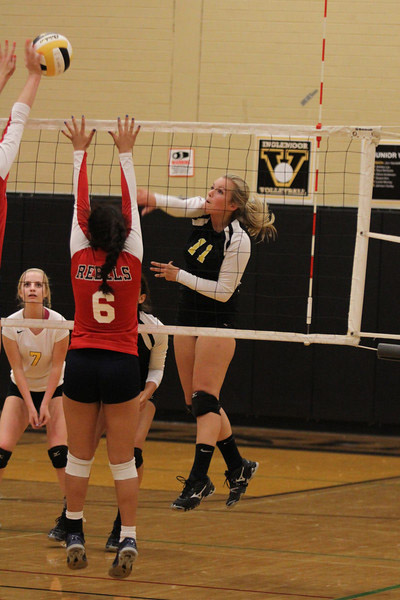 Hit or miss, win or lose, the volleyball team has weathered it all together.
After a turbulent season last year, the team has emerged with Milton Guerreiro as their new head coach and with a clear mission: to regain the ground they lost when controversy over the team's coaching arrangement left morale at a low point.
"It definitely affected us as a team and we lost some matches because of [it]," captain Miranda Cook, senior, said.
However, the athletes were able to move past the setback and use it to sharpen their focus during the following season.
"We wanted to beat the teams we lost to last year because of our coach [from last season]," Cook said. "We had to redeem ourselves."
The opportunity for redemption came along during the team's match against Woodinville.
"We lost to them last year in five [during the fifth game]," junior Kate Carpenter said. "It was probably the worst loss of the season. So this time, we wanted to take them in three [games]."
The team did just that, finishing out the match without losing a set.
"We had a winning mentality," Carpenter said.
This triumph was followed by a crushing four-game losing streak and—paradoxically—what the athletes consider to be the highlight of their season: their match against the then-undefeated Mount Si.
"We played our best game against Mount Si," Cook said. "Even though we still lost, we gave them their hardest fight this season."
During this match, which ended in an agonizing 2-3 loss, the Vikings displayed their potential as a formidable team, playing with the finesse and focus that Guerreiro hopes will carry them through the post-season.
"We hope to make it to state," he said. "It'll be tough, but if we play like we played against Mount Si, we have a chance."
As the regular season comes to a close, the team holds an overall record of 6-8, qualifying them in sixth place for the playoffs.  At the same time, the team finds itself in a unique position for growth. Only three of the players on the team are set to graduate in the spring, meaning that many of the younger athletes will return next year to form a more experienced team.
"Last year was our rebuilding year. This year was in the middle," Carpenter said. "We should hit our peak next year. Next year, we will be an even stronger team."