IHS & BHS: together raised $9,000 in recent Hunger Bowl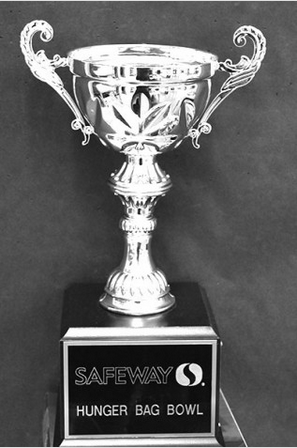 The rivalry between Bothell and Inglemoor High School has remained constant throughout the year, fueled by our sports, our spirit and our students. However, perhaps the most beneficial of these competitions is the annual Hunger Bowl Food Drive.
The Hunger Bowl spanned over two days, the 13th and 14th of Jan., and was hosted at the Kenmore Safeway. Various student volunteers from both Inglemoor and Bothell came together to see who could collect more food donations for the Northwest Harvest food bank.
"[Working with Bothell] was better than just doing it by ourselves, because it made us more competitive. It was a cheer-off, which was always really fun… it raised tension too," junior Tara Mihailovic said.
Safeway shoppers were given the opportunity to add $10 to their grocery purchase in order to donate a bag filled with seven food items to Northwest Harvest. The shoppers would specify to the cashier which school they wished to credit the donation to, the student volunteers would then stuff the bag and load the items into a U-Haul truck.
Many organizations contributed to this cause, including U-Haul who donated their own trucks, the Kenmore Safeway and the Future Business Leaders of America (FBLA).
Together, Inglemoor and Bothell managed to collect around $9,000 worth of donations. That is the equivalent of 63,000 food items for families in need. Each bag of food goes to a family in the Northshore area, providing them with four meals.
"We have a caring student body. People are looking out for each other… and the student body does it on its own," Inglemoor vice principal Jon Stern said.
The Associated Student Body (ASB) spent two months organizing the Hunger Bowl,
Inglemoor students were able to raise $5,370 while Bothell students raised $3,400. Despite what the trophy received by Inglemoor may convey, there are no real losers in this battle, as both schools gained the satisfaction of helping those in need.
"This sense of care and joy extends even out of Inglemoor to the rest of our community," Stern said.