Point/Counterpoint: Honor Society
In order to participate in Honor Society, students must complete a set number of volunteer honors. Are students only participating to pad their college apps or are they doing genuine good for the community?
Loading ...
Honor Society misses the point
by Kaylea Agate
Character. Scholarship. Leadership. Service: these four values are the pillars that Honor Society supposedly rests on and to which its members aspire, yet in practice, the organization may not do as much to further these ideals as it could or should.
"The purpose of National Honor Society," as stated on the web page of Inglemoor's Valhalla chapter, "shall be to create enthusiasm for scholarship, to stimulate a desire to render service, to promote leadership, and to develop character in the students of secondary schools."
Honor Society massively misses the mark on at least one of these goals: the required volunteer hours are ineffective when it comes to promoting true service.
When students participate in volunteer hours to fulfill a requirement, whether for Honor Society or another program that entails a service hour quota, they are not providing this service out of a desire to give back to the community or uplift others who may be less fortunate. Rather, they are checking off boxes and discharging obligations that must be completed in order to merit recognition.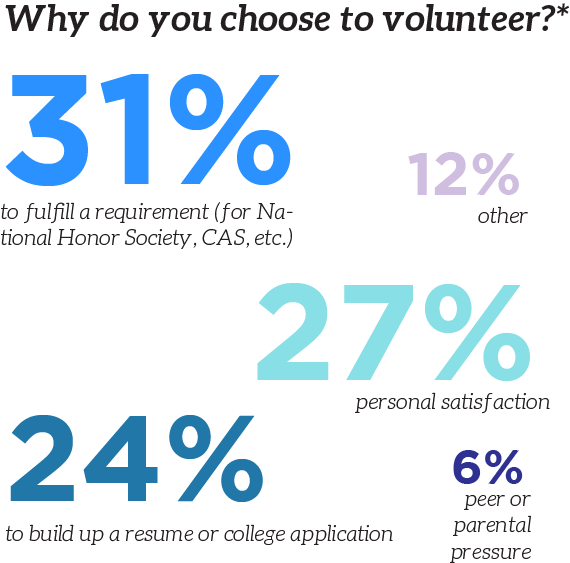 The service offered in pursuit of Honor Society membership is further discredited by the fact that students stand to benefit from their participation. When all is said and done, they have another accomplishment to add to their college applications or resumes, giving their contributions a selfish taint. 
In addition to encouraging students to serve for the less than noble reasons, required volunteer hours often lead them to choose service opportunities they do not feel strongly about. Additionally, because students are busy and there is an element of time pressure involved in completing the required number of hours before the deadline, they will often choose the easiest or most convenient volunteer hours available.
As a result, many students end up participating in a scattered array of unrelated volunteer activities, making service feel more like a chore than an opportunity to be involved in something bigger than themselves. This absence of a meaningful takeaway threatens to leave them with a lackluster attitude toward service in general. Students who feel this way about service in high school are unlikely to change their minds when they transition into the adult world, and when there is no longer the same incentive behind providing service, they will not be inclined to do so.
On the other hand, students who serve simply because they want to rather than because they are required to are much more likely to take the time to seek out service opportunities they are truly passionate about. The connection they feel with the service they are providing in turn makes them much more likely to continue providing service in the future.
Though Honor Society has lofty ideals, it often does more harm than good when it comes to instilling in its members a true and lasting desire to serve.
Honor Society is a valuable experience
by Shannon Hong
High school students are often drawn to volunteering, whether they see it as another extracurricular activity to list on an application, or a way to truly better their community. One of the most common reasons why students volunteer is to get into organizations and clubs such as National Honor Society or Key Club. Although some may argue that this is not valid, it's important to value the experience more than the reason itself.
According to the Corporation of National and Community Service, an estimated 55 percent of youth ages 12 to 18 participate in volunteer activities, nearly double the adult volunteering rate of 29 percent. This is expected, as community service is usually required in a high school student's life, regardless of how the student feels about it. The widely-accepted positive correlation between volunteering and education suggests that the increase in young volunteers mostly stems from the fact that service activities are often mandatory or compelled by the college application process.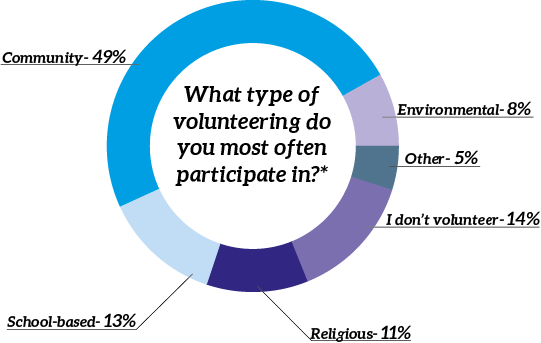 Although the idea of volunteering is based on altruism, the nature of it has been undergoing dramatic changes in recent years. Nowadays, students are more willing to volunteer based on their own personal interests and desires. This misplaced motivation may appear to be a bad thing at first. However, engaging in any kind of service truly does provide benefits for not only the individual.
This can be a life-changing experience, even if one is forced to do it. In a 2013 study from Carnegie Mellon University, researchers found that adolescents who gave their time to help others developed a sense of purpose as well as a healthy connection to their community. If volunteering was not required, students who cannot make time for it or would not do so otherwise would not get the chance to have these life-changing experiences.
Another way students can personally benefit from volunteering is through career motives. Serving the community through one's field of interest, such as volunteering at a hospital if one is considering becoming a doctor, can be a great way for students to figure out what college major or job fits them best. This can provide a hands-on experience as well as an introduction to the work environment for the individual while still giving help where it is most needed.
Volunteering for a motive other than just pure selflessness does not need to be looked down upon. Rather, students should be open to the idea of service learning. This essentially means that instead of being concerned about the reason why you walked through the door at a volunteering event, you should be aware of how you felt when you walked out of that door.
Regardless of the reason, volunteering can still be an opportunity for maturity and growth. As long as students have the right mindset and perspective, this activity can continue to be another step towards making a difference.
Leave a Comment
About the Contributors
Kaylea Agate, Reporter
Kaylea Agate is a senior and first-year reporter on the Nordic News staff. She is a member of the Inglemoor High School band program and enjoys learning...
Shannon Hong, Web Editor-in-Chief
Senior Shannon Hong is the Web Editor-in-Chief of Nordic News for the 2018-2019 school year. Her goal is to expand Nordic's online presence through social...