IB Design and Technology class "stools" the spotlight
As a major project this year, students in IB Design and Technology have been constructing stools out of cardboard for the past several weeks. The catch? These stools will temporarily be replacing some of the current metallic ones.
"Really it's an opportunity for them to be creative within their own minds," Mike Wierusz, who teaches both the standard and higher levels of the course, said.
From stools that resemble rockets to others that integrate more geometric patterns, there's variety among the designs. Junior Elán Bustillos said his group's triangular prism design was developed through testing which methods of cutting, bending and folding cardboard would enable it to hold the most weight.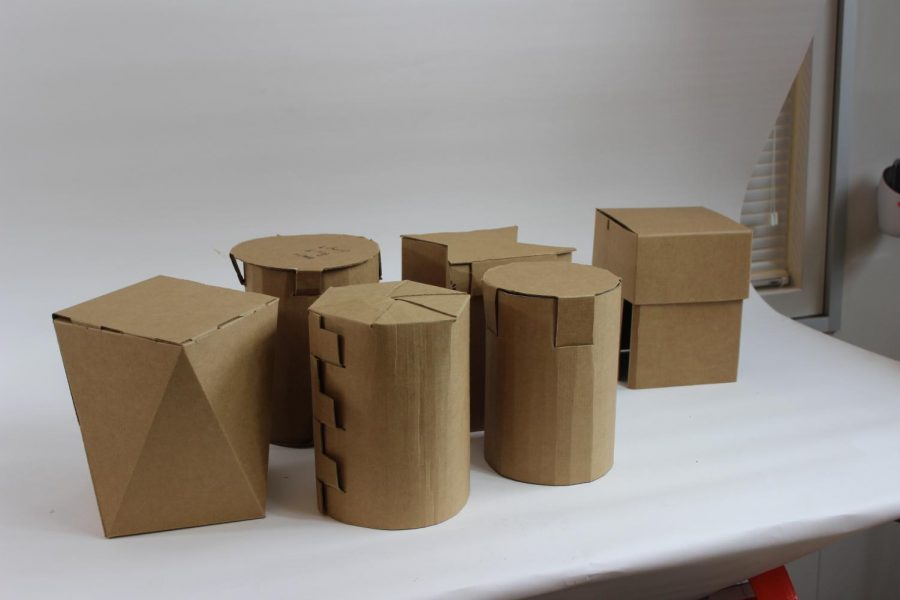 "[The cardboard is] incredibly weak, so we had to make a lot of structures on the inside [of the stool]," Bustillos said.
Limitations also came with the project: glue, tape and other fasteners could not be used to hold the cardboard together. In addition, the stool could only be made of three pieces of cardboard and must be able to hold up to 200 pounds of weight.
Junior Tom Mikolyuk's group fitted a triangular structure inside of a cylinder — two of what he said were architecturally the strongest shapes. Despite the minimalism their group was also aiming for, Mikolyuk said the project was very demanding.
"It's forced us to communicate effectively and delegate tasks," Mikolyuk said. "This isn't a project where one person can do one thing, and it isn't a project where all four people can do the same thing at the same time."
Students were put into groups of four before being assigned to make preliminary sketches showcasing their thought processes. After agreeing on a design, they built multiple one-fifth and one-third scale prototypes of their stools before constructing their final full-scale product. For junior Anna Groene, her group has been given the green light to build a version of their stool three times this size.
"We're going to be making a six foot [stool] which'll be interesting. It's just going to be more of a sculptural piece than a stool," Groene said.
According to Wierusz, the purpose of the stool is not only to be an object to sit on, but a challenge for students to create using a design process under contraints. The project is based off of one typically seen in the Design 166 course at the University of Washington.
"It's to get a taste of rigor and demand of the particulars of what a college class might be asking for versus a high school design class," Wierusz said.
After the groups finished building their stools, they pitched them to assistant principal Joe Mismas to judge. By the end, he favored compact stools that emphasized aesthetic aspects.
"[The project] tested our ingenuity and our creativity — what we can do with the limitations of design that we have," junior Yuanxiang Huang said. "Some groups' are very clean-cut, others focus more on the functionality part. I think the ones that do well are the ones that integrate equal parts of both."
View Comments (1)
About the Contributor
Audri Saulters, Cheeky Editor
Audri Saulters Coach is the designated kazooist of Nordic News for the 2018-2019 school year. Her goal is to fully master the instrument, play at Carnegie...