Choir takes on a new year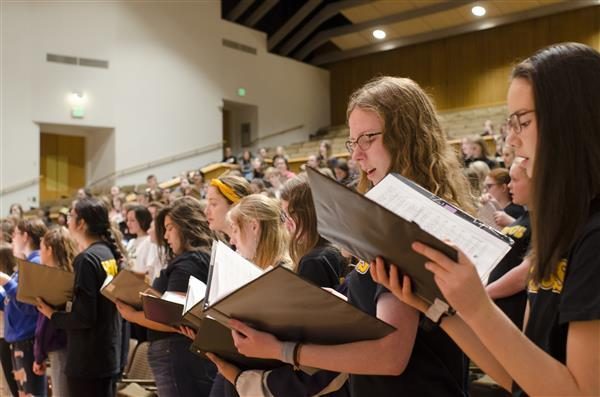 With the addition of freshmen and sophomores, as well as a new teacher for the choir department, Ailisa Newhall, the choir program is going through big changes this year. Newhall is the teacher for all three choir programs — Bella, Chamber, and Jazz — and she brings new life and new ideas to the choir department.
The Chamber and Bella choirs had their first concert on Oct. 12 at the Northshore Performing Arts Center to kick off the new year for the choir program. Despite the choir programs being subject to so much change, students had nothing but positive remarks to say about their new teacher.
"We all love having Ms. Newhall," junior Julia Owens said."You can really tell that she wants to help us improve our music."  
Before taking up teaching, Newhall had been involved in music all throughout her life. She learned piano, viola and flute at a young age, but only started taking serious voice lessons in late high school. After earning her degree in voice performance, she spent a year touring and performing across Europe.
"I learned that I can be a professional performer," Newhall said. "But I prefer to place roots, make lasting connections and enjoy sharing my talent and experience with the budding young musicians."
In describing Newhall's dynamic for teaching her choir classes, senior Tatiana Soto refers to the strong efforts she makes to connect to her students. Soto said that the students admire the great effort Newhall puts into helping them learn and flourish while establishing an important student to teacher connection that is necessary for performing arts subjects.
Soto is not only president of the Bella choir, but also an active member of all three choir programs.  
In regards to future plans for the choir program, Newhall has an assortment of new ideas. Even after the addition of the Jazz choir, she hopes to add another layer to the program, establishing the current Bella and Chamber choirs as advanced and creating another choir that would be completely open for anyone to participate. Newhall said that any student could benefit from choir experience.
"Humans get music. It is part of our very being. It connects us when we are most disconnected. It is there for every emotion," Newhall said.
She said she is a strong believer that music is a positive contribution to anyone's life, regardless of whether or not they choose to pursue it as a career.
Newhall recalled a point in her life where she sat in a choir with a brain surgeon and a lawyer sitting on either side of her, both of them saying that they make time to participate in music because it helps them survive. She said she tries to employ this mindset when teaching her music students.
"Take whatever life gives you and sing it out," Newhall said. "Music is the only thing that you can do and truly live in the moment."
Newhall has even set up a donation process to fund a trip for the choir students to visit Bear Creek Studio in Woodinville where such musicians as Vance Joy, Foo Fighters and The Lumineers have recorded in the past.
The trip will take place from March 12 to 16. Students will get the opportunity to work with music specialists and learn to write their own songs while also getting to professionally record them onto an album.

"Choir is a way to make you successful in life," Newhall said, "no matter what you choose."