Junior's "LGBTQ+ Inclusion" resolution passes at WSPTA meeting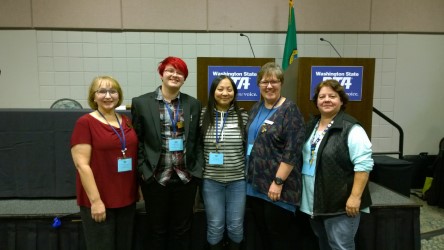 For the first time in Washington State Parent Teacher Association (WSPTA) history, protection and support for students of the LGBTQ+ community will be a prioity for the statewide advocacy organization. With the guidance of junior Skyler Pfeil, the "LGBTQ+ Inclusion" resolution was voted on and passed last weekend by 200 delegates at the 39th WSPTA Legislative Assembly.
The resolution was first drafted last summer by a small group of Northshore PTA parents, including Skyler's mother Corina Pfeil. In the following months, they joined forces with members from the Everett PTA, and worked as the team worked to research the law and write their resolution.  Skyler helped the effort by correcting vocabulary to best reflect the LGBTQ+ community. Their combined knowledge made the resolution's language current and inclusive.
"These are some really hardworking people. They are very adamant and passionate about what they do," Skyler said.
While this may be Skyler's first year at Legislative Assembly and second year as a PTA member, it is not his first time advocating for LGBTQ+ students like himself. When Skyler was in junior high school, he shared his experiences as a transgender youth in the district with the Northshore School Board. His words, along with his local PTA and several equal rights organizations, convinced the school board to open up more than 300 gender-neutral bathrooms within the district.
"PTSA has always had my back when I needed it," Skyler said.
Skyler said he hopes this resolution will give local PTA chapters and students the courage to speak out on LGBTQ+ issues. For example, pulling students out of P.E. because they don't identify as the "correct" gender or denying a student from being on the football team or cheerleading squad because they are transgender.
"[This resolution]'s definitely going to make the kids who are a little shyer than me and introverted more comfortable with the safety net they are going to have," Skyler said.