In a survey of 102 Inglemoor student-athletes, 72 said that they've had a prior sports-related injury. The most common injuries included concussions, ankle sprains and chronic back pain.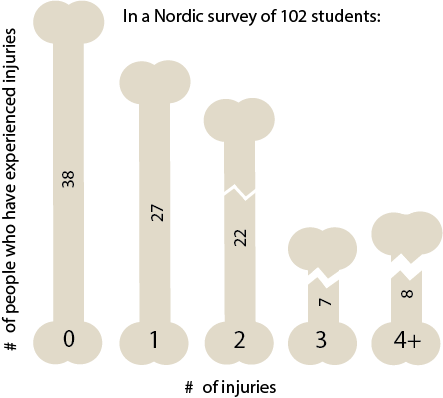 Junior Reese Lawlor (she/her) has played soccer for 13 years. As a goalkeeper, Lawlor has sustained various injuries during games including an ankle sprain and fractures in her thumb and middle finger.
"A big downside was that I couldn't play soccer, and throughout my life, it's been very therapeutic to me. So taking that aspect out of my life, I had a lot of free time, but I just felt more unfocused," Lawlor said.
Common emotional responses to injuries include sadness, isolation, irritation, lack of motivation, anger, frustration, changes in appetite, sleep disturbance and disengagement, according to the Sports Science Institute. Psychological reactions to an injury can trigger or unmask mental health issues like depression, anxiety, eating disorders, substance use and suicidal ideation. Typically, athletes are encouraged to stay involved with the team even if they can't participate in the sport. 
"When I was injured, I would have to go to practices and watch and go to games and sit on the sidelines. Throughout my life, I've never really been on the bench; I've never been on the sidelines, so it was a different perspective. And it definitely just made me a lot more anxious to play and to speed up my recovery process," Lawlor said. 
Senior Joel Pratt (he/him) was nearing the end of the winter basketball season when he noticed pain in his lower back. At the same time, he had been preparing for the track and field season by running every day and training for pole vault every weekend. 
"We thought it was just a muscular strain, and I went to physical therapy," Pratt said. "Both my [physical therapist] and my parents thought it wasn't that big of a deal, so they had me running on it for probably two to three months still, which made it quite a bit worse."
Pratt dealt with pain throughout the track and field season and wasn't diagnosed with a stress fracture until two months after it ended. He still hasn't recovered fully from his fracture, but he has learned to deal with his injury over time by not overworking himself. Pratt credits his teammates and coaches for helping him cope with the feelings associated with missing out on opportunities to do what he loves.
"There wasn't a lot that [my coaches] could do for me. So they just checked in on me a lot and made sure I was making smart decisions while recovering, not pushing myself too hard, too early," he said. 
Injured athletes are discouraged from attempting to play through the pain. Rather, it is strongly advised to seek help from professional personnel, according to the Sports Science Insitute. However, athletes may be afraid of revealing the severity of their injury in order to return to their sport sooner. 
"When I would go in to see my physical therapist or just the athletic trainer, I would kind of fudge the truth. Like if they would move my foot or if they move my arm a certain way and say '[does] this hurt?' I'd just be like 'No, it's fine,'" Lawlor said. 
Throughout treatment for her ankle injury, Lawlor tried various methods to quicken her healing process. She turned to physical therapy — which utilizes specific exercises to recover from injury — and also sought help from the athletic trainer, Everett Henderson (he/him). Henderson works at Seattle Children's Hospital and could not be reached for an interview, but he usually arrives on campus at the end of the school day to help with after school sports.
Christian Hanna (he/him) is a biology and IB Sports Exercise and Health Science teacher at Inglemoor and a football coach at Juanita. Hanna said that athletic trainers are an immensely valuable asset to student athletes who are recovering from injuries. At some schools near large hospitals like EvergreenHealth and Seattle Children's, the trainers aren't employed by the school or district. Typically in those situations, a trainer works for a hospital and is assigned to a school by their employer. 
"Because it's a part time thing and athletic trainers are only here after school, it limits the availability for students to be able to access those services," Hanna said. "Other states do it better, but it's a cost. It's an expensive thing to employ a full time athletic trainer."
He finds their limited availability frustrating for coaches as well as athletes, but he encourages athletes to use their trainer as much as they are able to. Hanna believes that the assistance that athletic trainers provide outweighs the cost of employing them full time at schools.
The role that a coach plays in an athlete's recovery is often debated. According to the Sports Science Institute, it is important for a coaching staff to keep athletes engaged, which is a sentiment that Pratt agrees with.
"[Athletes] have the resources that are always out there with the internet existing but I think it's more on the coaches to at least expose athletes to that knowledge, and that there are ways to improve your injury prevention," Hanna said. "Any good coaching program should emphasize off-season training and in-season training, proper warm ups and cool downs. They can get the ball rolling, but oftentimes, that's all they can do."
Once an athlete is on the path to recovery, they may find themselves in situations where they try to cut corners for a quicker return. However, proper rehabilitation has multiple benefits for athletes, even if it isn't the easy way out. 
"As long as you're just doing what you're supposed to be doing and taking the recovery process well and taking care of yourself, you'll probably be back sooner than you think," Lawlor said.