Nordic pops tags with 20 dollars in our pockets
Nationwide, teens are turning to thrift shopping. There are many benefits to thrifting, from lower prices to reducing fashion's environmental impact, it has become a better alternative to traditional fast-fashion shopping. We at Nordic took on a challenge: $20 and 20 minutes in a thrift store to find pants, a top, and an accessory. Who can do it better — Jana or Jackie?
In 20 minutes, we were able to find multiple trendy and cheap items at our local Goodwill. Hauling a heap of old, smelly clothes to the dressing room, we styled our items together to create the perfect outfit.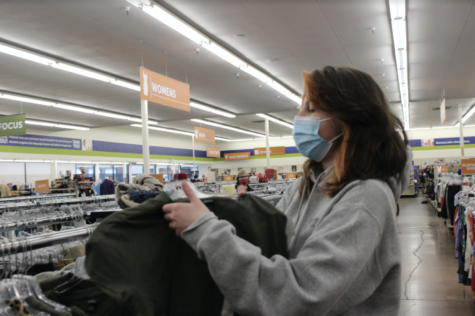 Jana:
For my outfit, I chose something I would feel comfortable wearing during the day, and would fit the cold gloomy weather. I scoured the men's sweater section to find some grandpa's thick comfortable sweater. I found a wool knit sweater for $7.99, which was a surprising price because the quality is good. I moved onto the pants section, which took up most of my time. I didn't know my pant size, so I ended up grabbing a variety of jeans. I found some low-rise bell bottoms for only $4.99. They went nicely with my sweater, so I took them with me and hoped they would fit. Finding an appropriate jacket was hard, because my sweater is very oversized and wouldn't fit into a jacket. I tried looking at the men's L and XL jackets, but they were all vests or winter jackets. Luckily, I found a large beige corduroy jacket in the women's section, and if I unbuttoned the sleeves enough it would fit over my sweater. With little time left, I hurried towards the miscellaneous accessories section. There wasn't much there; in fact, it was all animal print scarves and children's hats. I did find one simple striped scarf, and grabbed it. In the fitting room, my outfit came together. I was concerned that it wasn't refined enough, but I felt confident wearing it. They were all pieces I would wear during a normal day, so the practicality was the main reason I bought everything. Total cost: ~$19.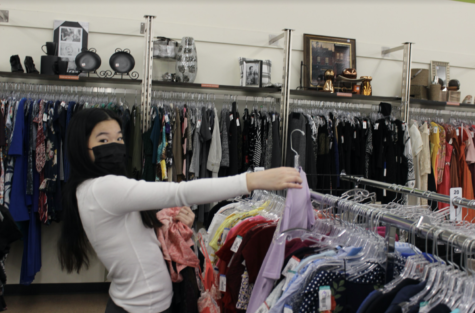 Jackie:
I went into this challenge looking for an outfit that could be customizable with other pieces of clothing. I found various tops that looked like Britney Spears could have worn them herself. But on second thought, I realized that the tops were not very practical for me. They were a bit too flashy and revealing, especially considering that most of my daily life consists of going to school, where it is cold and wet. But I did find a pink, silky tank top that had an empire waist and was $6.99. I moved on to the pants section, where I found two pairs of flared, low-waisted pinstripe slacks in navy blue and brown. I've been looking for similar pants for a long time. I moved on to try to find a sweater or jacket to go with my outfit. I was unable to find a jacket I liked, but I found a patterned grandpa sweater and decided to add that to my pile. After trying everything on, I decided to purchase the pink tank top with the brown pants. This outfit is cute but most importantly, it's versatile. I knew the pants would be a staple item in my closet that I could use to make multiple outfits. Total cost: ~$15.
Thrifting tips (side bar):
Wash your clothes before wearing them
Since the clothes are secondhand, it is very important to wash them. When you get home, place your pretty parcels in the wash, or soak them in a tub of hot water and watch the dirt slowly seep out. 
Don't gentrify
Don't be that person who resells a Hello Kitty T-shirt from the little-girls section on Depop for 50 dollars, with the caption: "Rare Y2K find."
Avoid impulsive purchases
There is no point in convincing yourself you'll wear that "UW Dad" shirt on a regular basis; try to avoid buying clothes you know you won't wear.
Bring a friend
Shopping with a friend is double the fun. Thrift with someone honest who is not afraid to tell you "no" as you pick up that "UW Dad" shirt.