Vikings explore the mountains and the stars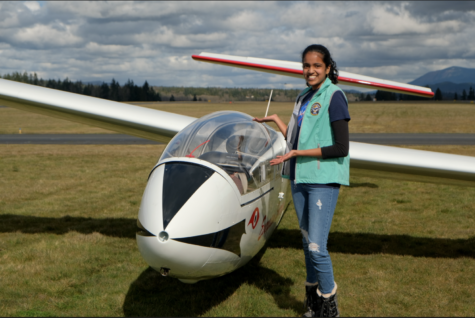 Freshman Ishitha Arekapudi described flying as a sense of freedom. She said being able to control an aircraft by yourself is an amazing feeling.
Arekapudi started flying gliders last year. Gliders are fixed-wing aircraft that are supported in air by the dynamic reaction of the air against its wings. Arekapudi said that gliders are similar to airplanes except they do not have engines, which makes them more environmentally friendly. 
Arekapudi said that she took her first glider flight with EAA Young Eagles, a program created by the US Experimental Aircraft Association that gives children ages eight to seventeen free flight experience and aviation education. She said that upon her first flight, she instantly knew that flying was meant for her. 
"I think flying has impacted me as a person by giving me a new perspective," said Arekapudi. "Being in the air, it's like you see everything from a different perspective. Everything's so much smaller, and you realize how your little problems every day aren't really that big of a problem compared to the grand scheme of things."
Arekapudi said her ultimate goal is to be an astronaut one day and go to Mars. This goal helped inspire her to get involved with aviation and flying gliders. 
"Being an astronaut really struck me because being able to fly in space and being able to travel there is just something so amazing," said Arekapudi. 
This year, Arekapudi started Sky Riders, a club where students interested in aviation can come together to learn more about flying. She said she hopes to inspire and inform other youth about aviation so they too may be able to fly. Sky Riders also provides the opportunities for students to hear from special guest speakers about their experiences in the aviation and space industries. 
"I started the club because I knew a lot more people who were interested in becoming pilots but didn't really know what that meant," said Arekapudi. "So, I wanted that club to be a community where everybody could come together and talk about it."
Last month, Arekapudi flew a glider solo for the first time. She said her initial goal was to complete her first solo flight last year, before her fifteenth birthday, but due to weather conditions her flight was postponed.
"For a while we would go every day at five A.M. just to see if we could fly that day," said Arekapudi. "But some days it was snowing; some days the wings were covered in ice, and so we couldn't fly. So, that was a major setback."
Arekapudi shared that she was disappointed that she could not reach her goal, but instead of giving up, she persevered. She said that her determination and passion kept her going. 
"My piece of advice if you have any dreams like that would be to never give up because sometimes it can be so hard, it can be frustrating, it can get overwhelming—  but if you really love what you're doing, it's worth it."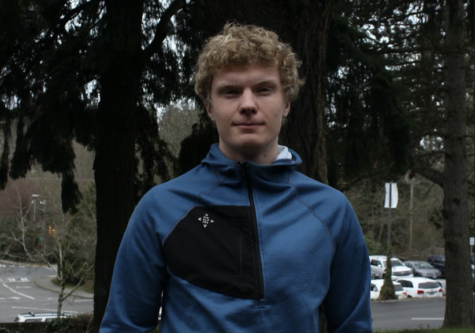 Senior Erik Aagaard has climbed all five volcanoes in Washington, which includes Baker, Glacier Peak, Rainier, Adams and St. Helens. 
Aagaard said that climbing mountains has been a major focus of his life for the past four years. He spends almost all of his free weekends going out to climb. 
"I've spent a lot of time on it, and I have a lot of fun doing it. I have a lot of close friends who have a lot of fun doing it. But also it just helps me get away from stuff for a while; it helps me relax," Aagaard said.
Mountaineering, also known as mountain climbing, is the sport of attaining high points in mountainous regions. Aagaard defined it as the practice of scaling bigger, snowier mountains.
Alpine climbing, which is typically more technically difficult, is also something Aagaard said he enjoys. Alpine climbing requires several lengths of climbing rope, and high rock faces or pinnacles often must be ascended. Aagaard defined alpine climbing as rock climbing but on a much larger scale. 
Aagaard stated that his interest in climbing started when he joined a club in Seattle called Mountaineers Adventure Club.
"From there, I met some very good friends, and I learned a bunch of skills that helped me get out there," said Aagaard.
"And the rest of it was enjoying being outside. It's a very personal thing."
Aagaard said he started Alpine Adventures club at Inglemoor in hopes of educating others about avalanche safety through the Northwest Avalanche Center in order to get more students involved with the outdoors. 
Aagaard noted that mountaineering requires him to be well acquainted with risk assessment and rope skills. He said a big part of risk assessment for him is feeling out the situation and communicating with his partners who are his "life-line." He said it's also important to evaluate terrain for avalanches and other dangerous situations. 
Aagaard said that when climbing, sometimes you have to turn around because it's too dangerous. 
"Surviving is the real nice thing," he added. 
Aagaard said that he is able to overcome fear by knowing that he will be able to go back out and try again. 
"It drives me to go back and do it in a more safe environment," said Aagaard. "But I guess also just having those experiences is definitely good— just learning my limits as I go."
Aagaard said he has been in dangerous situations numerous times while climbing. During one instance, Aagaard said that he was doing a solo-climb at North Ingalls Peak where he was tasked with descending Serpentine rock, which lacks friction. 
"You got to enjoy suffering a little bit. Basically, you got to be kind of masochistic, but not terribly so," Aagaard said. "But honestly when you're out there— for me, at least— it's just like a stream of pure endorphins pretty much a lot of the time."