New members on the Viking ship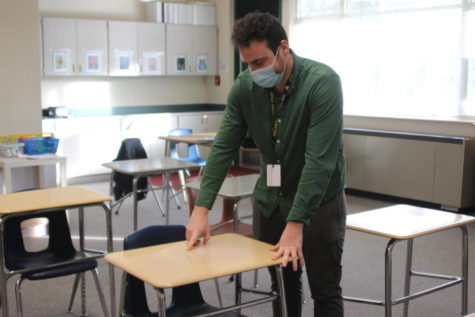 After moving here from Cincinnati, Ohio, new teacher John Zayjac began his eighth year of teaching and his first at Inglemoor as the Wanic Transition coordinator, which is a new position within the Wanic program. His job requires him to check in with students' and teachers' progress on the projects they are working on. He specializes in mechanics, medical, and special needs. In the Aspire program he helps to develop programs to better fit students with needs so that their schedules can go more smoothly. He is there to fill in the blanks of questions the teachers might not know the answer to. He said he is looking forward to keeping in-person learning, as well as having a stable routine.
     "[In Ohio when quarantine started] we started [hybrid learning], went to virtual once and then went back full time. I felt like I started the school year four or five different times. Coming back to [the classroom] feels stable for me. It's so much more personal and you get a better connection with the kids," Zayjac said. 
Zayjac said he didn't always dream of becoming a teacher, but he landed a job at an adult daycare facility for adults with disabilities. 
"I got a job at 16 years old working on a farm helping adults. I maintained the land and worked the farm all through high school [especially in the summers] all through college," Zayjac said. 
He Work with teachers to help create or modify their curriculums for kids w/ disabilities 
"The ASPIRE program is for students who have emotional needs or emotional disabilities."
"At the end of the day I work at the Aspire Program to help teachers and students with emotional needs with their projects," Zayjac said.  
"I can't wait to continue guiding teachers and students in person this year!" Zayjac said.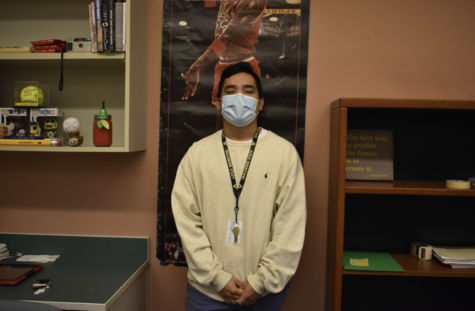 In his first year of teaching English Language and Literature, Ismael Garcia said he's excited to bring Hispanic authors into the classroom. Garcia said he strives to bring culture into the classroom and hopes to be able to do so successfully. 
"When I was in school, I didn't see too many teachers of color. If I could be the representation for a lot of students, then that's one way I think I can make a change," Garcia said. 
In his free time, Garcia said he enjoys seeing live music, going mountain biking, and staying active outside of school. One of his favorite musical artists is, Kanye West and Garcia said he tries to incorporate music into the classroom. 
"I like it all. I know the kids can tell you, in my classroom I feel like we always have music going on," Garcia said. 
Although Garcia teaches mainly underclassmen, he said that he would love to help current seniors applying for FAFSA. Garcia said that as the first to graduate in his family, he understands the importance of getting financial aid. 
"I'm a first generation college graduate. So, I received FAFSA and that's kind of how I made it through college," Garcia said. "I wouldn't be here getting my education without it. I would love to help anybody with that process."
Garcia advises new high school students to have fun, to get involved in school, and to come into high school with an open-mind. He said he wants students to know that every teacher is here to help and guide them through life, not just to assign homework and tasks. 
"Your life will not always be the same. If something bad happens right now, it's not going to matter next year, and it might not matter to you after that."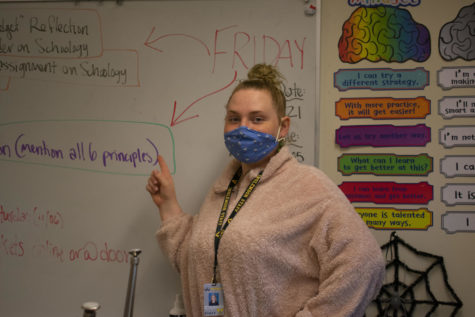 During her first year of teaching, independent living and interior design teacher Amelia Barbre-Strayer said that she is very appreciative of the administration team and staff at school. While trying to get used to the Viking community, Barbre-Strayer said that the staff in particular has been very welcoming and inclusive. 
"[The staff] are super awesome and very welcoming and friendly people. My education and teaching ideologies really match up well with theirs. It's really nice to have that support," Barbre-Strayer said. 
Before her teaching career, Barbre-Strayer was interested in acting and singing. She decided to teach later on in college, and wanted to help students pursue their passions. 
"I like being able to meet many different students and help them explore their interests and develop the skills they need to finish school and live a valuable life," Barbre-Strayer said. 
Barbre-Strayer said she is looking forward to incorporating food and nutrition skills into her lessons this year. She wants to teach students how to properly nourish their bodies and develop the skills that students will need when they learn to cook on their own.
"I'm hoping we can learn some basic cooking skills together. We are right next to the cooking food's classroom, so we might be able to get access to it for a quick lesson," Barbre-Strayer said. 
This year, she said she hopes that students are aware that their teachers and staff have their back. Barbre-Strayer said that the staff here really tries to emphasize the importance of mental health. 
"Students should feel comfortable reaching out to the staff here to ask questions or ask for accommodations if they need [them]," Barbre-Strayer said. "Don't be too hard on yourself. And also it's okay to ask for help because that's how you learn the most."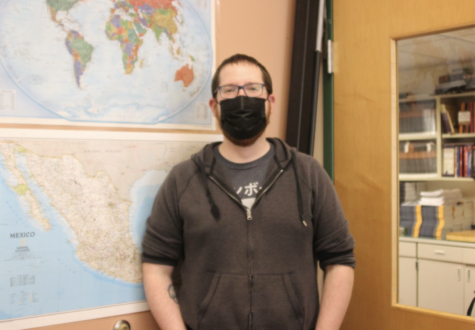 Although history teacher Michael Gorman said he's always dreamed of being a teacher, Gorman said he had worked in manufacturing, restaurants and kitchens prior to his first year of teaching on the Viking ship. 
"Growing up, my mom was a teacher. She taught at public schools, and she taught at universities as well, which was a big influence for me.  I've always wanted to be a teacher. It has been a lifelong dream," Gorman said.
This year, Gorman said he is most excited about teaching world history. He said history has always been a passion of his, and he's looking forward to doing anything history related. 
"We have such a diverse population of students here. Through world history, we really get to touch on everybody's individual story and incorporate that into the class," Gorman said. 
In his free time, Gorman said that he enjoys playing Magic: The Gathering and Dungeons and Dragons. Specifically,  he said that Metroid Dread has been eating up more of his free time than it should. Along with his passion for gaming, Gorman used to play guitar. 
"I used to play guitar a long time ago and do vocals in little 'do nothing' bands. I also like playing acoustic. The group that I was in played rock and punk rock," he said. 
For his freshmen and sophomores, Gorman said that he advises them to keep an open mind and learn to adapt to changes in high school. He said he understands how difficult the transition from online learning to in-person learning may be. 
"My advice would just be to roll with the weird as things change," Gorman said. "The challenges that you've faced have really helped to prepare you for really anything that can come. Once you graduate and leave high school, anything can happen."