Wielders of the pen
There is a variety of ways students at Inglemoor choose to express themselves — for some, expression appears in their poetry, prose and novels. Meet some of the writers at our school.
Kayleigh Coll
One night in the fifth grade while babysitting, freshman Kayleigh Coll stayed up late writing a piece of poetry that would change her life. This was when she realized writing was something that she wanted to do for the rest of her life.
While Coll began her writing journey that night, she is now taking it more seriously.
Since then, Coll said she has written numerous poems and is working on a book, which is currently 107 pages. Coll said writing is her preferred creative outlet and hopes that she can improve moving forward.
"[My first poem was] a really weird rhyming poem," Coll said. "It became my favorite thing that I had ever written."
Coll said that over the next few years she wrote a poem every month.
"Normally, I'll spend a long time without any solid ideas, and I'll have a few ideas or phrases," she said. "[When] I have a few phrases — enough to branch together — then everything else fills itself in really quickly."
Coll said she likes to write her poems about sound and one specific emotion. In addition to writing her poetry, she has spoken in a poetry slam and performed a spoken word poem in front of the school.
This summer, Coll plans to participate in a writers workshop at the University of Washington.
"We'll share out and have a lot of peer editing. We'll learn different techniques for how to better understand [our] own writing and I think that would be really helpful," Coll said.
Coll said that she writes because it is the only thing she has.
"I'm really good at conveying things to people through words… it comes really natural to me," Coll said.
She said that her biggest dream is becoming an author and without writing she wouldn't know what dreams she would have.
Elizabeth Organ
Senior Elizabeth Organ's current writing venture involves a hijabi dwarf, a trans girl wizard, an elf with a bad past and a dog — all on a journey to overthrow a queen.
Organ said the piece is being written for National Novel Writing Month (NaNoWriMo), a formal writing competition where writers try to write 50,000 words.
Though Organ hasn't finished this book yet, she said she likes writing because of how it makes her feel.
"When you write, you get to not only feel a connection to your characters but also feel your characters' emotion, and also you can control other people's emotions," Organ said.
Organ said she struggles finding the time to write.
"[My writing process is] mostly just me planning… and writing when I can," she said.
She said she writes more when she has time, often in the summer or during breaks.
"I write mostly fantasy and sci-fi, but I have also [started writing] a realistic fiction book and have planned romance ones," Organ said.
She said her favorite part of writing is character and world building.
Organ said she started writing because she had character ideas and wanted people to read them and be entertained by them.
"The back of my notebooks will have character ideas…[some] are exaggerated parts of my personality and some are based off of certain friends…but they're never exactly the same," Organ said when asked about the inspiration for her characters.
Everyone needs to have a hobby, and Organ said writing is hers.
"I think writing is important because humans are creative and thinkers," she said. "Writing tells so much about the world."
Leave a Comment
About the Contributor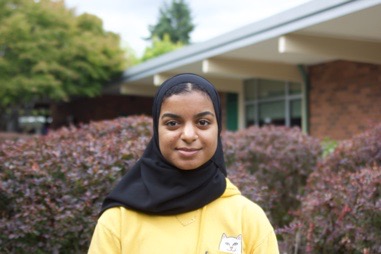 Rahima Baluch, Web-Editor-in-Chief
Senior Rahima Baluch is Nordic's resident Web-Editor-in-Chief for the 2019-2020 school year. Her goal is to expand Nordic's reach through the use of...