Senior shares passion for ballroom dancing
Soft classical music drifts across the studio during senior Anzu Yonezawa's weekly lesson, as she works on perfecting her promenade step. Since she started it last August, Yonezawa has found a love for ballroom dancing and plans to continue it even after she graduates high school this year.
Before she transitioned to ballroom, Yonezawa was a hip-hop dancer. Although she said she still wonders why she decided to switch, her decision has allowed her to make new friends and learn new things.
"What kind of first introduced me to it was reading a comic about ballroom dancing. At the time, I was a bit interested, but I didn't start," Yonezawa said. "[Then] I saw a documentary on ballroom dancing and that was when I said 'yeah, I'm going to do this.'"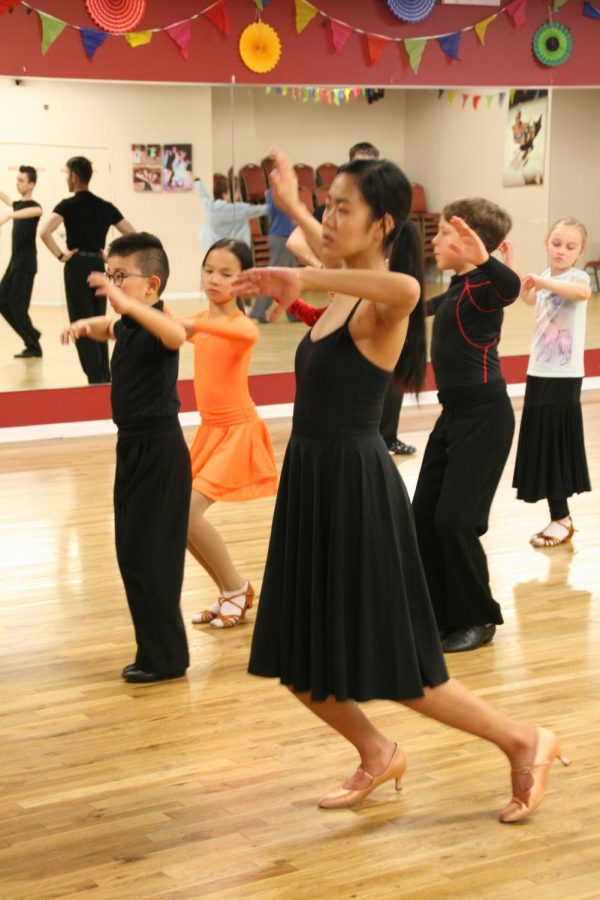 For Yonezawa, making the switch to ballroom has also allowed her to focus on aspects of dance, such as formal technique, that she didn't get to work on before. Particularly, Yonezawa said that ballroom allows her to concentrate on one routine at a time, rather than learning new choreography every single day. In this way, she has been able to hone in on her skills as a dancer.
"Hip hop is more about self-expression," she said. "You're freer to do what you want and how you do it. But with ballroom — it's very specific, like how you place your foot on the floor and how your arms are positioned."
Ballroom dancing also encompasses a wide variety of different styles, which can be sorted into two categories: Latin and Standard. Yonezawa works on these three times a week: on Monday, Wednesday and Friday. Each day, she practices and refines a different style of dance, focusing on improving her skills for each style. Her continued hard work and perseverance has allowed her to progress as a dancer.
"I think what makes me want to keep dancing is because right now, since I'm only a beginner, I can really only work up. Always having the challenge of learning more is really fun," Yonezawa said.
Last month, Yonezawa participated in a ballroom dancing competition. In these contests, dancers are divided into different groups. Based on their level and experience, they are placed into either the newcomer, bronze, silver or gold category. Yonezawa and her partner earned two first-place awards for the waltz in the newcomer category. They also competed in the next highest level, the bronze category, in which they danced the Cha Cha and the Rumba. Although they made it to semifinals, they weren't able to place. Yonezawa said that this setback has only inspired her to work harder.
"Right now, I'm taking private lessons so I can level up to bronze in a couple of weeks," Yonezawa said. "After that, really my goal is just to get to gold as soon as I can."
For anyone else looking to try out this activity, she said that the trick to success is to be motivated and hard-working.
"Stay as dedicated as you can because it can be frustrating at times when you see other dancers on the floor who are doing things more complicated than you," Yonezawa said. "As long as you just keep moving up, it'll become a lot easier."
Leave a Comment
About the Contributors
Margaret He, Co-Editor-in-Chief
Senior Margaret He is the Co-Editor-in-Chief of Nordic News for the 2020-2021 school year. In her third year on staff, Margaret aims to continue Nordic's...
Jocelyn Ayenew, Reporter
Jocelyn Ayenew is currently in her senior year at Inglemoor and this is her first year with Nordic News as a reporter. She is excited to get to report...