Band instructor officially joins music program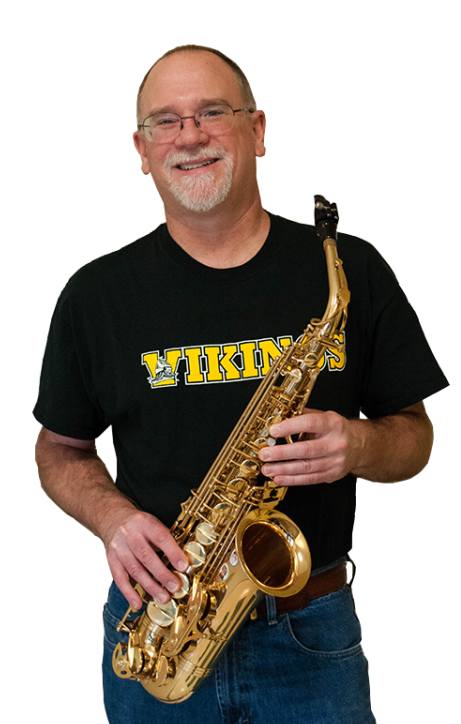 To make the "V" shape for the Vikings or the "W" for Woodinville at the Homecoming game, the marching band puts in hours upon hours of practice on the cold, wet field at Pop Keeney. Band and orchestra teacher Bruce Wilson is no stranger to Inglemoor as he has helped students become better in their instruments for years, but now he is finally stepping into the spotlight.
Wilson has an extensive background in music and teaching. He said he has always enjoyed helping the music teachers, Jim Rice and Ted Christensen, with different sections of the band. His goal is to share his knowledge and insights with his students to help them grow.
"With all this experience, I just want to provide the students with an additional perspective to what Rice and Christensen are already doing," Wilson said.
Wilson is always looking, he said, to play music better and to give students a valuable experience playing music. This includes how professionally it can be done and how they can improve.                                                               Ben Dossett
"I really like his teaching style and work ethic. He is a pretty enthusiastic guy," sophomore Anna Li said.
Although this is the first time that Wilson is helping out with the marching band and teaching on a daily basis, the world of music is very familiar to him.                                                                                                                 
"I did marching band in high school and played the tenor sax. I started in about 1976, so about 40 years ago," he said.
Wilson was a part of a music program in California before moving to Interlake High School in 10th grade.
"I got into a really great music program at Interlake, and it just really caught fire and I decided that's what I wanted to do for sure. So I had a jazz combo in high school, and we went on and played different things," Wilson said.
After high school, Wilson headed off to college to study music.
"I have been playing ever since. My life is pretty much filled with music," Wilson said.
Aside from teaching one class of band and one of orchestra, he also teaches private lessons to about 40 interested students and performs at the Village Theatre in Issaquah.  
"Rice and Christensen have just lots of experience, and they really know what they are doing. So between the three of us, we have a lot of experience," he said.
Freshman Carlie Graham, one of Wilson's students, said she thinks Wilson is a very talented teacher. According to Graham, he can find the source of an incorrectly played tune – if there is one – and solve it in an instant, which allows her to stay focused on her instrument.
"I hope to improve a lot with technique; overall improvement and not just what I need to do for that specific piece," Graham said. "I think that Mr. Wilson will be really great to help us get there. He is very much into the instrumental part and not just the music."
Li said she admires Wilson's teaching style and is looking forward to growing as a musician. When reflecting on these past four months with Wilson, Li said that she has already learned so much about her instrument and is always encouraged to keep learning and developing her skills.
"The best thing about it is that we are inspired and motivated to improve in our instruments," Graham said. "It's not just about meeting a concert deadline."
Leave a Comment
About the Contributors
Aditi Jain, Co-Editor-in-Chief
Senior Aditi Jain is the Co-Editor-in-Chief of Nordic News for the 2019-2020 school year. She is interested in learning about different outlooks in life...
Ben Dossett, Reporter/Photographer
Ben Dossett, senior, is a new reporter/photographer for Nordic News. In his spare time, he enjoys playing in the band and taking photos. Ben also participates...