Former student wins art competition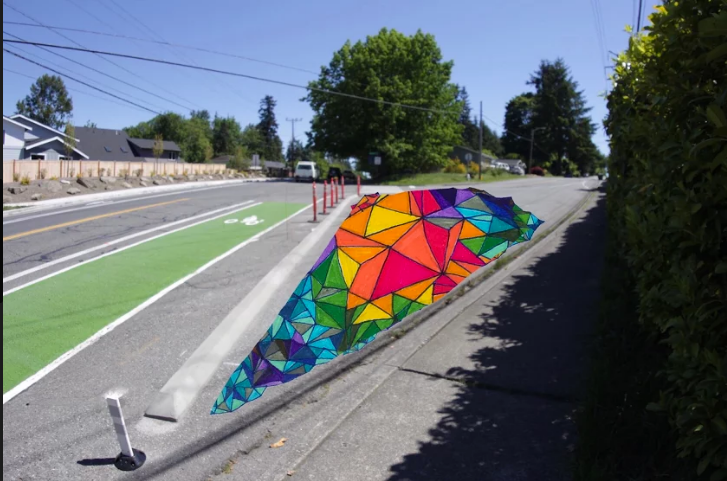 In a life of artistic endeavour, senior Miriam Ruiz has received some well-deserved recognition. Her artwork will be displayed to the Kenmore public in the form of a mural at 84th Ave. NE and Simonds Rd. hopefully sometime in the upcoming year.
Last year, art teacher Zane Mills proposed the Kenmore mural competition to his IB Visual Arts and Computer Graphics classes as an assignment, narrowing down the chosen pieces to a few top designs — including Ruiz's.
The city sent Mills an email asking if having a student design the mural was something he'd be interested in, he said. Mills said he thought it sounded spectacular.
Since having her drawing selected, Ruiz has moved from Inglemoor to Bonney Lake High School, but her artwork was still included as one of the design choices. From these designs, the city voted and decided on Ruiz's as their number one choice.
"I was really surprised," Ruiz said, "At first it was just a bunch of triangles. That's how I turned it in."
Ruiz has realized that design may be what's in store for for her future.
"I don't want to do just art by itself because I don't really see it as a successful career," she said, "but with the other skills that I have—like math and stuff, if I combine the two—maybe something in design. I feel like I want to go in that direction."
Ruiz has taken multiple art classes throughout junior high and high school, but still her skills remain rather secret to the outside world. Even her close friends were in the dark about Ruiz's talent in the beginning.
"She doesn't really put it out there," senior Olivia Walchenbach said, "I had no idea she was good at art until she made a painting for my friend."
Ruiz said she has dabbled in the arts for as long as she can remember, following in her mother's footsteps.
"She's the one with all the drawing skills," Ruiz said. "That's where I think I got mine from."
Despite the inspiration she's received from her mother, Ruiz said she has her own personal freedoms in her artwork.
"I kinda like how you can make anything that comes to your mind," Ruiz said, "and there's really no pressure to have it perfect or not."
She hopes to participate in the construction of her mural, but because of the new distance between her and Kenmore, she's unsure of the possibility.
"When they plan on doing it," Ruiz said, "I hope I will be able to paint some."