Vikicks
Senior Samuel Eagan has developed a taste for fashion this year. He said that his favorite pair of shoes at the moment are the Doc Marten Boots 1460 from Nordstrom. He said he purchased them not because of the trend but because they would last him a long time.
"I didn't really have to think twice before I bought them. It's winter time now, so there's going to be a lot of rain. I needed a pair that would last me a while, are comfy, and have a simple look," Eagan said. "They are your classic black boots with single-black stitching, original black laces, and black outsoles. You really can't go wrong with them."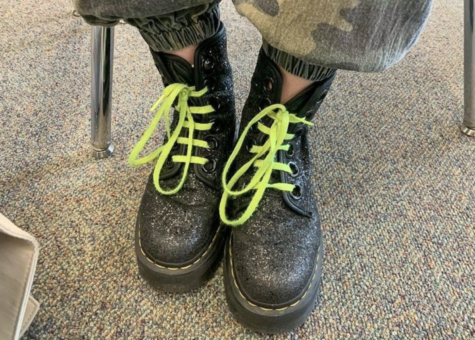 Senior Marlo Olson has a confident and eccentric style. They know what they want to wear and want to look fabulous wearing it. They received a pair of black sparkly Dr. Martens with neon green laces for their sixteenth birthday and enjoy wearing them often. 
"Docs are a great pair of shoes because they are made of strong materials like leather or faux leather. Docs can last you about twenty five years if you treat them right. They are made to withstand a lot," Olson said.
Olson said their second favorite pair of shoes are Converse, which their family members also wear.
"For as long as I've remembered, my family and I wore Converse as a go-to shoe to wear. I've just had a lot more memories wearing Converse. It's a family thing I guess. Everyone in my family owns a pair," Olson said.
It's no wonder Converse is a favorite shoe brand amongst many. Either people's parents wore them in their childhood or something about the brand just feels nostalgic. The classic canvas hightops create a simple silhouette to complete almost any outfit.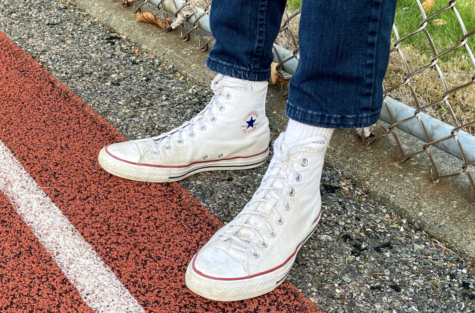 For senior Jaime Paredes, white is a staple color in his shoe collection. He said it became a recurring pattern this past year as he built his new sneaker collection — this most recent addition is a pair of all-white vans.
 "Those white Vans, they're like fifty bucks, so I buy them because they're pretty cheap," Paredes said.
His price cap on sneakers is $250. He said he believes paying for expensive sneakers is unreasonable.
"Yeezys are pretty expensive. If you buy a pair of sneakers just to hop on the trend, then you're just not creative. Be yourself," Paredes said.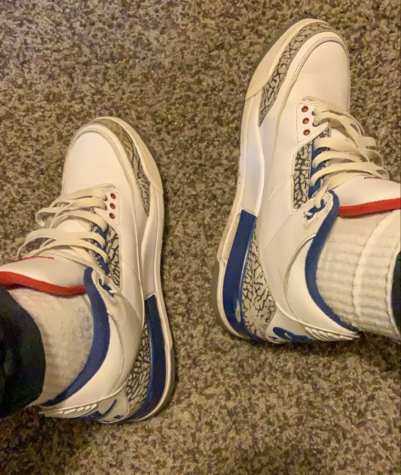 Senior Blake Reese knows the ins and outs of the sneaker scene. With a sneaker collection of over thirty pairs, he's done it all from buying, selling, and even sneaker restorations. With his sneaker restoration side hustle he said that he has gained a different perspective of the sneaker industry. 
"What I do is buy a pair of shoes between twenty & sixty bucks, tape up the parts I need to paint, and then get this Krylon matte finish that works really well, make sure it's an even coat, and then I just lace them up."
Even though Reese has slowed down on restoring sneakers to sell, he is using that time and effort to expand his collection in his size. 
"I don't think I'm ever going to grow out of it. By the time I'm forty, I have a feeling I'll have like four hundred pairs."