Making prom night your own
May 17, 2019
From outfits to activities, prom night is filled with customs and traditions. For some, this creates an exciting opportunity to defy expectations and stand out. Here's the story of one teacher's prom experience and how two seniors are making this year's masquerade-themed prom their own.
Hunter Essex: masculinity and femininity
This Saturday, in a sea of dresses and suits, senior Hunter Essex will be entering prom with an outfit that explores both sides. By going for something less traditional, Essex said he hopes to combat both masculine and feminine stereotypes.
For the last couple of months, Essex said he has been planning the different components that will go into this unique look. Although he said he's set on gold heels and a mask, he has continued to play around with the colors and design.
"I've purchased a blue dress and I'd like to cut or alter the dress to become a high-low and throw a blazer over it," Essex said. "But since not all fantasies come true, my backup is an onyx shirt tucked nicely into a black dress skirt."
His friends and family have been supportive and offered ideas,  but Essex said his main source of inspiration was friend and choreographer Coulson Bingham. Essex said Bingham is known for his statement outfits — whether that be a dress, pantsuit or tuxedo.
"He's truly inspiring because he's comfortable and confident enough with who he is as a person to wear what some men would never think of wearing," Essex said.
This confidence is what Essex said he hopes to radiate through his prom look. However, with a busy schedule both in and out of school, he said it's been difficult to complete the outfit due to factors such as time and money.
"I hardly get any me time between work, school, the musicals, auditions and family. Financially, I'm spending most of my paychecks on other things, so it's been rough," Essex said. "Sometimes, I think I won't complete [the outfit] in time."
Despite the difficulty in getting the look together, Essex said it will be worth it to inspire other students, especially those in the LGBT+ community, to feel confident in what they're wearing.
"I want people to know that it doesn't matter what gender the clothing item is, it's about the ownership of the outfit," Essex said.
Essex said he is excited to see the reactions he will get about his outfit, and he has learned a lot about himself in the process of creating it.
"For me as a person, I've grown," Essex said. "I'm finally doing something I didn't think I'd ever do."
Hannah Wiggins: thrifted vintage dream
From matching pocket squares to corsages, prom fashion can seem pretty set in stone, but senior Hannah Wiggins doesn't see it that way. Wiggins said she has always been interested in fashion and wanted to express that through her prom look.
"I definitely think that I've made prom my own through fashion," Wiggins said. "I wanted to wear something that represented who I am and was more of a risk because it's the last time I'll go to a dance like this."
For an affordable and more outgoing prom look, she said that the thrift store was her first stop.
"I went to a thrift store to get my prom dress because I wanted to really have fun with it, and the great thing about vintage stores is that they allow you to get something more sustainable and unique for a lot less money," said Wiggins. "I got my dress for $28 and I can still make a hit at prom."
When she goes shopping, she said she has some key things she looks for.
"When I go to vintage stores, I always test if I can kick high and raise my arms because I love to dance; always look for something that makes you happy. My dress is a bright pink and very billowy '70s floral. It's and cheery and practical," she said. "I love it because it's something I can wear again and repurpose — I am really looking forward to wearing it."
While she has nothing against more traditional prom dresses, Wiggins said that they just aren't her style. Even when she went to prom last year with her friend and former student Liam Blakey,  her look was out of the box with a '80s seafoam green dress. Wiggins said all the support and positivity she got at prom for it inspired her to do the same this year.
"There is so much positivity at prom, " Wiggins said. "It's really refreshing it just makes you feel like a million bucks. Definitely, some people thought it was strange, but not in a bad way. I think it's great when I surprise people. I really love to stand out sometimes, and I can't do that every day, but prom gives me — and I bet a lot of other people — the opportunity to dress up and feel really good about ourselves. For me, it's really fun to play with my boundaries and see what I can do."
Wiggins encourages everyone to wear whatever they want to and said she thinks prom is a great opportunity to go all out and do something that makes you feel confident. She said some of her greatest memories come from stepping out of her social comfort zone and standing out through fashion.
"I really want to lead by example, to show that you don't have to stick with your confinements," Wiggins said. "The people who judge you, you're not going to know in a few years, so start being yourself and doing what you want, and the people worth having around will support you in it."
Anna Forysiak: prom in the past
Physics teacher Anna Forysiak's prom night included dinner, dancing and a crazy bus driver. She and her date went to the Mercer Island High School prom in 2011 with a group of sixty friends.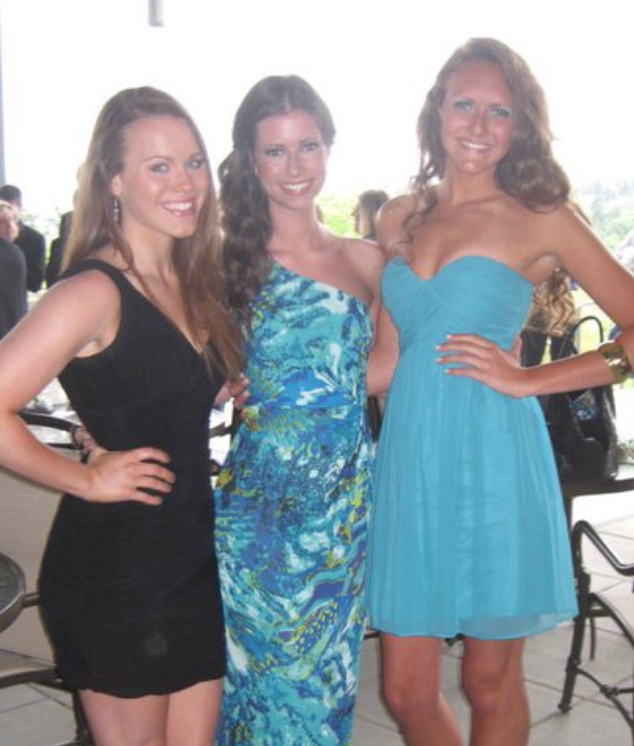 "My date and I were in a huge group because everyone wanted to be together for our last big event," she said. "The funniest part was how big our group was, and trying to do anything with sixty high schoolers and no adults is ridiculous."
To accommodate them all, Forysiak said they ended up renting a school bus instead of a limousine or party bus.
"I'm not sure who our driver was or if he was just a random guy that had a school bus that you could hire… because he drove crazy," Forysiak said. "Like, at one point, he stopped on the freeway and started reversing because he missed the exit."
Forysiak and her group met at Mercer Island Community Center for pictures before heading to Newcastle Golf Course where the dance took place.
"It was so fun having all of [my] friends from all [my] different activities [and] groups in one place to celebrate one last time together," she said.
To this year's seniors, Forysiak says to "be safe and have fun."