A cost too steep
Apr 13, 2018
Talk to high school students about their involvement in extracurriculars, and you will generally find them balancing a tight schedule and the costs associated with it. After all, colleges prefer well-rounded individuals. Commitments to clubs, sports, volunteer work and more are a virtual must.
Despite the impact these activities might have on students' futures, participation in extracurriculars can put a strain on students' budgets.
"I think there definitely is a barrier. I wanted to try out for cheerleading, but couldn't join because of the cost. There should be more scholarships set in place," sophomore Kendell Braschler said.
In fact, a survey by Nordic showed that 33.6 percent of students said that price was a determining factor of whether or not they would join a club or sport.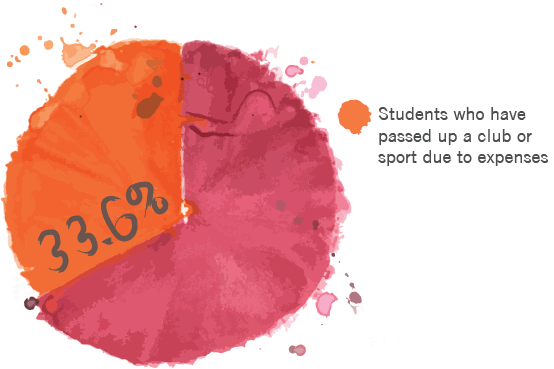 Braschler said she thought that although the cheerleading fee is for uniforms and transportation, it's still too expensive, exceeding $650. Freshman Lalla Hansen said she doesn't quite understand where the money goes for some clubs.
"I haven't really experienced a barrier, but sometimes I wonder why there is a fee for certain things. For example, Key Club is volunteering, so why do we have to pay for it?" Hansen said.
According to Nordic's survey, 53.8 percent of students think that the sports and clubs at Inglemoor are too expensive. Many clubs and extracurriculars also involve expensive out-of-state field trips that students can't afford.
"I used to do MUN and TSA [both of which involve travel] and they say that they provide financial assistance but don't really have a consistent system. This does make a barrier for the economically vulnerable students," junior Jason Xu said.
However, DECA adviser Matt Pakinas said that every student deserves the opportunity to participate in whatever activity they choose.
"Financial barriers should never prevent a student from playing the game," Pakinas said.
Because competitions can cost upwards of $300, the DECA program has developed ways to help students cover the expenses through volunteer work at the DECA store, fundraisers and scholarships. In FBLA, the story is a little different.
"Everyone who does FBLA will do it if they can afford it. So we don't really know about the kids who joined and quit because of the money. But obviously there are some who don't end up doing it because of the costs associated with it," senior Antyush Bollini said.
Nonetheless, there are fundraising efforts done by the whole Inglemoor chapter to ease the expenses of the competition. Bollini said that he tries his hardest to encourage people to join and explain the financial aid that can be received by talking to the club adviser, Teresa McCausland.
"I've noticed that most people don't know about the scholarship options and don't consider these clubs as a option," Bollini said.
Similarly, the music program consistently travels for retreats to practice as a whole and in small ensembles. These trips have included international destinations such as China in 2008.
"If finances are a concern, we don't leave anybody behind. We have a booster program set up by parents that takes care of the students who can't afford the retreats," music teacher Jim Rice said. "We make sure no one stays home."