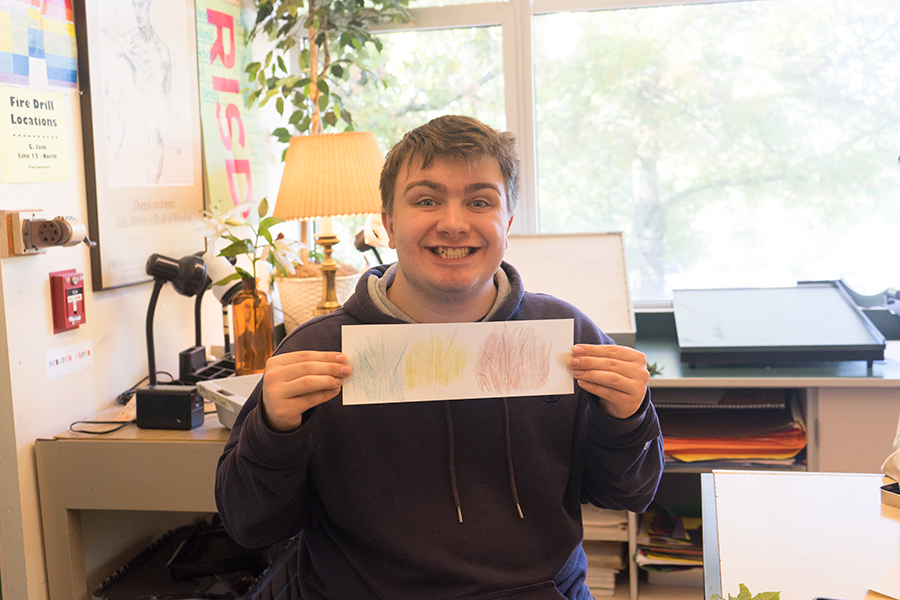 Senior peer coach gains new perspective
When senior Jacob Krieger began the school year with an empty period, he didn't know what class to fill it with. After considering his options, Krieger decided to become a peer coach, and now he spends fifth period each day in the Functional Skills and Academics classroom, working with the students there.
Each day, the students work with their peer coaches to complete activities like reading, using a calculator and learning to type.
"It teaches you a lot of patience. You get the opportunity to help people, and you have a good time doing it," Krieger said.
Krieger works especially closely with freshman Russell Dacosta, and said it has been a positive learning experience for both of them.
"It's important to the people that we coach, and I think it really has an impact on their lives. [It] also has an impact on my own life," Krieger said.
Prior to becoming a peer coach, Krieger said that he had some misconceptions about the program, but that his views have changed over the course of the year.
"Before I took this class I thought that peer coaching wasn't that difficult. It's something that anybody could do, and it doesn't take a lot of specific things to be a peer coach," Krieger said. "But now I see that you have to have a lot of patience, and you have to be really understanding, empathetic of people and have good social skills."
The effort that goes into the job is not without reward, though, and Krieger said  he has grown to appreciate the effects of his work.
"The best experience I've had so far [with Russell], is typing on this website called typingclub.com. He gets really excited when he learns how to type new keys," Krieger said. "When he does a whole set perfect, he's just incredibly happy about it. That's definitely a highlight."