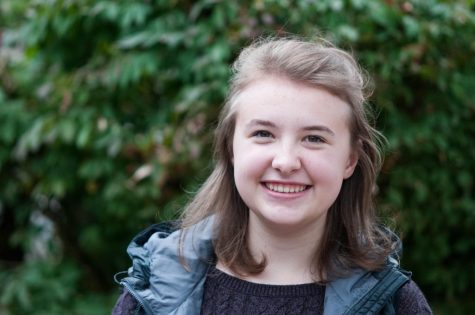 Senior Cami Brix is the Co-Editor-in-Chief of Nordic News for the 2018-2019 school year. In her third year on staff, Cami is inspired to continue Nordic's mission statement of serving the entire Inglemoor community with relevant, timely and accurate content. By leveraging Nordic's collective talents, she hopes to produce impactful articles, dynamic design and insightful photography. When not Nording around,
Cami is pursuing other academic and community-engagement endeavours
.  She is a full IB student, Founder of Inglemoor JSA chapter, an NSD Youth Equity Group Core leader and a PTSA student advocate.
Cami Brix, Print Co-Editor-in-Chief
Aug 13, 2018

Exploring our Viking side

(Story/Media)

Jun 08, 2018

Euro Challenge competes in NYC

(Story)

May 01, 2018

Band members perform at WMEA State Solo and Ensemble competition

(Story)

Apr 08, 2018

New principal promises to motivate students towards success

(Story)

Mar 23, 2018

Principal finalists speak at community forum

(Story/Media)

Mar 16, 2018

Students participate in national school walkout

(Story)

Feb 09, 2018

Interim Principal reboards the Viking ship

(Story)

Dec 16, 2017

School grapples with traffic

(Story/Media)

Nov 03, 2017

School Board approves 2018 bond

(Story)

Oct 27, 2017

Junior's "LGBTQ+ Inclusion" resolution passes at WSPTA meeting

(Story/Media)

Oct 10, 2017

Student art coming to Kenmore streets

(Story)

Sep 10, 2017

New year welcomes new assistant principals

(Story)

Sep 03, 2017

Assistant principal says goodbye

(Story)

Mar 17, 2017

Boys swim boasts strong team dynamic

(Story)

Dec 12, 2016

Northshore looks towards the future

(Story)