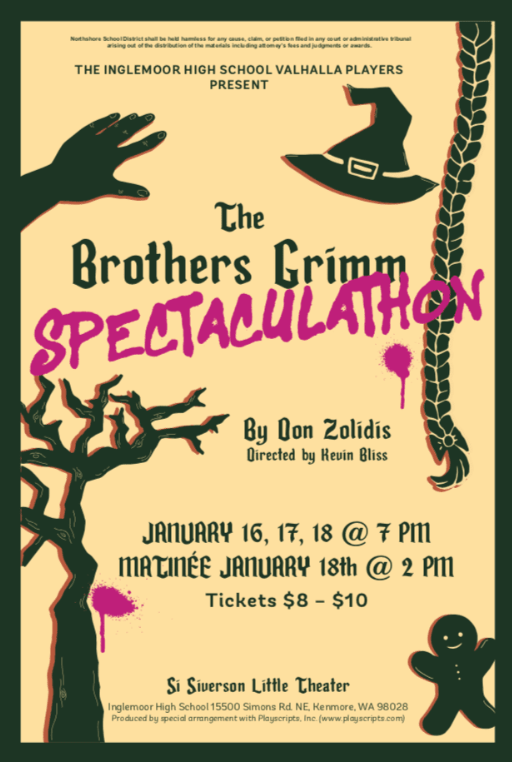 Art by Valhalla Players
The Valhalla players are back and better than ever on January 24* when they face the challenge of combining some of the Brothers Grimm originals into one big spectacle. They will be performing this fast-paced and imaginative rendition of the Brothers Grimm's Fairy Tales in the Little Theater.
The 15 stories they will be performing will include popular stories like "Cinderella" and "Hansel and Gretel." However, this show comes with a unique twist — the stories are told completely wrong. So if you are confused during the show, don't worry, audience confusion is essential to the spectacle's success.
At any given point during the show, the actors could be going entirely off-book, or they could have rehearsed it to perfection. The audience will never know, and that's the whole point. 
"The actors are told to make the audience question the show's production," junior and assistant director Ariana Riley said. "The audience will often wonder whether any of what is happening is actually a part of the script."
During the show, you can expect the actors to interact with the audience, [the actors] encourage them to help guide the show along. Because of this, the show will have a fantasy-themed, improv-night vibe that is meant to engage the viewers while transporting them to a new world of fairy tales.
The set is based around a giant story book that is an integral part of every story in the show. The actors often use this book to guide their story along.
Although this show can be done with many actors, Inglemoor's smaller cast can perform the show well because many of the actors are playing multiple parts. This will add to the humorous nature of the show while still keeping its artistic integrity.
This show is unlike anything Inglemoor has done before, so if you're willing to be wowed by the creative set and outstanding acting that will keep you laughing all night, go see the Brothers Grimm Spectaculathon.

Tickets are $8 with an ASB card and $10 without. 
New show dates*: Jan. 24, 25, 31 at 7 p.m. and Feb. 1 at 2 p.m.
*Dates changed in response to school closures