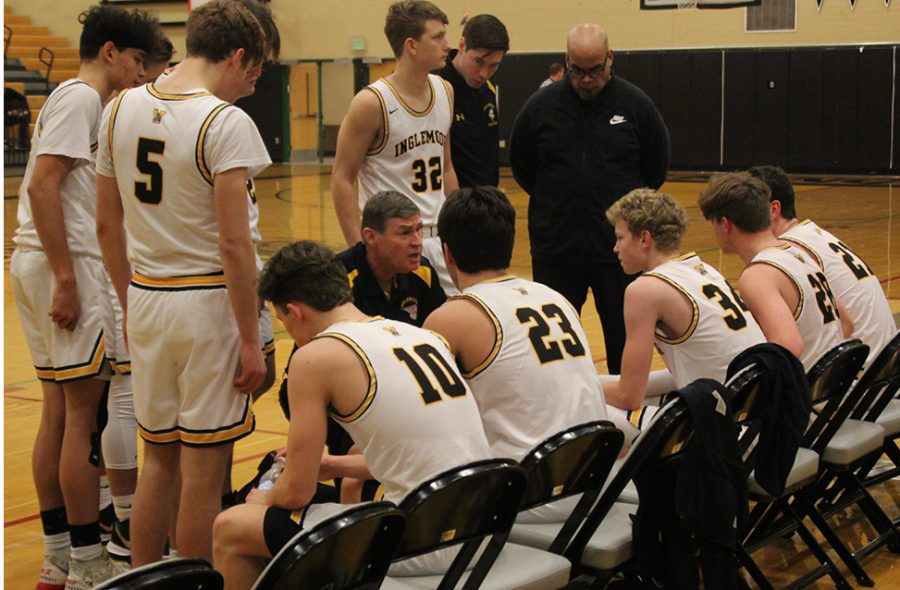 Caden Pavlovski
With an excellent track record last year of 18 wins to seven losses overall and ten wins to three losses in their league, the boys basketball team is naturally expected to keep improving their team from the year before, setting the bar as high as possible.

As of Dec. 17, the team has been undefeated this season, winning four games in a row. The team emphasizes the need for a strong team dynamic to maintain a positive record. In the past, the team had a shaky record in their 2017-2018 season. The team ended that season with three wins while sustaining a total of 17 losses overall.

Going into his fourth year of high school basketball, senior captain Zach Shimek outlines a few aspects he believes the team can improve on and how they will go about striving for success.

"Playing as a team, playing hard, especially on the defensive end… playing with each other has helped, and I think our chemistry is gonna be better this year," Shimek said.
The team strives for success by highlighting the importance of playing as a team and maintaining strong chemistry among its players. But working together to achieve a common goal is only one of the many reasons the players said they decided to play on the team.

After playing basketball for 15 years, senior Brady Casto reflects on basketball's importance to him.

"I like the team aspect and controlling your own destiny and determining how good you are," Casto said.

As a captain, Shimek said he believes a key for the team to optimize their efficiency on the court is working on shooting and defense as a strategy for success.

"We work on things we want to get better at— shooting, defense, stuff like that," Shimek said.

During their game on Dec. 7, versus the Juanita Rebels, Inglemoor scored 67 points to Juanita's 46 points. The team played aggressively— yet tactically— sharing the ball among their players while at the same time making fast and unpredictable advances on the opposing team, showing their strong team dynamic in action.
As a small varsity team of 11, the players have been able to create close bonds and continue to grow together as a team by both practicing and playing hard.
"It's a close-knit group— it's not a big team, but we're all good friends, so it's a lot of fun playing with those guys, and I have a good time,"  Shimek said.