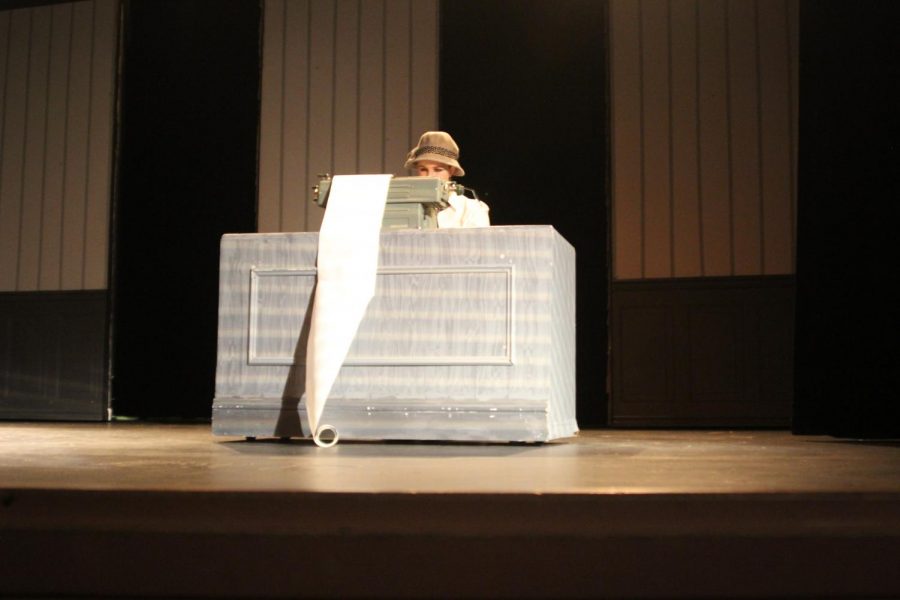 Minita Layal
Inglemoor's production of the Shakespearean classic Macbeth opened on Nov. 1. The tale of the power hungry Scottish thane and his wife was adapted as a 1920's gangster version for Inglemoor's show. The play combined elements from two eras as well as creative aspects of theater, such as dim lighting, resulting  in a thrilling performance that puts the audience right in the middle of the action.  
Opening with the chilling sounds of gunshots amid the foggy street outside of Macbeth's speakeasy, the show stayed true to the shady underground of America during the 1920's. The stage crew and set designers must be credited for the spectacular scenes created for the production.  
The play followed a classic film-noir style, which included dimly lit sets as well as black and white costumes for the entire cast. Though at times the actors faces were hidden in the shadows, the dim lighting transported viewers into the world of crime lords and dark-shadowed streets that were the classic of this genre from the early 20th century. 
The biggest success of this play came from the complex and interesting characters. The Three Witches, played by sophomore Daisy Held, sophomore Lily Van Veen, and senior Naima Scharl were some of the most compelling characters of the batch. Depicted as society columnists, the three gave the show an eerie touch with their chilling chants and fantastical abilities.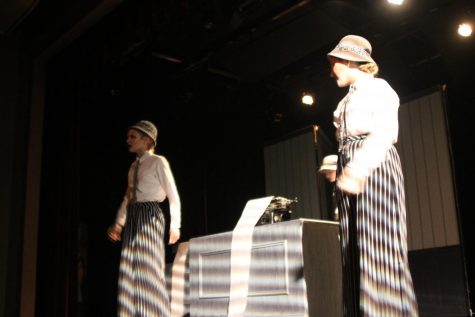 Sophomore Sam Pozen and junior Priya Hendry, who played Macbeth and Lady Macbeth, respectively, brought their flawed main characters, who let their ambitions get the better of them, to life. In addition, junior Kenny Sulivan, who played Porter Seyton, added a touch of humor with his character's monologue. The entire cast showed superior acting abilities and a superb understanding of Shakespeare's sometimes difficult-to-follow dialogue. 
All in all, the Valhalla Players' take on Macbeth was definitely worth watching due to the cast and crews' meticulous work, and the story's clever adaptations kept it relevant and engaging for the high school audience. If you didn't get to see the new rendition of the Shakespearean classic, be sure to check out the drama departments' upcoming performances —they will likely leave you starstruck. 
Come support the drama department in their upcoming production of  "The Brothers Grimm Spectaculathon," playing on Jan. 16, 17 and 18 at 7pm and on the 18th at 2pm. 
Auditions for the spring musical "The Little Mermaid" will be held in the choir room on Dec. 11 after school.