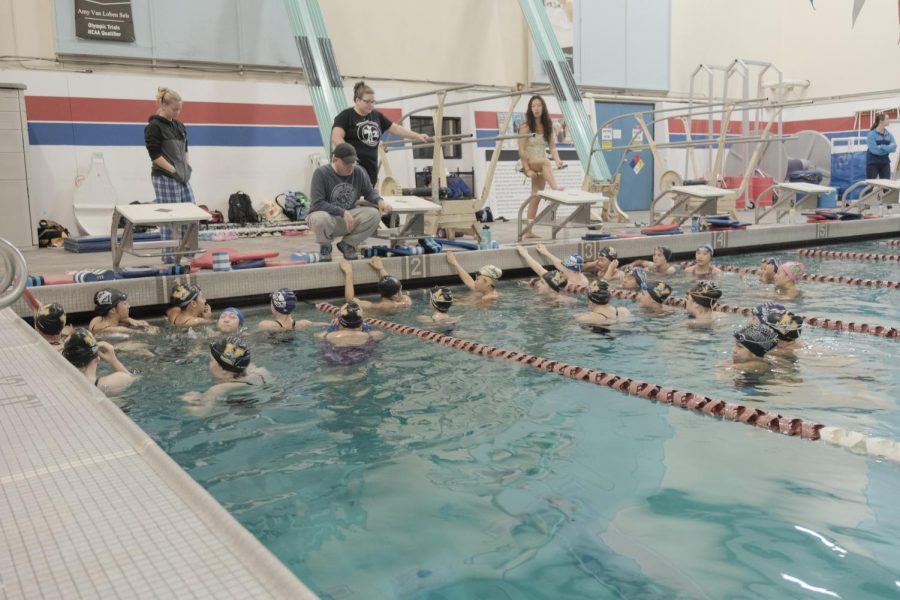 For the first time in four years, the Girls swim and dive team will end with a winning record.
The captains had many thoughts to the reasons of success for their season.
Senior captain Maddy Chow said the team's success was because of the new incoming freshman, while the other senior captain Minh-Thy Nguyen said it was because of the team's leadership from upperclassmen.
"There are a lot of strong underclassmen this year, and they are working really hard in practice," Chow said. 
While Nguyen said she acknowledges the potential of incoming freshman, she believes the team's successful outcome is due to other things.
 "I think being a leader is the most important role in teaching the less experienced players. As a captain, some of my responsibilities are making different team bonding functions and making sure everyone feels comfortable on the team, as well as not being left out," Nguyen said.
Both captains have been swimming for over 13 years. However, Chow said she quit her alternate swim team and is not planning on taking swim to the college level. Chow still continues to lead the Vikings as one of the captains; she finished with a time of 1:10 in the 100-yard breaststroke event.
"Our seniors this year are really powerful," Nguyen said.
Junior captain Ella Marzec said she is very thankful for the senior captains, and all they do for the team. 
"Fiona and I have the privilege of making the seniors and coaches gifts for the senior meet and the end of the year banquet," Marzec said.
Before every swim meet, different players prepare themselves in different ways. Marzec said to the less experienced players that food consumption is vital to one's individual performance.
"To be a good swimmer, you need to have a lot of willpower to say no to pressing snooze on that 4:30 a.m. alarm. The night before a swim meet, I usually eat a carb dish: either pasta or quinoa," Marzec said.
Marzec finished with a time of 25 seconds in the 50-yard freestyle event, one of the fastest times on the team. The team's winning record could not have been accomplished if it weren't for their team chemistry and new players.
"The future of Inglemoor is bright, and is the beginning of a new era," Marzec said.