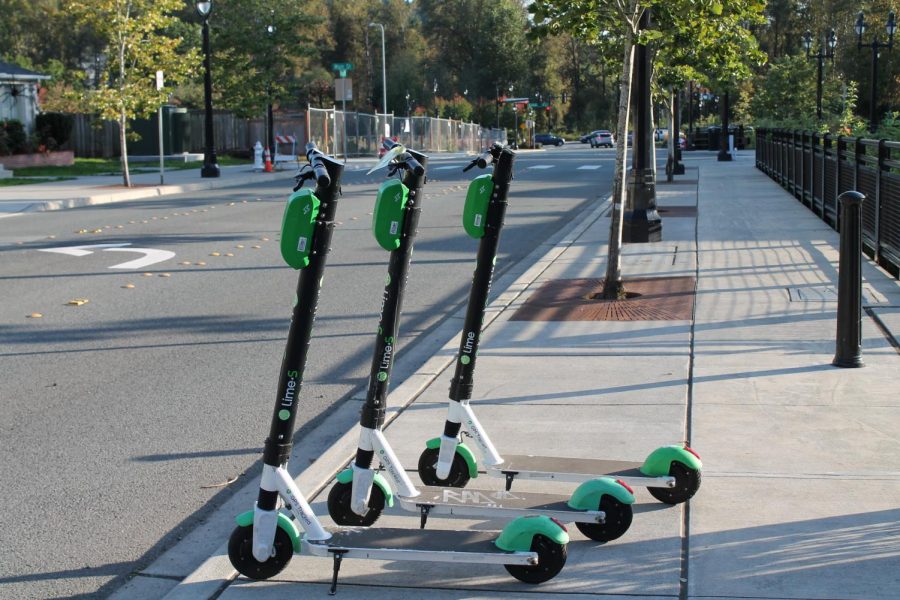 Sofia leot
Scattered across the streets of Bothell are Lime Scooters: a form of micro-mobility that combines digital technology with physical convenience, providing urban communities with an accessible form of transportation. 
The electrically-powered scooters can be tracked and unlocked through the Lime mobile app. Lime Scooters cost $1 to unlock and then 25 cents for each following minute. Though their convenience is undeniable, the rising popularity of Lime Scooters has sparked debate among city-dwellers; high speeds and a lack of protective gear are the primary concerns. As Bothell's trial period for Lime Scooters nears its end, these controversies could define the future of micro-mobility within the city. 
Despite the argument that the vehicles threaten streetside safety, Lime Scooters are designed to function within an increasingly modern world — such as that embodied by the large sidewalks, visible crosswalks and public gathering spaces of Bothell. Lime Scooters fit within this modern layout. Concerns about Lime Scooters' speeds, which can reach up to 15 mph, are counteracted by bike lanes intended to accommodate the scooters. 
However, this does not fully address one concern held by many city-dwellers: helmet use. Lime currently states that users must wear a helmet when riding the devices. However, if riders are required to bring their own helmets, Lime Scooters lose the constant accessibility they intend to provide. More often than not, this discourages users from wearing a helmet at all — the benefits of easy mobility outweigh a potential risk that feels largely hypothetical to riders. 
This problem emerges from the dockless system, in which Lime Scooters can be left anywhere when riders are finished using them. Unlike traditional docked-mobility rental companies, there is no central spot for riders to retrieve a helmet before using the device. Other disadvantages of a dockless system include reliability and street design. Unplanned walks to find Lime Scooters often defeat the integral purpose of easy accessibility. Since there are no restrictions on where users can leave them, Lime Scooters often contribute to a city's clutter rather than its modern aesthetic. 
Arguments against the devices should be addressed through a new semi-dockless model. This would consist of charging docks for the scooters in areas of high-usage, such as near bus stops or parks, meeting the majority of Bothell's commute needs. Safety equipment could be accessible through central service spots where people regularly pick up scooters. 
Semi-dockless aims to offer users a degree of flexibility in their travels by making docking optional. Discounts could serve as a price incentive, encouraging users to return scooters to docked locations. Accessibility can be amplified by a model such as this that serves both the mobility and the safety needs of all. 
Micro-mobility is the future. In a world that is predominantly dictated by the passage of cars, non-drivers are given the access they deserve through Lime Scooters. This directly serves today's youth — students who are unable to drive gain a sense of freedom from cities that translates to social, educational and economic benefits. With coffee shops for socializing, libraries for studying, and stores for visiting, modern communities offer spaces that are relevant to everyone. Transportation must reflect this detail by enabling access for all. 
Instead of denouncing Lime Scooters due to controversy surrounding safety, modern communities must embrace the challenge of tailoring transportation to fit their needs. This innovation will be the driving force behind action. Lime Scooters should be considered, adjusted and implemented to coexist with urban lifestyles centered around accessibility.