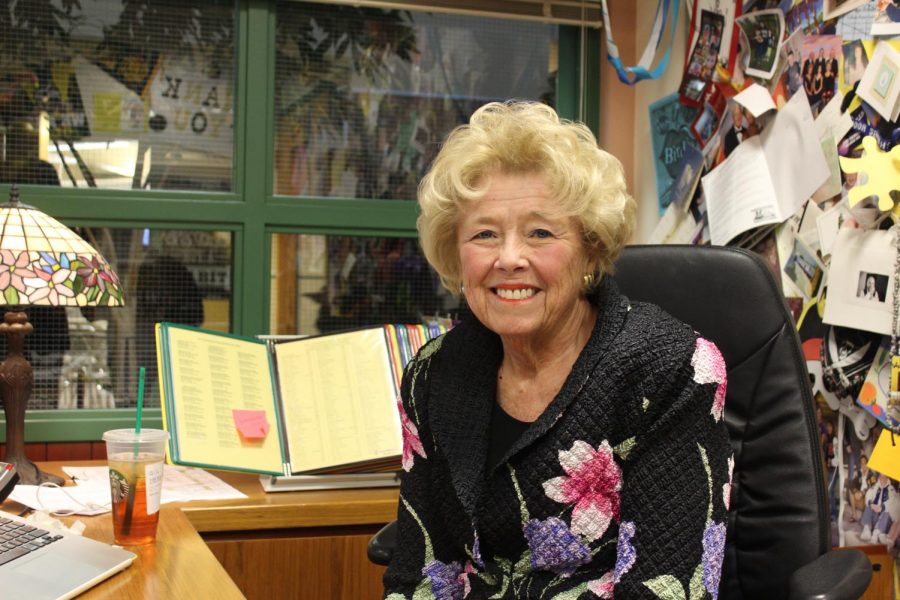 We reached out to current and former faculty and alumni to express their thoughts on Sherwood's time at Inglemoor.
Sally Barnum, teacher, 1983-2007
I worked closely with Mrs. Sherwood for 15 years when she was principal and I was the Activities Coordinator.
Mrs. Sherwood has had a stellar career at Inglemoor High School. In my role as activities coordinator, I appreciated her support of the students and their activities. She always made time in her day to meet with the student leaders to discuss school issues or to promote new ideas. Mrs. Sherwood would call me and say "come over right away I have a really hot idea". She was alway thinking of ways to improve the school through the students. She was an enthusiastic supporter of student activities and attended games, concerts, performances, dances, student leadership activities and, of course, was always wearing her black and gold. I truly enjoyed working with Mrs. Sherwood and her enthusiasm for IHS was contagious. The many pictures covering her office walls tell a story about her connections with staff and students. Mrs. Sherwood's dedication to Inglemoor High School is legendary and she will be missed.
Bob Stewart, former assistant principal, 1997-1999
I have had the great good fortune to count Vicki Sherwood as a friend and colleague since 1983.  There is no one I know who loves her school, her staff, and her community as Mrs. Sherwood loves Inglemoor.  She cares about kids, about quality instruction, about student learning and success, and about making sure her school is the best. There is no one like her nor will there ever be one like her for her 34 years of bleeding black and gold. We talk almost daily and her wise counsel and advice is always appreciated. I would not be the administrator I am without her support. Best wishes upon your retirement.
Katrina Allemeier, teacher, 1999-present
I first met Vicki when she was a VP here and I was doing my student teaching at Inglemoor in 1989. Since then, I have known her from many perspectives:
As a teacher, she has always been super supportive, especially when it comes to dealing with the district and looking out for us. As a parent, she has always been there to help us help our kids. Watching her work with students (our own kids included), she always puts them first and does everything she can to support them. We have socialized with her, traveled with her, been walking buddies with her, golfed with her, gotten Christmas trees with her… all great stories! She has literally dedicated her life to her students, staff, and school…and we are all thankful for that!
After my student teaching, I took a job at Bothell…Vicki made sure she got me back to Inglemoor ASAP!
Don't know if she still has it, but for years she had personalized plates for her car that said "LadyVik" …she really does bleed black and gold.
David Allemeier, teacher, 1989-present
Mrs. Sherwood is the most dedicated person I have ever met. She has spent many years working to make Inglemoor a better place for all students. Over that past 20+ years she has sacrificed a lot of her personal time to be with students, teachers, and coaches at every type of event imaginable at Inglemoor. From sporting events, musicals and plays, art walks and even state and national competitions.
Mrs. Sherwood is truly the greatest Viking.
Jon Stern, former assistant principal, 2013-2017
Mrs. Sherwood is an institution in herself.  She made Inglemoor the beacon of Northshore.  Starting my administrative career there was a great experience. She gave me, a new assistant principal, lots of opportunities to develop and was always supportive of my efforts. The school will not be the same without her.
Tatevik Aprikyan, IHS class of 2007
Vicki Sherwood created an atmosphere of possibility at Inglemoor. As a viking, you knew you could do anything after graduation — that IHS prepared you to be successful academically, athletically or artistically post high school. Sherwood's Inglemoor was a place where I felt like I started to build the foundation for my dreams to take off. High school years are tough, but Sherwood always let students know they could rise above anything they faced and supported her Viks any way she could. There's not a lot of principals out there that students can say that about. 10 years after I graduated IHS, I'm working at my dream job, and looking back, I know it was that supportive IHS community that created the atmosphere of possibility for students like me to explore our interests and passions in high school, graduate and chase our dreams. Happy retirement Vicki Sherwood, thank you for making Inglemoor a better place.
Teagan Miller, IHS class of 2016
Sherwood has made history at Inglemoor. She has seen it change over the years and has been the catalyst for change throughout that time. When I was at IHS, I had the pleasure of working with her on a few projects and she was always eager to help. My high school years would have been a completely different experience if Sherwood wasn't there with me. Inglemoor is going to be very different once she is gone, but she has definitely made her mark on the school and I don't think she will be forgotten.
John Loy, former vice principal, 2000-2012
I first met Vicki in 1984 while I was new to the Northshore School District working at Canyon Park Junior High as an assistant principal.  She was then the assistant principal at Inglemoor.  Later, in 1988, the first of my three children attended Inglemoor until they all graduated by 2000.  The fall of 2000 I became assistant principal at Inglemoor working with Vicki Sherwood every day until 2012.  It is from this perspective that I observed the great changes that have occurred at Inglemoor that represent her dedication and passion in helping all students and teachers.
When I first met Vicki I was impressed with her energy and organization.  At district assistant principal meeting she was outspoken about wanting to make school meaningful for every student.  She wanted changes at Inglemoor; back then, the school was on a six period schedule with no breaks, technology or specialty classes.  It was "one size fits all" for all three years of school.  This setting bored students but motivated Vicki to seek out more motivating courses for her students.
If you have ever walked into Vicki Sherwood's office and really looked around you can see her mark on the school we all love.  Game-winning footballs and hundreds of pictures crowd the walls— pictures of students, teachers, events, and of her collie dogs. There's even an autographed photo of Blake Lewis from the TV show "American Idol!"  Black and gold is everywhere while on her desk is a huge bowl of candy bars.  Many students have come into her office for help or correction and they invariably ask, "can I have some candy?"  The answer is always, "yes".  
Here are few brief stories about Vicki that most people don't know:
While hiring math teachers back in the early 2000s, Vicki arranged to interview three teachers for the job.  After interviewing each she asked them to teach a brief lesson explaining algorithms.  One candidate excelled at explaining the concept and that is why Mr. Schondelmeyer is teaching at Inglemoor.
Many sports events have occurred over the years at Pop Keeney Field.  Vicki Sherwood has attended hundreds over the years.  We would have these evening events where we would meet for dinner at several of the local games.  She would invite the opposing school's supervisors, which really help with communication.
Over the years Vicki Sherwood sponsored morning meetings with random students that represented a broad group of students.  These were not ASB leaders, but were students from every group.  She sought out to get their true opinions.  Many of these students were surprised to be invited, let alone be given a great breakfast.  She called these informative meetings, "Breakfast with MS Sherwood".  She had just two rules for this meeting: first, talking about individual teachers was not permitted, and second, students were encouraged to eat up the large buffet of food that was laid out on several tables.  For over an hour these students would tell stories about needs the school could provide, new clubs their friends would join and issues that teenagers face.  From these meetings the entire school schedule was changed.  Class electives such as Robotics, Hospitality, and Environmental Science got their start in these meetings.  Students also wanted more clubs and the process to start new clubs was often discussed every year.  Student groups could create the clubs they wanted and enlarged the number of clubs at Inglemoor to dozens.  
Inglemoor High School will continue as an outstanding school largely due to Vicki Sherwood's dedication, leadership, generosity and passion for teenagers.  Many schools in Washington State have adopted these changes so that their students could excel.